I've been thinking a lot lately about how we we often treat people we see as strong (physical or emotional strength) like Teflon and why we may want to stop that.
How Strong People are Like Teflon
Teflon is a non-stick coating that is used on a lot of cookware. It is supposed to make the food slide off the pan and require less effort to clean.
Yet, many people don't take care of their pans. They use sharp utensils and scratch up the coating. The coating flakes off and can be ingested into our systems and cause illness. The remaining scratched up surface on the pan no longer can have food slide off of it as easily. More sticks to it. It becomes less effective.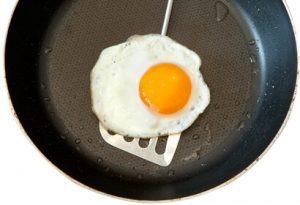 Strong people tend to take a lot of emotional abuse, because we see them as strong. We think that there isn't much that bothers them. Life just slides off them like food off of a Teflon pan.
We may call on their emotional capacity more than we nourish it.
We may not take as great of care with what we say to them.
We may not offer them support or encouragement.
We may not offer them sincere complements.
We may not even think to ask them what they need, because they don't seem to need anything.
We may not take the time to create a testimony for their business or think of who we could refer to them.
We may consistently take from them without ever offering something in return.
Just like the sharp utensils used on a Teflon pan, we are not taking care of the strong people in our lives.
Often, they are stuck taking care of themselves. That is lonely and oftentimes overwhelming. They need just as much support as our friends that do not appear as strong. In fact, sometimes, because they are beat up more, they need even more support.
There is an Interesting Thing About Asking for Help
The interesting thing is, often the people that appear strong don't even know how to ask for or receive support.
They own their role of being the "strong one" and don't see that they deserve support.
They may be craving the connection or support you have to offer and just don't know how to go about asking for it.
Yet, it takes strength to ask for help.
Interesting, right?
The Stress, Overwhelm, Wariness or Hurt is Hidden
While it is easy to see when a Teflon pan is scratched up, it is not as easy to see the hurt and need of support in the strong people we admire. Most of the time, they wear their scratches and marring on the inside.
Here is the thing…
We are all strong in our own way.
How that strength is expressed may be different.
You Treating them Differently May be a Sign of One of Your Success Blocks
When you think about the strong people in your life, those that you admire, what comes up for you?
How do you see yourself in relation to them?
Do you think of the things they have that you don't?
Can you comfortably talk with people that are "playing a bigger game?"
Do you look at them and think that you have something you can offer them?
Explore that a bit. 😉 Let me know if you would like some support with that.
Your Next Step
Think about the strong people you know today and consider how you treat them. How might you offer support to them today?
In the end, our world can only get better when we choose to be intentional and look out for each other.
Live Fully -- Love Openly -- Laugh Often -- Leverage Your Brilliance -- Connect Authentically -- Get Your Message Out -- Serve with Impact -- Prosper Everyday