Want More Clarity, More Profit and More Peace of Mind?
Fantastic! I'd love for you to have that too and it might not be as far off as you think. No matter where you are in your business journey, it all starts with getting clarity.
Connect with me to see how we might be able to blast your blocks and create a business built around you. We can quickly "de-stress" your business, leverage every ounce of your brilliance and systematize your success so that you can work less, impact more people and enjoy freedom the way YOU define it in business and in life.
"Your business should support the life you want to live, not keep you from living it."
Stephanie LH Calahan
Boldly building a business around who you are is about honoring all of you. It's about letting go of the stuff that does not work and building out more of what does.
Clarity – Confidence – Visibility – Systems – Profit – Guilt-Free Freedom – Joy!
How you go about doing that depends on where you are in the development of your business. But know this, you can have an optimized business where you serve with significant impact AND have a personal life that is joy-filled.
Maybe you…
are looking for more clarity – you have lots of ideas, but you're not completely sure which is the best for you
want to stop being the world's best kept secret and truly own your brilliance and be seen for the expert that you are
are struggling with identifying the right-for-you sales process so that you can make the money you want and deserve
have experienced success, but it has come at a cost and you're tired of running on the business hamster wheel
know that you are meant for bigger things, but something is standing in your way — and you'd like to break free
are ready to stop going it alone and want to have a success partner who is going to help you make more money and ease your stress
If any of these things feel true for you, then you're in the right place.
Book your Blast Through Blocks Breakthrough Strategy Session with me.  We'll chat about what you are doing now, identify opportunities for optimizing your business and if it makes sense, discuss how I might be able to help you get to those goals.
Hi, I'm Stephanie and I Believe You Can Live an Extraordinary Life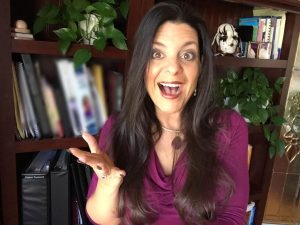 Be You. Fully You.
If you have been hiding parts of you, it's time to stop!
Your ideal clients will be served with more impact if you let all the parts of you shine.  
If you have been "pushing" and "efforting" to force your business to function, it's time for something better.
I work with smart, energetic entrepreneurs who are service-driven and have the desire to make an impact.  Their #1 problem is that they're working harder than they'd like to. They are at a point in their business where they are moving quickly, but they'd like to experience more growth without being in all of the details and getting caught up in bottlenecks.  They have lots of ideas but don't have the knowledge or the consistent systems to get them to their goal. They need clarity.
They are spending more time in their business than they want to and they are doing things they may not want to do in the name of success and they find that they've lost the freedom they were seeking when they became an entrepreneur.
The saddest thing is that when they get sucked into working this way, they often find they are lacking in other areas of their life.
Sometimes their relationships suffer or their health starts suffering or they have feelings of guilt because they're not spending time with their family in the way that they want to.
My clients are typically the ones that are peddling the hardest but not getting the traction they need, want and deserve, that will lead them to this freedom and impact that they ultimately desire.
They have critical gaps between what they are doing and the vision they desire.
I help connect-the-dots and create clarity. I'm on a mission now to help as many entrepreneurs as I can to recognize where they are, understand where they want to go and put healthy mindset and systems in their business and life so that they don't have to experience the pain of success.
Instead, they experience real freedom in their life and serve their audience with power!
Together, we remove blocks that are keeping them stuck, re-align their mindset to success, quickly "de-stress their business", leverage every ounce of their brilliance, and systematize their success, so that they can work less, impact more people and enjoy REAL freedom in business and life.
All the money they want, all the time they want, all the joy they want in the service of others.
Sound good? Let's talk about how you can do that too. Schedule a Profitable Freedom Breakthrough Strategy Session today and we'll explore what you are doing now, identify opportunities for your business and if it makes sense, discuss how I might be able to help you get to those goals.