As an entrepreneurs and parents, Teliah Gienger and I both have experienced the challenges of the ups and downs of attempting to find balance in our lives. Sometimes it has been easy and other times it has been downright horrendous.
Teliah asked me to come on her show and talk about what I do to stay grounded in my business and life. Those things that allow me to be able to give fully to my husband, children and business.
She asked me about my personal habits as well as my business practices. It was an interesting interview mixed with mom stuff and business stuff. You could say it was balanced. 🙂
Media Type: audio
Length: 47:55
Listen Now!
You'll Hear
00:00  Introduction
01:40  I share a bit about my personal life and why I chose the business structure that I have
03:57  My morning routine that sets me up for success in my day
08:48  My night time routine that helps me clear away the negative of the day and sets up the next day with power
10:02  Why water is so important to our ability to focus and get things done
11:47  Most important health habit that I practice every day
13:48  Owning your priorities and values and driving intentional results – the power of intention
17:23  My "Why" and my "Who"
19:36  How I got started and who I work with
23:03  Generating revenue with services or products
24:45  My biggest growth opportunity
29:11  Getting rid of money blocks and visibility blocks and trusting myself
31:01  Biggest success and "Wow" moments and why "working hard" may not be the best choice
35:45  Characteristic that leads to success
38:07  Taking ownership of everything that is going on around you
39:08  How to get success in your various life roles
41:23  My favorite resource
42:41  The books I'm reading right now
45:16  Key takeaway – the comparison game
Resources Mentioned
InfusionSoft – The All-in-One Marketing Solution for Small Business
Money Magic Unleashing Your True Potential for Prosperity and Fulfillment 
My Interviewer: Teliah Gienger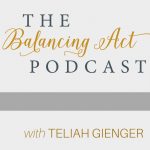 Teliah Gienger is the host of the Balancing Act Podcast. The show was designed for the wife, mother and entrepreneur. Every episode, Teliah journeys with successful entrepreneurs on how they create and maintain balance in their life and in business, their successes, challenges and everything in between as well as how you can find more balance in your life. Teliah believes that everyone can learn and master the art of balancing all of the things that are important in your life. We share that in common and that I why I love her show.  🙂
She is also the owner of Renu Hot Yoga, NUYU Juice Bar in addition to coaching clients on developing healthy habits. She loves every joy, opportunity, challenge and growth moment that comes along with being an employer and working alongside her husband, Kylon.
Related Posts on Balancing Life
Back to you!
So what did you think? Did anything stick out to you from our conversation? I'd love to hear about it. Share in the comments or shoot me an email.
Live Fully -- Love Openly -- Laugh Often -- Leverage Your Brilliance -- Connect Authentically -- Get Your Message Out -- Serve with Impact -- Prosper Everyday

Disclosure: Some of the links on this page are affiliate links. That means that I may get a small thank you commission (at no additional cost to you) if you choose to purchase a product from the company mentioned. I only refer you to programs that are ran by people I personally know or I have participated in, but please use your judgement to decide if this is right for you. If you would prefer that I not get that, feel free to Google the company and purchase directly.