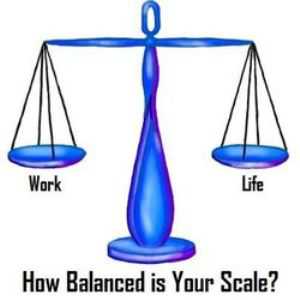 Work/Life Balance — What is That? Well, it is something that we all strive for in one way or another regardless of if we work in a traditional office setting or if we work out of our homes. The more "busy" we get, the more we can lose sight of how to make that scale not tip too far right or too far left.
Yesterday we started the conversation by talking about how to look at balance and boundaries. Today, along with some colleagues, I will share some sure-fire tactics and tips that will help you manage the youngsters in your home while you are working.
No matter how hard we may try as parents, we will never be able to 100% predict when our kids want our attention. Here are some tricks to help you keep it under control.
Make the Most of Your Non Kid Time
Organizer and mom of 3 grown children, Vriendelijke Groet (www.organisatiemakelaar.nl of Europe), reminds us that "kids are always unpredictable, so you better get used to that. The only way you can be sure of an uninterrupted time is when they are not there." She goes on to tell us to make the most of the time our children are not in the home and focus on the kids when they are there.
List Out and Use "Interruptable" Tasks for Nap Time
In all of our jobs there are tasks that can be interrupted (filing for example) and tasks that are more challenging when interrupted (like a sales call). Make a list of the different tasks that you do in your day and identify the ones that can be interrupted and those that cannot. Then plan your time accordingly. Meaning, if you have a young one that takes naps, schedule your OK to interrupt tasks at that time (they do wake up unexpectedly you know.)
Use a Visual – Have a Mommy/Daddy Work Hat
Organizer Angela Miller-Davis (www.lessequalsmore.com.au from Brisbane, Australia) suggests that it is important to have visuals for your kids to know when you are working. Here is what she says on the topic:
I have a hat I wear. This is Mummy's 'At Work' hat. You can make it as serious or silly as you like, but it is a visual indicator for the child. If you want to make this more fun, get her a similar hat and as soon as she comes near you, get her to put her 'at work' hat on as well.
Hire a Pre-Teen or Teen to be a Parent's Helper
Now that it is summertime, there are instances where you would like to have your children around, but you still need to get work done. Brenda Spandrio (www.ambiance-solutions.com) suggests that you search your local jr. high/middle school to find a yong girl or boy that would like to break into babysitting:
They could come over to "play" with the kids during your "office hours"…. read to the kids, take them out for walks in the stroller, even to the park. Maybe there are other light housework duties that s/he could do while the kids are napping. It's good training!
I personally started doing work like this when I was 9.5 years old and LOVED it. It was a great way for me to break into the babysitting business without my mom getting nervous that I was home alone with someone else's children.
Start Young With Rules and Signals
Establishing rules that your kids understand and that are consistent are really helpful when working from home. I mean really, who wants their work interrupted the 12th time to hear about how Billy just called Jackie a name? Here are a few ideas of how I have used these techniques in our house:
We stared at a very early age to teach David not to yell throughout the house because he never knew when Mom was going to be on the phone.
If the doors to Mom's office is closed, leave her alone unless someone is bleeding or dying.
If Mom has classical music or new-age jazz playing, she is trying to concentrate and interruption would not be nice.
If mom has club music or other up-beat music blaring out of her office, it is ok to interrupt because her creative time is interruptable. Heck! She might even stop and dance with you through a song just to get her blood flow going again!
I also taught him basic sign language for drink, eat, T.V., play and a few others that benefited our situation. I have found this to be really beneficial when I'm on conference calls that I'm NOT leading!
We also concentrated on certain phrases. "Mom is going to make a client call" or "Mom is going to call a prospect" mean – leave her alone. Now, in the process of teaching him, I wanted him to go deeper than just leave mom alone. So, we spent time talking about the economics of his behavior. There is food, toys, activities that he wants. He does not have a job, so he relies on our jobs to pay for those things. The client and prospect calls equal the money that pays for his fun. Helping him to understand the ties makes a huge difference.
Create an Activity Box & Quiet Practice
Kay McGuire (www.mcguiresorganizingservices.com) and mom of 4 suggests the following:
"Create a special box just for that child. In it, put snacks and special toys. Explain that the only time that he/she can play in the box is when Mommy is on the phone and he/she is quiet as a mouse. When you explain this, do some role playing. Maybe even show him/her how to tickle lock his/her lips when Mom is on the phone. You may even have a special chair where she can sit. This way if you need to keep an eye on her, you can."
I love that tip! This worked great for me when David was young. We also used a little song/dance that he learned at pre-school that goes "zip it — lock it — put it in your pocket." The dance — use your hand like you are zipping up your mouth. then pretend to take a key and lock up what you zipped and then take that pretend key and put it in your pocket. Once he was locked up, he had to wait until he was unlocked before he could talk.
Put Them to Work!
From the time David (my son) was 3 he was doing work Calahan Solutions, Inc. When you make your child a part of the business, they can grow empowerment and pride for what you do rather than feeling like it is stealing their parent away from them. Here are some ides on work you can give them:
When they are Really Young 2.5 – 3:
Have a little clipboard for her and maybe an ink pad with a stamper. Set up old pieces of printed paper and show her how to stamp and staple them and have a pile at the ready. Even give her an in-tray, a hole punch and a folder and put her to work. Also make her up a notebook where she can record her 'work' achievements (this is to ensure she gets paid), this book will become very valuable. Each month, get her to go through a toy catalogue and pick a toy to save up for (The Big Goal). Then she will need small goals to achieve along the way. Everytime she does as she is asked, a sticker goes into the book (each sticker could be worth say 5 cents). You will also be slowly teaching her about goals and money and WHY you do what you do i.e. for goals and money AND to be helpful to others. In her case she is being helpful to YOU. (Angela Miller-Davis)
When they are Pre-School Age:
Have your child help you by emptying garbage cans when they are full (assuming that they are not too big.
Have your child do your paper shredding. You would be amazed at how much a kid likes to shred paper even when you think it is the most mundane task in the world. My son started shredding for me when he was about 3.5. Since this task has a small level of danger involved, make sure that you understand the safety of your shredder (some are safer than others) as well as the maturity of your child.
Angela Miller-Davis shares that they even take the bag of shredded paper to their local pet shop, and the shop owner lets them pat the kittens and puppies. Again this is showing the child the bigger goal (motivator) and also that her job is actually useful and helpful to someone else, that is the shop owner, the puppies and the kittens.
Ask for their help putting stickers on brochures. When my son was 4 he started helping with the company marketing by putting stickers of our various specials on the backs of brochures. It was a great time talking to him about how important it was to be precise and make the sticker straight. He concluded that most clients would not want to work with an organizer that could not make simple stickers straight! You would be shocked to see how many business concepts your kids can pick up at an early age. Payment was fantastic too. He insisted on getting business cards and a company T-shirt to prove he was really a part of the company. He became our "director of adhesive operations
When School Age:
Obviously, the older your children are the more capable they will be to help you (and possibly the less they will want to do so!) Here are a few things grade school kids can help with:
Filing! David started helping me with the filing in Kindergarten. Yes, you heard that right. See www.FindInFiveSeconds.com to learn more on the tool I use to make that possible.
Set up accounts on social bookmarking sites and have your kids log your web or blog entries
When Your Kids Do Interrupt You at an Unfortunate Time, Tell Your Clients!
Organizer Noha Gindy (www.organiseitnow.com) shares: "I think most clients will understand when you have to cut it short. Try to set it up when you begin the conversation so it doesn't come as a surprise ("I'm excited to spend some time talking about your project. My daughter is home with me today, so please let me know if it's okay if we get interrupted.") Also practice a smooth exit even when a child is yelling ("I'm sorry Ms. Smith, it looks like Emily needs me. Can I call you back in an hour or so?") "
Background and Props
Much thanks to all of the organizers that shared their knowledge for this post. Where applicable, I noted the tip with where it came from. I am blessed to be a part of a number of different networks, and as such, get exposure to some fabulous and intelligent people. One of the groups that I am involved in is as a moderator/mentor on NAPO (National Association of Professional Organizers) new-member list. Recently we had a conversation on work/life balance and ideas for this post came from the list members.
Want to know more about these organizers? Go to www.NAPO.net and do an organizer look up! You will find their specialties, location and other great info about them.
What Are Your Horror Stories?
What are your stories about working from home? What has not worked? What has worked? Share below by commenting or reply to someone else's comments! Don't want to comment on the blog? Start a conversation with me on one of my social networking sites.
To your success!