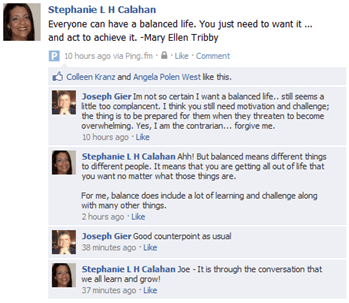 The post to my Facebook page was this:
Everyone can have a balanced life. You just need to want it … and act to achieve it. -Mary Ellen Tribby
Often, when I post this particular inspirational quote, I receive a lot of "likes" on Facebook but few ever comment.  Today was a bit different and it inspired this post. 
You can see to the right, Joe had a different perspective on balance. 
So, what does living a balanced life mean to you?  Today I'll share some ideas and I'd love it if you would take a minute to comment on what works for you.  I know that your comment will inspire another reader!
Let's Make Sure We're Comparing Apples to Apples Here – What Is Balanced?
The funny thing about the English language is that we can use one word to mean many different things.  So, to make sure we are all on the same page (comparing apples to apples) I want to cover the definition of balanced.  Today, in this conversation, I'm not talking about weights and measures in the physical sense or your ability to walk without falling.  If you go to Webster's and look up bal·ance  noun \ˈba-lən(t)s\, there is a lot of definitions around that area of "balanced."  The definitions that best fit today's conversation are:
2 : a means of judging or deciding
6a : an aesthetically pleasing integration of elements  
9 : mental and emotional steadiness
Understand the Elements That Go Into a Balanced Life
Balance in life is obtainable.  Your life consists of Seven Vital Areas:
Health,
Relationships Family/Friends,
Financial,
Intellectual,
Social,
Professional and
Spiritual.
You will not spend equal amounts of time in each area or time every day in each area. But, if in the long run, you are spending a sufficient quantity and quality of time in each area, then your life will be balanced.
If you ignore any one of your areas, (never mind two or three!) you will get out of balance and potentially sabotage your success.
Fail to take time now for your health and you will have to take time for illness later on. Ignore your family/friends and they may leave you and cost you a lot of time to re-establish relationships, etc.
Understand What Balanced Means to YOU!
You are unique.  What constitutes balance for me may totally upset your apple cart.  It may not work for you.
Life Balance Example 1
In the conversation I shared above, Joe and I both need change in our lives to have a "mental and emotional steadiness."  The conversation above mostly falls under the "Intellectual" area I mentioned a moment ago. Something would feel "off" if that was not a part of our life. That may not be you!  For some, conflict is very difficult and even painful.  For some, challenge needs to happen much more gradually. 
Life Balance Example 2
Prior to starting Calahan Solutions, Inc. my definition of "balanced" was very different.  I worked in a corporate environment and traveled to many different fortune 500, highly intense, clients.  At the time I worked there, my "Professional" area was the most important to me and I spent 60-80 hours a week in that area of life. (Remember, I'm a recovering work-a-holic, I did not say that was a good thing, just that I did it.)  I worked my way up that corporate ladder very quickly.  At the time, that worked for me. 
Then, in 2001 I became a mom.  That one simple life event changed my entire perspective on what balanced meant for me.  I wanted fabulous results still, but I wanted a life too!  I had to get more productive and refocused.  By 2002 I had started Calahan Solutions, Inc. and one of the major drivers was the need to change how I balanced out my time in life. 
Life Balance Example 3
"John" contacted me initially because his mother recognized he was out of balance and suggested that he call.  He owned a fairly new (2 years) business and was really quite successful, but his health was not doing well at all.  He was working what felt like all of the time and there were pulls from his wife and children.  Stuff always needed his attention at work and his stress was at an all time high.  Papers were all over his desk and he found that it was difficult to find what he needed.  He found that his employees were not responding to him the way he wanted and he just generally was not feeling very positive.  He was out of balance. 
Make a Balance Plan – One that Fits Who YOU Are
The point here is that you are in the best position to define what balanced is for you and it is okay if that definition changes over the course of your life.  For me, changing where I worked was critical to the balance plan, but it may not be for you.  For "John", adding systems that helped his business flow better was the answer.
When you are balanced, you are at peace on the inside.  This allows you to be more productive and get more done.  This allows you to have better focus and produce better outcomes in all areas of your life.
Are you feeling "out of whack"? Is your balance off?
Maybe I can help.  I've worked with many business owners to help them figure out their "perfect balance."  If you are feeling out of balance, schedule your breakthrough session and let's get a plan of action going. 
Live Fully -- Love Openly -- Laugh Often -- Leverage Your Brilliance -- Connect Authentically -- Get Your Message Out -- Serve with Impact -- Prosper Everyday