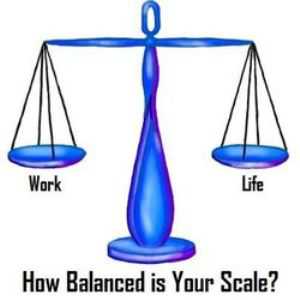 Work/Life Balance — What is That? Well, it is something that we all strive for in one way or another regardless of if we work in a traditional office setting or if we work out of our homes. The more "busy" we get, the more we can lose sight of how to make that scale not tip too far right or too far left.
As I work with my home-based clients, I see the challenge can get even more muddled. To make it even more challenging, we are upon that time of year where our children are either out of school or soon will be, for summer break. Today and tomorrow, along with some colleagues, I will share some sure-fire tips that will help you balance when you work from home with kids.
I Just Want to Make a SIMPLE Phone Call!
Doesn't it just always seem to happen this way? The house has been quiet for a while and all is calm. The minute you go to make an important phone call to a client or prospect, the doorbell rings (which of course makes the dog go berserk and he starts barking up a storm) and the 8-year-old screams "Mom! Andy is at the door, can I go play?" So much for the ultra professional demeanor on the phone!
Does this sound familiar to you? If it does, know that you are not alone! There are more home-based workers today than EVER before.
Understand that Balanced Does Not Always Mean 50-50
So, in the picture above I show a scale that is perfectly balanced – 50-50. That is what most people have in mind when the hear work/life balance. However, that is NOT how I look at balance. Rather than trying to make the unrealistic 50-50 every day, look over the course of your time (be that weekly, monthly or annually) and look for the ratio that you are comfortable with based on your circumstances.
When I first stared by business, I had a young baby. My primary goal in life as a whole was David. The business came second or maybe third and I knew that. So, the systems and processes I set in place were focused with that in mind. The time I had established in my day was not a 50-50 split. I knew that the time with David as a young child was precious and could never be reclaimed once it was gone. That meant that my business grew at a snails pace compared to what others were doing with their businesses and I was OK with that.
Today, David is finishing up 2nd grade and while he still enjoys spending time with me (Mom was begged to go on a spring break trip and more recently the school field trip – see videos below for fun) he also has loads of friends and activities that he does with out Mom (as it should be.) As such, my focus is very different today than it was those years he was a small baby.
Get Your Goals, Tactics & Boundaries Set
Once you know your priority ratio, create goal in mind for what you want to do and need to do to be successful balancing what you do for your career and what you do for your life. There are instances where others in your family will think "well, you are at home anyway… what is the big deal?" Because you work from home, you will experience others that think that all of your time is free and they can call or drop by at any time. Don't let them! Decide on a plan that will work for your circumstances and SET BOUNDARIES.
For some, doing laundry and watching the 3-year-old while attempting to get stuff done is OK, but for others it would be impossible. It is totally OK to treat your job like a job. Know what will work for you and then work it!
Coming Up
Tomorrow, along with some colleagues, I'll share some specific tactics to help you manage kids and working from home.
What Are Your Horror Stories?
What are your stories about working from home? What has not worked? What has worked? Share below by commenting or reply to someone else's comments! Don't want to comment on the blog? Start a conversation with me on one of my social networking sites.
To your success!
Just for Fun
Here is a short video I did of the pictures David took on my phone on his field trip. I am so blessed and thrilled that I can stop what I'm doing at any time and take part in the big and small areas of his life. Since being a fantastic mom is still my #1 goal, I make sure my systems and processes are in place to let me do that guilt free! How cool. If you want 60 seconds of outdoor sunshine, take a seat and press play!
Or you can see (in 1 min 16 sec) the vacation of firsts we took to visit my brother in Pittsburgh a month or so ago. There was no way I was passing this opportunity up for him. I'm glad I didn't!