If you are tired of watching other people get recognition and visibility for something you do 10x better, then this is the show for you.
One of the best ways to attract the ideal prospects for your business is to consistently demonstrate your knowledge, expertise and genius and show how you solve specific problems.
You can do this through guest appearances on TV shows, podcasts, blogs, radio shows, YouTube shows, etc. Once you have been on the shows, you have an opportunity to leverage that experience to spread the episode like wild. Are you making the most of every opportunity?
That is what I talked to Dayo Samuel about on his show, Audacity to Lead. Listen in to discover how you can be the one that people raise their hands to work with instead of you chasing and trying to convince them.
Media Type: audio podcast
Length: 43:27
Listen Now- How to Mine the Gold from Your Guest Appearances!
You'll Hear
00:00  Introduction
03:42  How and when I began to seek opportunities using guest appearances
04:52  What is a guest appearance?
06:02  My first experience as a guest expert on someone else's show
08:17  The benefits of appearing on someone else's platform
11:45  What to do before you seek to go on shows
14:54  What to do when you are participating in the interview
15:43  What to do after you have been on a show
16:26  How to leverage your experience on shows by syndicating in a way that inspires people to listen
20:35  How to leverage your experience on shows by re-purposing the content into something new
26:22  Automation tools and creating systems
27:58  What to say when you have scheduled an appearance
32:53  IFTTT automation tool for syndication across different social media sites
33:55  Guest Appearance Gold – The story behind the book
Resource(s) I Mentioned
Guest Appearance Gold – Tips and strategies you can use before, during and after being a guest on someone else's platform.
My Interviewer: Dayo Samuel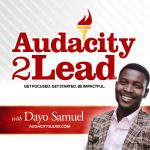 Dayo helps entrepreneurs magnetize, mesmerize and monetize their message and audience online. He is the founder of Nigeria Podcast Network and host of the award-winning podcast, Audacity2Lead. The show helps smart coaches and consultants predict the future, leverage platforms and their uniqueness. You too can now lead with more influence and audacity taking advantage of the courage and insights Dayo Samuel provides on Audacity2Lead. Audacity2Lead is dedicated to helping emerging thought leaders get focused, get started and make an impact with their message. Topics include coaching, consulting, business development, platform building, personal leadership, your calling, life tasks, and everything you need to know about stepping out to lead with more influence.
Back to you!
So what did you think? Did anything stick out to you from our conversation? I'd love to hear about it. Share in the comments or shoot me an email.
Get your copy of Guest Appearance Gold. Click the button to get it.
Live Fully -- Love Openly -- Laugh Often -- Leverage Your Brilliance -- Connect Authentically -- Get Your Message Out -- Serve with Impact -- Prosper Everyday