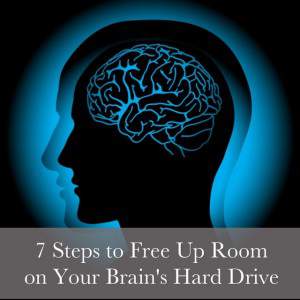 For the past few days, I have talked about why our brain is like a computer and shared the first six of seven tips on what you can do to free up room on your brain's hard drive.
Today I'll share tip 7 for freeing up space and getting rid of brain clutter.
Quick recap:
1. Turn off, wait, restart after a few minutes (also known as a "reboot")
2. Turn off extra program processing
3. Delete unnecessary/outdated files
4. Call your Help Desk
5.  Work like a duo-core processor!
6. Download to a backup or disk
7. Defrag
Any time my friend's computer slows down, she immediately tells me that it is time for a "defrag."  You see, the defrag (or de-fragmentation) function on your computer looks at how all of the different types of files are arranged and then moves them around so that the computer runs faster.
Did you complete the brain dump download that I mentioned a few days ago?  Creating the list was the first step.  Now, it is time to defrag! 
1.  Start by sorting your items by the type of work that they are (e.g. work vs. personal)
2.  Next, identify the tasks that have to be done on a specific date or at a specific time.
3.  Now, sort your cards in priority order.  It is likely that you have really important items next to less than important items.  Just going through this sorting process will help you feel worlds better and free up stress.
Taking the time to order your items and check your priorities will help you ensure nothing falls through the cracks!
According to Basex, "According to our latest research Information Overload costs the U.S. economy a minimum of $900 billion per year in lowered employee productivity and reduced innovation."  By going through these seven steps, you will be positioning yourself to be ahead of the curve and not suffer such financial losses.
What do you think?  Share your comments below in the comment section. 
Related Posts
7 Steps to Free Up Room On Your Brain's Hard Drive so You Don't Lose Your Mind! (Part 1)
7 Steps to Free Up Room On Your Brain's Hard Drive so You Don't Lose Your Mind! (Part 2)
7 Steps to Free Up Room On Your Brain's Hard Drive so You Don't Lose Your Mind! (Part 3)
7 Steps to Free Up Room On Your Brain's Hard Drive so You Don't Lose Your Mind! (Part 4)
Live Fully -- Love Openly -- Laugh Often -- Leverage Your Brilliance -- Connect Authentically -- Get Your Message Out -- Serve with Impact -- Prosper Everyday