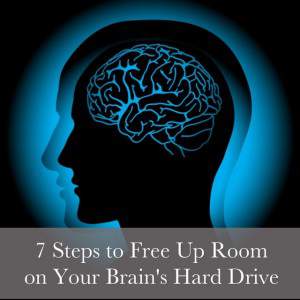 A few days ago I talked about why our brain is like a computer and shared the first of seven tips on what you can do to free up room on your brain's hard drive.
Even if we could upgrade our memory, for many of us, our memory is not foolproof.  You can experience brain clutter (information overload) at any time.
Today I'll share tips 2 and 3 for freeing up space and getting rid of brain clutter.
Never bother to memorize anything that is easily accessible.  ~ Albert Einstein ~
2. Turn off extra program processing
Computers are made for multi-tasking, but even computers can get bogged down with too many programs running. 
People are not made for that kind of multi-processing.  Realize that doing "it all" gets nothing done.  Pick one brain task at a time and you'll get more done.
"A growing body of scientific research shows one of jugglers' favorite time-saving techniques, multitasking, can actually make you less efficient and, well, stupider. Trying to do two or three things at once or in quick succession can take longer overall than doing them one at a time, and may leave you with reduced brainpower to perform each task." Sue Shellenbarger
3. Delete unnecessary/outdated files
When your computer hard-drive gets too full, you hit the delete button and space frees up.
You can do the same thing with your mental clutter.  How many times have you said "I should….X."  You know, that stuff that is on your list that you don't really need to do or even want to do.  It is not about what you "should" do.  It is about what you "will" do.  Free yourself from all of that emotional bogging down!  Hit the delete key on those "should dos" and only keep the items you will really do and drive you to your goals.
In today's world, brain overwhelm is a fact of life. Fortunately, by applying some simple techniques, you can avoid some of the consequences of a brain crash!
What do you do?  Share your comments below! 
Related Posts
7 Steps to Free Up Room On Your Brain's Hard Drive so You Don't Lose Your Mind! (Part 1)
Live Fully -- Love Openly -- Laugh Often -- Leverage Your Brilliance -- Connect Authentically -- Get Your Message Out -- Serve with Impact -- Prosper Everyday