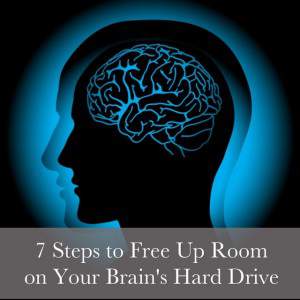 The other day I was working with a client on time management and priority setting.  I noticed while we were talking that she would affirm my tips by telling me, "I need to remember that."
I also noticed that she did not write anything down during the first 30 minutes of our appointment.
So I asked her if she found that her memory served her well.
She tells me that it used to.  "I could hear anything and recall it later.  Lately, though, I have been forgetting tasks and missing deadlines.   That is one reason I wanted to work with you." 
We talk for a bit more and she tells me that maybe her brain has crashed like her laptop did a month ago!
She was making a joke, but she was not really that far off the mark!  I frequently have people call and share that they feel like they are losing their mind. Today I'll share some tips for how you can free up room on your brain's hard drive.
While your brain may not have crashed, you may be experiencing "memory full" messages from your body more often these days.  With a computer, you can hit the delete button or add more memory or even get a new computer. 
"Today knowledge workers lose on average 25% of the workday to Information Overload."  Basex
Even if we could upgrade our memory, for many of us, our memory is not foolproof.  You can experience brain clutter (information overload) at any time. 
Never bother to memorize anything that is easily accessible.
~ Albert Einstein ~
In order to find a solution, we need to look at the problems.  Time/Design made some fun comparisons between the computer and our mind.  I found the comparison a great lesson on the unfortunate results can happen when you try to process more than you are "programmed" to do:
An Overwhelmed Computer Will

Give you error messages
Run Slower
Take longer to process tasks and information
Slow down
Freeze – or give you that dreaded "blue screen of death"

An Overwhelmed Person Will

Make mistakes
Forget to do something
Things start "slipping through the cracks"
Become mentally or physically sluggish
Become uncreative
Become unproductive 
Procrastinate
Become indecisive
Get Stressed out
Experience a total mental break down (extreme cases) 
Do you relate to any of the items they noted?  In the next few days I will share  7 tips you can use on your computer and on your brain! Let's start with number one!
1. Turn off, wait, restart after a few minutes (also known as a "reboot") 
We accept this solution for a computer that is unresponsive.  We give the computer a quick rest. (Most of us don't know why it works, we just do it and it does.) 
The same holds true for people.  When you feel overloaded, take a break.  This might be a quick step outside or to the cooler to get a glass of water.  If your feelings are major, then it is probably time for a few days off.
What do you do to reboot? 
Live Fully -- Love Openly -- Laugh Often -- Leverage Your Brilliance -- Connect Authentically -- Get Your Message Out -- Serve with Impact -- Prosper Everyday