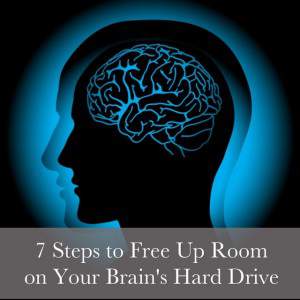 For the past few days, I have talked about why our brain is like a computer and shared the first three of seven tips on what you can do to free up room on your brain's hard drive.
Today I'll share tips 4 and 5 for freeing up space and getting rid of brain clutter.
4. Call Your Help Desk
When I used to work for a large corporation, we had "1400."  Any technical problem (computer, phone, you name it) that we had just took one call to extension 1400 and it would be fixed.  Experts would come and fix the problem or teach us what we did wrong. 
If you are experiencing time or productivity challenges, contact a coach to help you fix your systems or teach you other ways to think about what you do. (We would love to help you, or you can go to www.napo.net and search for an expert in your area, or ask us to refer you to someone in our network.)
5.  Work like a duo-core processor!
Newer PCs and most all MACs come with duo-core processors.  The hardware/software that processes programs is divided.  The processing of your computer is divided in two.  Some programs run in the background (like your operating system) while others run on a separate processor that you access (like a spreadsheet). 
You can do the same thing with your mental overload!  Delegate whenever you can. This works at work and at home.  You can almost always delegate more at home. 
What have you done to eliminate your mental hard-drive? Share your comments below in the comment section. 
Related Posts
7 Steps to Free Up Room On Your Brain's Hard Drive so You Don't Lose Your Mind! (Part 1)
7 Steps to Free Up Room On Your Brain's Hard Drive so You Don't Lose Your Mind! (Part 2)
Live Fully -- Love Openly -- Laugh Often -- Leverage Your Brilliance -- Connect Authentically -- Get Your Message Out -- Serve with Impact -- Prosper Everyday