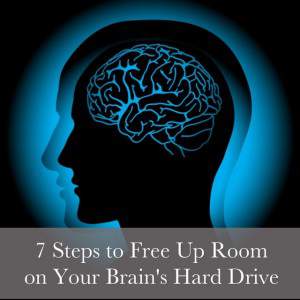 For the past few days, I have talked about why our brain is like a computer and shared the first five of seven tips on what you can do to free up room on your brain's hard drive.
Today I'll share tip 6 for freeing up space and getting rid of brain clutter.
Let's do a quick review:
1. Turn off, wait, restart after a few minutes (also known as a "reboot") 
2. Turn off extra program processing
3. Delete unnecessary/outdated files
4. Call your Help Desk
5.  Work like a duo-core processor!
Never bother to memorize anything that is easily accessible. ~ Albert Einstein ~
 6. Download to a backup or disk
Sometimes there are files on our computer that we need to keep, but they do not contain information we need on a regular basis.  In this instance, we download the files off of our working drive to a backup drive or disk. 
I guarantee you that I'm not ready to stick a cord into my mind and download my mental list to a disk (and I don't think that is yet possible!) but you can get the same effect. 
Keep from experiencing overload by storing your to dos and ideas somewhere other than your brain!  Simple paper and pencil work, or you could go a more technical route with a site like www.evernote.com.  Don't let overwhelm and burn out happen!  Download these thoughts as they pop up.
Perform a Full Download and Backup
If your brain hard drive is exceptionally full, you'll want to start with a full download and backup.  You do this by
1. allotting 30 minutes for the task
2. have a pile of index cards and something to write with
3. write down/type everything that is in your mind that you need to do. (one item per card)
This includes big things (e.g. create that new info. product) and small things (e.g. do the laundry).  Things you need to do today (e.g. participate in a scheduled meeting) and things you don't have time to do ro need to do now, but are taking up mental space (e.g. fix the screen door.)  Regardless, get down everything no matter how silly it seems.
As you go through your "brain dump" you may experience anxiety or overwhelm.  That is a natural response.  When we see the list of everything that we want or need to do it can be a scary thing!  I encourage you to continue (30 minutes is not long – I know you can do it!) and write it all out.
Ultimately, you will find relief in removing all of your burdens off your memory.  You will be able to sort and process through decisions faster with fewer errors.  You will also find a calm that you may have never experienced before.  Now that your thoughts are down on paper (or typed on the computer) you won't have to worry about "I can't forget this.  I CAN'T FORGET THIS!"
What do you do to download from your brain?  How has this post impacted you?  Share your comments below in the comment section. 
Related Posts
7 Steps to Free Up Room On Your Brain's Hard Drive so You Don't Lose Your Mind! (Part 1)
7 Steps to Free Up Room On Your Brain's Hard Drive so You Don't Lose Your Mind! (Part 2)
7 Steps to Free Up Room On Your Brain's Hard Drive so You Don't Lose Your Mind! (Part 3)
Live Fully -- Love Openly -- Laugh Often -- Leverage Your Brilliance -- Connect Authentically -- Get Your Message Out -- Serve with Impact -- Prosper Everyday