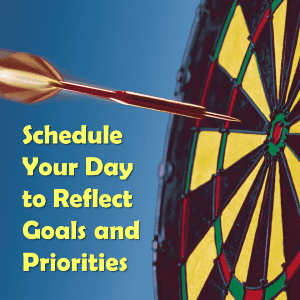 I had a workshop attendee ask me this once:
"Do you think that if I buy a bunch of watches, I'll have more time?"
Now, he really was not serious, but I think he wished it would work!  "Making time" is really not possible.  There will always be 24 hours in a day — at least until someone masters time travel…  So in the meantime, here are some thoughts on ho to schedule your day.
Once you understand your priorities and your goals, scheduling becomes a bit easier.
Understand Your Rhythm!
What are my high and low points in a day?
Before putting anything on your schedule, understand your high and low points.  When are you the most energetic in the day.  Is it early or late. 
For me, it is late.  In fact, my brain does not easily get chugging along in the early morning.  That time is much better for sleep.  I have found that frequently when I try to write early — the content is well, let's say . . . not so good.
Schedule Your Day to Match Your Rhythm
As you schedule what you need to get done — those things that match your priorities and goals….  make sure that you schedule them during a time of day that works for the way you work! 
If you are more alert during the early morning and more creative mid afternoon, then schedule the tasks that need to be completed to match that rhythm.
Why is this important? 
It is important because no matter what you pack into your day, if it is not corresponding to your best time of day, you will get less done.
In those instances where I have tried to do analytical thinking in the morning or anything that is creative (like writing) it has just not gone well.  It takes longer and the results are not as good. 
The Tie to Priorities
By accurately scheduling the important things into your day you are able to get the most important things accomplished well and on time. 
Your Turn!
What have you learned about your body rhythm that you have used to your advantage? What time management tips do you have for others that are busy and want to focus on their priorities?  I'd love to read your comments and I'm sure everyone else would too!
To your success!
Like this Post?  You Might Also Like These
Schedule Your Day to Reflect Goals and Priorities – Part 1 – What Are Your Priorities?
Schedule Your Day to Reflect Goals and Priorities – Part 2 – Align Those Goals
Schedule Your Day to Reflect Goals and Priorities – Part 3 – Understanding Your Rhythm
Schedule Your Day to Reflect Goals and Priorities – Part 4 – Align Your Time