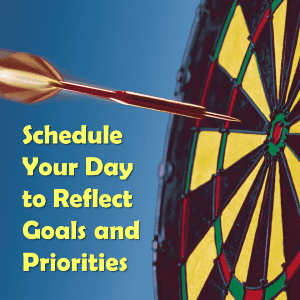 For the past few weeks we have been talking about how you can make sure that your day is aligned with your priorities and purpose. 
Scheduling your day can be challenging for many.  (This is especially true if others add activities to your calender!  I have had others adding to my calender for over a decade now!)
Today I'll talk about how you put the pieces together to schedule your day.
Schedule the Boulders First
I'm sure that you have heard the story of the college professor that talks with his students about boulders, rocks, pebbles, sand and water….  The end result is that he teaches them how to focus on priorities. It cycles internet email forwards about every year or so.  However, no matter how many times you have read it, it is still true. Check out the video below where I have attempted to recreate the experiment.
When you look at your schedule, what do you consider the most important chunks? When you worked through your priorities and goals, did you check to see how much on your calendar matched what you said was important?
Schedule Appointments with Yourself
So often we put things on our calendars that are appointments with others, but not with ourselves.  Is that you? I have to admit, I was not good at this, however now that I have others that add to my calendar I have gotten much better.
By writing priority activities to your schedule, you are giving them the honor they deserve.
Recognize Activities for Their Value
Pagers, iPhones, PDAs, Instant Messaging, Twitter, email, phone… the list goes on and on. Why, with all of the ways that we can connect with one another, it is amazing that we get any sleep at all! Now, don't get me wrong, I think that all of the ways to communicate are fabulous if they are used in the appropriate balance with everything else. For some, these tools are a connection to the lifeline of their business.  For others, it is a distraction from what will really take things skyrocketing.
Your Priority May be Someone Else's Goofing Off
Rest is not idleness, and to lie sometimes on the grass under the trees on a summer's day, listening to the murmur of water, or watching the clouds float across the sky, is by no means a waste of time."  ~John Lubbock
I had a boss once that felt that taking time off from work was the sign of a non-dedicated person. I disagreed with her then and I do now.
I'm a recovering workaholic by nature, but my son is very important to me. So, activities with him are equally important. One activity that my son loves to do is walk to the "resting rock" after dark.
There are many nights where I tell him no and decide not to do it in lieu of other things, but those are the nights I regret. You see, when we go to the "resting rock" (a big boulder that is flat on the top – we usually lay on our backs and look in the sky…) I learn all kinds of things about my son. We have amazing conversations. At the "resting rock" he feels free to share his innermost feelings. I am such a fortunate mom to be able to take part in that. Had I not taken time in my schedule for those few minutes, I would have never known…
What do you think?
What do you do to make sure that the right things are on your calendar? How do you make sure to focus on the important things and less on the lemonade?
To your success!
Like this Post?  You Might Also Like These
Schedule Your Day to Reflect Goals and Priorities – Part 1 – What Are Your Priorities?
Schedule Your Day to Reflect Goals and Priorities – Part 2 – Align Those Goals
Schedule Your Day to Reflect Goals and Priorities – Part 3 – Understanding Your Rhythm
Schedule Your Day to Reflect Goals and Priorities – Part 4 – Align Your Time