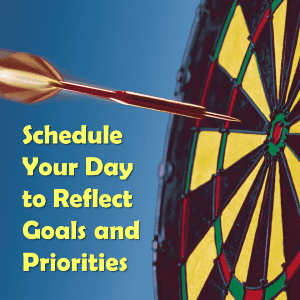 As I talk with clients and colleagues that are overwhelmed, they often have one thing in common.  They have lost the connection to their priorities in their daily living and business. 
Being able to connect your daily to dos to what is deeply important to you is the key to productivity and happiness in your daily work.
If you are struggling to have your day reflect your goals and priorities there are a number of things that you can do to make it happen.
"Sometimes you have to let go a little to grow a lot." — Marsha Firestone, Ph.D
Let Go – We are all creatures of habit. Most people don't like change, however, doing what you've always done will get what you've always got. If you want to schedule your day to reflect what is truly important to you, start by really being ready to make changes in what you have always done.
 "All you need is deep within you waiting to unfold and reveal itself. All you have to do is be still and take time to seek for what is within, and you will surely find it." — Eileen Caddy
 Know Your Priorities – I realize that this sounds really simple, but there are many people that are not totally sure what their priorities are. Can you list yours easily? Are they current?
As we grow older, our priorities change in life. Before I had my son, one of my primary focus areas was on advancing as high and fast as I could on the corporate ladder. I did really well at that priority too. However, after David was born, my entire focus changed. As a mother, with one of the biggest honors I could have, raising him was now much more important than any corporate ladder.
I even knew that was true during the months I was pregnant with him. I had convinced myself that I could do both my "high-ladder" position and be a mom. After one year of his life had passed, I knew I had to make a change. No matter how hard I worked, or for how many hours, I just could not get to where I thought I wanted to go. When I examined it closer, I realized that climbing that ladder of corporate success was just not who I was anymore — thus the birth of Calahan Solutions!
So, before you can set your schedule to your priorities, you must make sure that you are in sync with what your priorities really are! Here are a few resources to help you do just that.
Harvard Business Review by Marshall Goldsmith — this article gives you a great technique on how to think about what your priorities are.
Setting priorities … Brian Tracy takes you through the whys and hows of setting priorities and explains why all success minded people do the same …
What processes have you done to figure out what your true priorities are? Have you had any experiences where you realized that your priorities were not what you thought they were? I can't wait to see what you share in the comment section.
To your success!