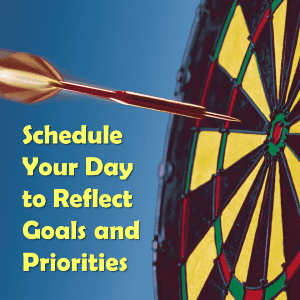 Now that you have your priorities firmly set in your mind, it is time to do a double check on your goals. 
"What??!!  Stephanie, I wanted you to tell me how to manage my time with the goals I already had and now you are telling me to do more work?"
In a word, yes.  Please stick with me here though.  There really is a method to my madness.
Often, we will create goals in a vacuum.  Maybe we read the latest post from our favorite guru and decide that we need to hop on the latest project they are talking about.  Or, maybe you have a goal on your list that someone else put there. . .
Point is, if you don't have your goals aligned with the priorities you just recently re-confirmed, you may not be heading down the right road.
If your priority is your destination, then your goals are your road map
You have to know your "Where to" and "View Map" settings, or the GPS won't work.  The same is true with your scheduling of time. 
So, if you start your trip heading to Chicago IL (initial priority) and then later learn that you really need to be in Tampa FL (re-defined priority), the map needs to change, or you will still end up in Chicago even if you wanted to be in Tampa.
Do a 10 minute Review
Pick your favorite spot and do a double check on your goals. If you cannot make a direct tie from the goal to one or more of your priorities, then it is time to take a closer look at that goal.
Don't have written goals?
If you don't have written goals, then now is the time to write them down. It is really difficult to manage your time around your goals when your goals are not clearly defined. 
Why bother with all of this work?
Many people don't "bother" with activities like this.  They are also the people that frequently are frustrated because they don't have time to get done what they want in a day too. You see, deep down you know when you are not aligned correctly. Subconsciously you could be sabotaging yourself. Don't let that happen! In order to manage your time well, it has to be properly aligned.
What is your experience?
I'd love to hear from you. Do you agree with what I'm sharing? Do you disagree with what I'm sharing? Let me know by commenting on the post. What do you do to keep on track? Let's have a conversation. Together we are better!
In my next post, I'll talk about how to tie it all together, so that you can get more important things done in your day!
To your success!
Like this Post?  You Might Also Like These
Schedule Your Day to Reflect Goals and Priorities – Part 1 – What Are Your Priorities?
Schedule Your Day to Reflect Goals and Priorities – Part 2 – Align Those Goals
Schedule Your Day to Reflect Goals and Priorities – Part 3 – Understanding Your Rhythm
Schedule Your Day to Reflect Goals and Priorities – Part 4 – Align Your Time