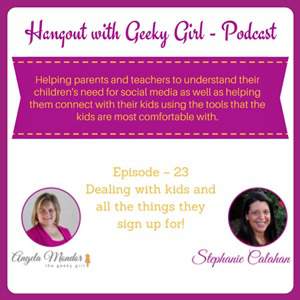 As a business owner you have loads of different technology to keep track of. If you are like many, you also have social media and personal technology in your smart phone, tablets, etc. to understand and manage. If you are a parent there is often another level of tech — your kid's. Angela Mondor asked me to join her on her show to talk about my experience being a parent of a teen and how we manage technology. During this episode we talk about:
reasons to consider giving your young children access to technology and how to prepare them for that responsibility,
managing the myriad of apps, sites, etc. your child may sign up for,
how to allow your child to have independence, but ensure they are safe online,
how to start conversations with your kids about the apps they use and get to know why they are using them and how important they are to your child; and
online safety for your child and you.
Media Type: podcast
Length: 38 minutes
Listen Now!
Cost:  no cost, just click play!
Resource(s) I Mentioned
LastPass – Secure and easy way to keep track of all of your passwords and important info.
Kick – Messaging app for those without text messaging, currently popular with teens.
Facebook Privacy Settings – Where you can learn more about setting your security settings in Facebook to make sure that your privacy is protected.
My Interviewer: Angela Mondor
Angela's passion is helping adults understand kids and the technology of today while supporting kids in becoming upstanders rather than bystanders in the digital world. She helps parents, teachers, and caregivers to understand technology and how kids and teens are using it. She also teachs kids and teens about online safety and how to use technology to prepare for their future. She is the host of the Hang Out With Geeky Girl show.
If you enjoyed the episode, I'd love your help spreading the word! Share it on your favorite social media site. Thanks!
Live Fully -- Love Openly -- Laugh Often -- Leverage Your Brilliance -- Connect Authentically -- Get Your Message Out -- Serve with Impact -- Prosper Everyday