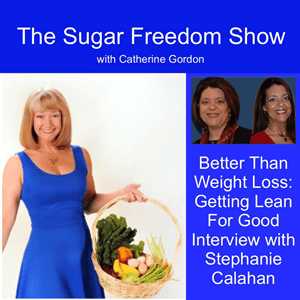 Self-care, self-image, health and business success — do you combine those things together when you think of things that you can do to grow your business? Many don't. That is why when Catherine Gordon asked me to come on her Sugar Freedom Show and tell my long term weight loss story, I said, "yes!" I have to say that this is the first time I've ever been OK being called a "loser." 🙂 In this show you'll hear me talk about:
What contributed to my weight increasing to 235+ pounds.
What I tried to do to get the weight off that actually backfired on me and why.
Why I took a leap of faith and fired all of my doctors and started over.
Why really listening to your clients/customers/patients is important.
Know thyself! How listening to myself and finding a solution that truly matched me and were in alignment helped me save my life and my business.
How healing my workaholic tendencies bought me freedom.
How to make decisions and say "Yes" to things that are 100% true to you to have guilt-free freedom.
How to think differently about rest = guilt.
Why hard work and the "I'll rest when I'm dead" may be hurting your business.
Loving what you do and how that ties to your health.
The first step to creating a life and business plan that you enjoy every day.
Media Type: audio – internet radio
Length: 45 minutes
Listen Now!

Cost:  no cost, just click play!
Resource(s) I Mentioned
My Interviewer: Catherine Gordon
Catherine Gordon is a fitness coach, author and host of the Sugar Freedom Show. She is dedicated to helping you live a healthy and happy life.
If you enjoyed the episode, I'd love your help spreading the word! Share it on your favorite social media site. Thanks!
Live Fully -- Love Openly -- Laugh Often -- Leverage Your Brilliance -- Connect Authentically -- Get Your Message Out -- Serve with Impact -- Prosper Everyday