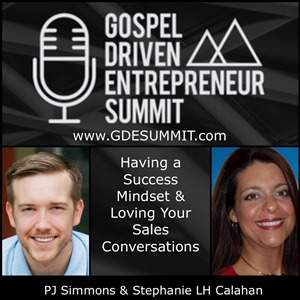 P.J. Simmons and I discuss Having a Success Mindset & Loving Your Sales Conversations on the Gospel Driven Entrepreneur Summit. I'm one of over 24 experts that share our story of how we created businesses that allow us to stay true to our faith in the Gospel and make money at the same time.
There are a number of different ways to conduct sales conversations. Unfortunately, many people buy into a guru's system and it ends up being like trying to fit a square peg into a round hole. If you are not feeling like your sales process is a match for you, maybe it's time to shift to something that is aligned to who you are…something that matches your belief system.
Here are some of the questions P.J. asked me:
Is it wrong for Christians to pursue success?
How do we develop a healthy and biblical mindset of success? Give us one quote or verse that inspires you. How does that quote or verse drive your work?
How does shifting our perspective on success shift our perspective on "sales"?
What does "authentic sales" mean?
You have talked before about a mindset shift that will allow you to walk into any sales conversation in your "power position." First, what is a "power position" that already sounds manipulative. Secondly, what is the mindset shift that you suggest people make?
You say that business owners in service industries should not use the word "price" when they are providing a quote. Why and what should they consider saying instead?
You also have an interesting perspective about how to think about the money your prospect does or does not have. Could you share? What does it mean to stop spending your prospects' money?
What active listening is and why it is a powerful technique in your sales conversations?
What can our viewers do today to confidently talk about the money side of a sales conversation?
Sometimes we run into people that simply do not have the money to pay for services. How can we respond to those situations in a giving and loving way?
Media Type: Video
Content: Christian faith-based conversation
Get Access Now!
Each Replay is Available for Free for 48 Hours
The speakers in this online event were hand picked to help you connect your faith and work, understand how your work can be used to influence others for the gospel, and give practical strategies in putting your ideas into action, at any level you may find yourself.
If that sounds great to you and/or if you missed my session or you'd like to catch the others you still have time! The event is running for a couple of more days and you can catch each replay for 48 hours. Or, you can choose to purchase the set of all 24 interviews for your learning library. The choice is yours.
Go Here:  www.gdesummit.com
What You'll Hear In The Gospel Driven Entrepreneur Summit
Day 1 – you will learn:
What it means to be made in God's Image, & the implications it has on entrepreneurship.
How to active your calling
How to create a "success mindset"
What to do with failure
The need to redefine "Hustle"
How to be successful in business without losing your soul
How to navigate personal relationships while being an entrepreneur
How to become better self leading leaders
Day 2 – you will learn:
How to steward influence as a leader
How to practice the power of being present
How entrepreneurship cultivates human flourishing
How to serve your customers well by going above and beyond what's expected
How to leverage business to influence culture
How to tap into the power to create wealth
Day 3 – you will learn:
How to make a plan to get to where you want to be
Developing a Business Plan
How to develop a framework for strategy
Understanding the "Sales Myth"
Why and How to delegate
How to leverage Facebook Ads
How to develop a social media strategy
Why and How to develop an email list
My Interviewer: P.J. Simmons
P.J. is the founder of Gospel Driven Entrepreneur. His focus is on leading meaningful conversation around faith, work, entrepreneurship, and business. He believes that business owners and entrepreneurs can live out of who God has uniquely made them to be and work hand in hand with God in establishing the Kingdom of Heaven on earth.
I'd love your help spreading the word about this event. Click the share buttons ok?
Live Fully -- Love Openly -- Laugh Often -- Leverage Your Brilliance -- Connect Authentically -- Get Your Message Out -- Serve with Impact -- Prosper Everyday