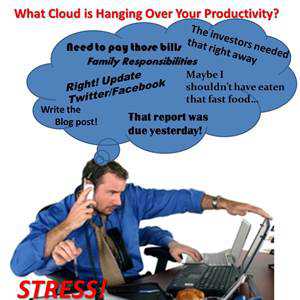 Do you know when you are stressed?  Do you know what you can do to eliminate your stress?  Not everyone can answer those questions. 
Small doses of stress can help you perform well under pressure and even motivate you to do your best.  However, when you are consistently pushed and in "emergency mode" your mind and body will pay the price.
If you find yourself feeling overwhelmed or frazzled frequently, it might be time to take action and get your nervous system in balance.  Learn how to recognize your signs of stress and put actions into place to eliminate it.
In honor of Stress Awareness month we'll talk about some causes of stress and my fabulous group experts will share their tips on how to eliminate it so that you can get more done and be happier.
Causes of Stress
Often, when we think of stress, we think of someone overloaded with things to do and that is certainly one cause of stress. 
Stress can be caused by life event changes (divorce, new baby, moving to a new home, new job, etc.), environmental (too noisy, toxins in the environment, too hot/cold, what you eat, etc.) or other people (pushy boss, abusive client, etc.) 
Your stress is managed by this tiny gland that sits right above your kidneys called the Adrenal System.  If it is operating correctly, it releases chemicals, or hormones, that help you manage your stress level.  Sometimes, however, due to things we eat, toxins in our environment or even just too much everyday stress, our adrenal system can stop working properly.  When that happens, it is harder for us to manage stress.  Little things that happen may seem huge!  You may find that people are telling you that you are blowing things out of proportion.  Adrenal fatigue and Adrenal failure are very common today and many people go undiagnosed.  If this sounds familiar, ask a doctor to test to see if you may need support for your Adrenal System.
For an excellent article on the signs and symptoms of stress, see http://helpguide.org/mental/stress_signs.htm.  
How to Recognize Stress & Get Rid of It
I asked my contributing community to tell me how they know when they are stressed and what they do to eradicate it.  Take a look through the list and see if one of their techniques resonates with you.
1. 50-Ways To Find Serenity
You'll find me attending Integrity Days – a day a month put aside only to catch up on things (business or personal) I haven't finished. And since serenity is the last thing on my mind when I'm feeling stressed out, I have a list of things to do when I feel stressed out. My busy clients started asking me for my list, the list was turned into an article (one of the top 10 downloads on my site), and a few years ago used the list to create a product (Serenity Cards), too!
Thanks to Maria Marsala of Elevating Your Business
2. Best De-stress
Schedule some uninterrupted, non negotiable down time for yourself. Have a time each week when you give yourself one hour of time to just sit, read a magazine, watch mindless tv, or other non productive activity. Give yourself permission to be totally unproductive! A few minutes of letting your body rest, your mind wander or just be empty, and free time can make all the difference.
Thanks to Ellen Delap of Professional-Organizer.com
3. Focus On Breathing!
Meditation is a great way to reduce stress.
All you have to do is to find a quiet place, where nobody is around, and lie straight on the floor or in bed.
Close your eyes and breath normally, do not think about anything. Think and focus on the breathing, as you inhale and exhale…
In about 45 seconds take deeper and longer breaths, about 10 of them, then go back & breathe normally again.
Repeat this for 5-10 minutes, do not think about anything else!
Congratulations, you now STRESS FREE!
Thanks to Chris Diamond of Double Time Today
4. Lose Yourself
My favorite way to de-stress is to engage in some activity which allows me to lose track of time — for me, it's exercise or writing or creating art. We're always so busy watching the clock, thinking about our next appointment, worrying about all that we have to do — it's hard to keep a sense of perspective when you're constantly rushing! But when you find something that you love to do, you naturally slow down and relax. It's impossible to experience stress when you're truly in the moment!
Thanks to Ramona Creel of RamonaCreel.com
5. Staying In Control When Stress Is On The Rise
I know I'm reaching my stress threshold because I can become impatient with "little" things that normally wouldn't bother me. I also experience upper back pain during those times.
The best way to manage stress is to maintain a healthy lifestyle with regards to food, sleep and exercise. Drinking water (not coffee or alcohol) is fabulous for keeping the brain connections in good shape when you need them most!
Self-care goes such a long way in stress management and productivity. Give it a try!
Thanks to Lauren Davidson of ARoundTuit Organizing & Productivity
6. Life Is Just A Pile Of Sandbags
I believe there are no problem,just challenges. Denial doesn't help anything. Visualize each challenge in your life as a 50lb sandbag on your shoulder– more sandbags, the more slumped you become. Look at depressed people–they are slumped carrying the weight of the world on their shoulder. Challenge yourself to chip away at each sandbag in your life. Issues you have about people or things that happened to you are only your issues–not theirs. As you chip away, you will feel lighter and happier!
Thanks to Michael Travis of Prudential Spencer Hughes
7. Your Power Lies In Your Perception
Stress is the result of your nerves taking on a life of their own, and occurs when your perception of events is out of balance with your perceived ability to handle the events. The greater the imbalance, the higher your stress level. So the solution is to plan for challenges, prepare to meet them from a position of power, and manage your perception of them with a positive can-do attitude. The more you see obstacles as opportunities for adventure, the less they will freak you out.
Thanks to Dr. Shannon Reece of Reece International LLC
8. Stress-It Rarely Happens To Me!
I try very hard in my life to keep stress at bay. I try never to be so overloaded that it would lead to stress. I pick about three projects a day to concentrate on besides the daily routine duties such as e-mail. If I do happen to feel the stress, I will call upon my girlfriends for a "girls night out". Time with positive, like minded people will always help you gain your prospective back.
Thanks to Diane Sullivan of The Organization Station
9. Stop, Drop And Roll
Stress causes me to be impatient and anxious. I know I need to stop, drop and roll.
– Stop my negative behavior and do something positive.
– Drop the stressful activity and do something fun. Play with the kids or walk the aisles of the Container Store, (yes that might be weird but it calms me down).
And finally,
– Roll with it. In reality, my problems can all be managed. Stressful times happen, so I tell myself to take a deep breath, figure out a solution and move forward.
Thanks to Kristin Lindstrom of Savvy Spaces By Kristin
10. Stress – The Pinball Machine Ini My Head
How do I know I'm stressed? My brain starts working in too many directions,like having too many pinballs going on at once. I start forgetting things. I don't breathe as deeply. And in the old days, when I wasn't as smart about this, I would stop eating or eat very little — opposite of all my friends!
How do I de-stress: I pick something, ANYTHING and I finish it. Then I walk away from my desk, out to the deck and I breathe deeply. I walk away from work.
Thanks to Sue West of Space4U Organizing
11. De-Stress Dreaming
Last night I had a dream about organizing an entire house. I was the team leader and half of my team were not even organizers! UGH. I love my job but I do not want to think about organizing when I sleep. An 'organizing dream' is the signal that tells me that I've been working too hard (non-stop for the last 10 days) and that I need some time off. My de-stress activities include taking a long walk (alone,) meditating, and spending time with family and friends.
Thanks to Lisa Mark of The Time Butler Professional Organizers
12. From Distress To De-stress!
Negative emotion (especially self-doubt or blaming others) is my personal stress indicator. Reviewing my vision and priorities to check if I have gone "off target" helps calm mental stress, as well as getting the perspective of others. I also find encouraging others to be a powerful de-stressing technique.
Thanks to Shelley Molitor of Established Ways
13. Establishing Rhythms Of Peace
I know I'm stressed when I'm excessively determined to get things done and have trouble sleeping at night. My rhythms of sleeping, eating, meditation and work all get thrown off, creating more stress. To fix it, I establish rhythms of peace by slipping in calming activities such as meditation, stretching, prayer, calming music, etc. Apple employees enjoy 30 minutes of meditation daily on company time so that they can reestablish rhythms of peace. They say the ROI is worth the investment.
Thanks to Tom Von Deck of Monkey Wisdom Workplace Meditation Programs
14. Sometimes Several Days Attack Me At Once
I try to live my life one day at a time, but sometimes, in spite of my efforts, several days attack me at once. When this happens I take a deep breath and commune with the truth that this is a temporary situation. This allows me to do the next right thing.
Thanks to Susan Delphine Delaney MD, MS of www.drsusandelaney.com
15. Have A Daily Practice Of Silence/Meditation
Have a daily practice of silence/meditation. It doesn't matter what technique you use – but take some time each day to quiet your mind and senses so that you can develop more control over your thoughts and interactions throughout the day. You will be able to think more clearly and function more effectively.
Thanks to Jeff Gitterman of Beyond Success Consulting
16. Take The Day Off!
The best way to get re-energized is to REALLY take the day off! Turn off the computer, don't check email or voicemail. Check out! Do something completely unrelated to your work, enjoy your friends, your family, do something for you! Taking a step away gives you the necessary break you need to be more productive! You will feel more energized and feel less burn out!
Thanks to Nikki Kinzer of Take Control Organizing
17. Control That Cortisol
When cortisol is racing through your body, it can damage the neurons in your brain in the long term. And…it can cause your brain to become "frozen" in the short term. Experts advise engaging in a mental challenge just prior to a stressful event. There are any number of exercises you can do to control your stress. Example: Try making a list of all the four-letter words (more than 120 of them) that refer to the human body. Don't cheat: you can't just put an "s"on a three-letter word.
Thanks to Marlene Caroselli of Center For Professional Development
18. Just Say "No"!
I find my most stress-filled times to be those when I've said "yes" to too many things that I really don't enjoy or don't care about. "No" is a difficult word for overachievers or people-pleasers, but it can be a one-word de-stresser. Just as giving money to every solicitation in your mailbox could put you into financial ruin, giving time & energy to every request can do the same to your life. Know your values, and give your time to those activities that resonate with you and your life goals.
Thanks to Robin Blinder of Consider It Organized
19. Being Mindful – The Relaxing Way!
Stress is when I'm…
> Trying to finish off that "very important" task before I dash off to the next meeting.
> Working long hours and not prioritizing effectively. (BTW we spell it "prioritising" here in Ole England, but I'm not getting stressed, OK?!" 😉
> Sleeping erratically and waking up early in the mornings when I know I could do with more sleep.
My de-stress is to take breaths, switch off ALL technology and do "Mindfulness" to relax. Look it up, it's really effective!
Thanks to John Coupland of @networkerplus
20. Let A Picture Transport You
We all have times when we feel stressed. Life can be challenging, can't it? Here's how I shrug off those stressors. I rely on a series of photographs and postcards of wondeful places. These are all places that I have visited and that still generate calming memories. The Caribbean, the south of France, many others. Even with places that are local to me, I can lose myself in these images, bringing me back to a relaxed state of mind. These images are priceless to me and my productivity.
Thanks to Peter Coombs of FRONTLINE Training & Consulting
21. SUPER STRESSED? YOU NEED A REST
I know I am stressed when I have more things on my plate than I am able to handle in a day. My mind is racing and I am getting nowhere. What do I do? I take a break. I take this time to regroup and prioritize. It might involve something as simple as meditating for 15 minutes, taking a walk or getting out with friends for lunch or an evening out. It's important to create that balance in your life so that it is not all about "the to do list" and taking time to enjoy life.
Thanks to Audrey Cupo of A BETTER SPACE – Professional Residential Organizing
22. Escape To My Journal
One of my favorite ways of de-stressing is writing in my journal. To me, my journal has always been a safe haven to work through my desires, dreams, problems, obstacles, challenges, and goals. Journaling is a great way to dialogue with yourself, and often leads to powerful breakthroughs. There is something magical that happens when you put words down on paper. Words are powerful in and of themselves. But writing down words is even more powerful! I received my first journal as a gift when I was eight years old. I have filled countless journals since then, and the act of journaling remains an important one to me up until this day. So think of a journal as a gift to yourself.
Thanks to Lisa Montanaro of LM Organizing Solutions, LLC
Responses compiled by Stephanie LH Calahan of Calahan Solutions, Inc.
Which ideas did you like?  What do you do?
Live Fully -- Love Openly -- Laugh Often -- Leverage Your Brilliance -- Connect Authentically -- Get Your Message Out -- Serve with Impact -- Prosper Everyday