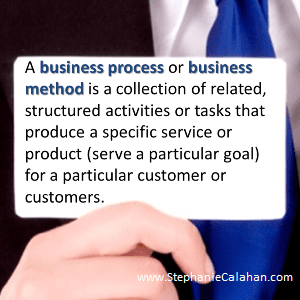 No matter if you are a one-person show or you have a business that has many employees, unless you have business processes in place, you may find the business growing "out of control."  The activity of organizing and writing down key activities and when they need to get done is critical to your ability to grow your business and thrill your customers.
I have found that many business owners do one of two things where business processes are concerned:
Don't have them — They think, I'll have time later to get all of this down.
Make them too complex — They over-engineer the processes and ultimately do not do them because it is too complex.
Today I'll share areas of your business where you need established processes to make sure your mission and vision are accomplished and you grow your business without losing your mind.
Your Mindset – Implement Processes with Success
Before I talk about what processes to have in place, I will talk a little about how to implement them (put them into place).  As you are thinking about the list of processes you need to get active in your business, implement one process/procedure at a time.  Start with the most critical. 
Put the process into place and then work it until it becomes a habit–a part of your organization.  When you feel the relief that things are happening consistently and naturally then add another process.
As you are adding processes, if you get the feeling that the procedure itself is a drain, it is possible that you have gone too far and have over-engineered.  Step back and re-evaluate to see if you can simplify.
Processes/Procedures All Businesses Need
Below are common processes that almost every business needs to have in place for success.  As you review this list, think about the impact and implications of each item to your business.  What is the impact of getting them done incorrectly or not doing them at all?
1 – Financial Management
Have a reliable way to understand the expenses and assets that your business has.  Get away from co-mingling your funds.  Co-mingling is when your personal and business finances are mixed–either through a bank account or credit card.  Not only does co-mingling make it really difficult at tax time, but you can be missing out on recognizing legitimate financial advantages for your business.  In addition, a strong financial process will ensure that you have the ability to know if you are profitable and which services/products to continue or stop.  You can use a simple accounting tool like QuickBooks or Freshbooks to get this into place.  Or, network with a CPA or a book keeper and hand off the book keeping completely!  If you are the type of person that procrastinates when it comes to money, this is the best choice for the health of your business.  You can find many qualified book keepers in your community or virtually.  Want some ideas for resources?  Let me know.  The money you spend will be a good investment for your future.
Depending on your business structure and where you are in the business cycle, you may also need a funding process that identifies a clear plan for how you will obtain the funds necessary to run your business while you are starting up. 
2 – Solid Business Plan
Would you go on a 2 week vacation without knowing where you are headed or how you are going to get there?  You shouldn't have a business without a road map either. Your business plan can be as detailed or as high level as you want, but it is your one-stop location for direction when you come up to a new fork in the road.  A good business plan will evolve with you as your business evolves. A business plan typically has the following elements:
Business Plan Executive Summary
Market Analysis/Competition
Company Description
Organization & Management/Business Structure
Service or Product Line
Funding Request
Financials
3 – Marketing
If your marketing is sporadic, your results will be sporadic too.  Many small business owners go up and down like a yo-yo when it comes to marketing — lots of activity when customers are low and little to no activity when customers are more plentiful.  Successful business owners know that you must have a consistent plan for ongoing marketing.  It is better to have a strategic plan with a well defined brand and 5-6 lead generation strategies that you do consistently and well than to have 20-30 that you do every-once-in-a-while.
4 – People: Human Resources
One of the biggest mistakes entrepreneurs make is thinking that they can do it all on their own.  Building a successful business involves more than the technical know-how of your product or service.  No one is an expert at everything.  As your business grows you will need to hire others to support your business.  Bring in people that can fill the gaps.  This can be in the form of coaches/consultants, contractor help, joint ventures, strategic alliances or employees.  Regardless of the employment form that you choose, at that stage, you will have processes in place to help you recruit, hire, pay, and train those that you bring on to help you run your business.  In addition to ensuring that those you bring on are consistent, you will have a variety of tax and legal considerations to manage in order to get it right.  Don't bring on new people without formal processes in place.
Special note on hiring/firing:  There are many small businesses that are quick to hire and slow to fire.  While having a strong team is critical, it only works well if you have the right people on your team.  There are proven systems and tools that can ensure you hire the right people, including clear job descriptions with job goals that help you attract, hire and retain quality support.  When you are developing your people processes, make sure to include procedures that ensure you hire with a purpose, commit to staff development and to let go of those who are not meeting job requirements and expectations.  An employee policy manual and job descriptions are a great place to start.
5 – Technology
There are many different choices for business owners today when it comes to technology.  Some business owners don't leverage the choices well, while others go out and purchase the latest gadget without a plan for how it fits into the business.  Find an IT person or company that you can trust.  Then, work with them to define a strategy for how you will purchase, implement, and use technology to run your business.  You will need processes in place for accessing the internet, requirements for when you need servers, networking for hardware use, programs necessary to run the business and data backups for business continuity. 
6 – Invoicing/Billing and Revenue Collection
"Show Me The Money!" is a famous line from a popular movie a few years ago, but when you are in business, you are there to make a profit.  If you don't have good systems to bring the money in, that ability can be shot.  No matter if you are a Chiropractor that delivers services on-site, a bookstore selling products out of a store, or a virtual professional that sells everything via the internet, you need good processes in place to collect revenue in a timely manner.  Type of payment you accept (for example we accept Cash, Check, Credit Card, Debit Card and Paypal) as well as terms for payment (immediate, per-scheduled or invoiced) will determine what steps you need to put into place to ensure that the money continues to flow into your business. 
7 – Customer/Client Service
The quality of your customer service can make or break your business.  It is an area that many businesses overlook and then regret later.  No matter how good your product or service is, people will want a way to contact you, get a quick response and have the person they are talking with have the right knowledge and experience to help them with their decision or problem.
Customers want to have their problems solved or have some kind of need filled.  When you create your policies, make sure that you include active listening skills. Listen, ask questions and restate what you believe you heard to confirm understanding.  The more your customers believe you understand their issue, the happier they will be overall.
8 – Effective Follow Up
If you invest time and money into generating leads for your business without a proven process to convert them into customers, you are experiencing waste.  Consistent and timely follow up is the key to sales and business growth.  Have processes in place for effective follow up no matter if the prospective customer contacts you via in person, phone, email, sweepstakes signup, web form, or social networking.  Take the time to understand the different ways that prospects might come to your business.  Then, take advantage of scrips, templates and technology to make sure that you are effectively, efficiently and consistently following up.
Final Thought
It does take time and effort to document procedures for all of the critical areas of your business but it is the key to consistency, efficiency, continuous improvement and profitability.  Too many small businesses ignore this critical activity and it becomes obvious when you attempt to outsource, hire/train new people or even start losing customers because of poor service or deadlines that are missed. 
Did you know that if most of your business processes are in your head or the head of your employees, your business may not even be valued as high as it truly is?  By writing down your processes, you significantly increase the value of your business because it is no longer reliant on a specific person.
Which of these process areas are impacting your growth and profit? Make it a priority to get them in place — one at a time. Make sure to make written processes and procedures a priority for your business.  If you need help, let us know.  We help businesses figure this kind of stuff out every day.  Either way, once you are on your way, the results will surprise you.  The sooner you do, the sooner your business and profit will grow.
What Processes Do You Think Are Critical?  There are many I did not list.  What would you add?
Live Fully -- Love Openly -- Laugh Often -- Leverage Your Brilliance -- Connect Authentically -- Get Your Message Out -- Serve with Impact -- Prosper Everyday