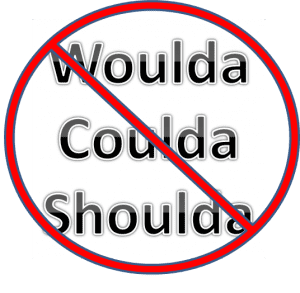 "I'm so stupid!  Why didn't I think of that?  I have so much to do that I can't think straight!"
Do you ever feel that way?  If you do, you are not alone.  Many people use negative "self talk" to justify why they are not getting the things done that they think they need to.  You start in a state of overwhelm and rather than getting out of that state, you start traveling down a bad path.
Today I'll share some techniques to help pull you out of that path and onto a path of productivity and gettingthingsdoneness. (OK, ya, I made up that last word, but you know what I mean!)
Techniques to Ground Yourself & Get Out of Negative Self Talk
When you find that you are spinning in circles, filled with overwhelm or are talking about yourself in a not-so-positive light, try one or a few of these techniques:
Stomp Your Feet
Press your feet firmly to the ground to remind yourself of where you are.  You might consider writing down those negative statements and stomping on them.
Breath!
Concentrate on your breathing.  Don't think of anything else for 5 minutes.  Take a deep breath from deep down in your diaphragm.  Count as you slowly exhale and see how long you can breath in and out and if you can increase the count as you go.  Make sure to do this slowly so that you don't hyperventilate though!
Cross Your Legs and Arms
Feel the how you can control your body and remind yourself that you have that control in other areas of your life too.
Change Positions
If you are standing then sit and if you are sitting then stand.  Pay attention to the changes in movement.  Remind yourself — you are in control.
Give Yourself Permission to Change the Channel
The images in your mind and things you are telling yourself are changeable.  Visualize a remote control and then change the channel to something else.
Remember You Are Important
No matter how small you feel, you are important and motivational to someone else on this planet.  What you do matters — you matter.
Snap Your Wrist
Keep a rubber band around your wrist.  Every time you find that you are being negative, snap it onto your wrist.  Feel the slight sting.
Take Your Pulse
Find your pulse on your wrist or your neck.  Count the beats per minute.  Concentrate on the feeling of your life force pulsing through your body. 
Embrace Nature
Take a walk in the park, or sit outside by a tree.  Feel the bark against you.  Run your fingers through the grass.  Take a deep breath in.  Concentrate on what is going on around you.
Take Notice
Look at the things around you.  What are your surroundings?  The people, sounds, smells, nature, tv, radio, etc.  Focus on everything but you for just a few minutes. 
Watch Your Smile
Look in the mirror and see how many different funny faces you can make.  If you are really brave, take a picture of each face to have as motivation for later.
Write in a Gratitude Journal
Pick 10 things that you are grateful for and write them down.  If you can name more than 10, even better!
Doing a few of these activities will help to refocus your attention off of the negative self-talk.
Let It GO
Sometimes we hold onto our negative self-talk because somehow it makes us feel safe.  Tell yourself that it is OK to create a new story.  When you experience the woulda-coulda-shouldas you are blaming yourself.  No matter how much you beat yourself up, you will not be moving forward. Learn from your experience and then let it go and move forward.
Go Like the Pros
Professional athletes and their coaches know that winning the game (no matter the sport) is largely mental.  If the team goes into the game thinking they are going to lose, they will.  Sports greats like Michael Jordan or UCLA's coach great John Wooden visualize the positive first.  In fact, visualization of success is the first thing that was required before any physical action took place! 
This technique works well beyond the bounds of sports.  Rather than practicing failure in your mind, practice success. 
What do you do to get out of a negative path?
Live Fully -- Love Openly -- Laugh Often -- Leverage Your Brilliance -- Connect Authentically -- Get Your Message Out -- Serve with Impact -- Prosper Everyday