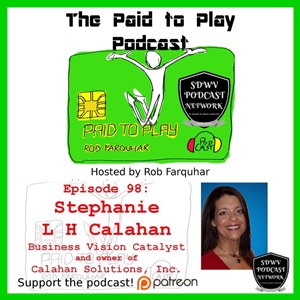 Do you believe that you can be paid to play or do you look at your business as something that requires you to work hard and endure? The Paid to Play podcast is here to show you how you can take what you love and turn it into a business that supports you and is fun. Rob Farquhar and I spent some time talking about bringing joy into your business. It was truly a fun conversation. Though, I had to concentrate more because I kept getting caught up in his awesome Australian accent.  😉
We talked about:
What would you do if you had a golden magic ticket?
The challenge of leaving corporate and those "golden handcuffs" and deciding what to do instead.
My aha moment. What made me choose to leave my corporate job and take a risk to start my own thing and the large leap of faith that we took.
Shifting from my first attempt at business ownership (that was successful) to something that brought me more joy.
Defining your ideal day and ideal week as a foundation for your business.
How to build a business that is profitable and brings you great joy.
Different types of fear that can hold your success back.
How guilt can hold you hostage and keep you from growing your business.
The three things to do right away to create a successful paid-to-play business.
Media Type: podcast
Length: 52 minutes
Listen Now!

Cost:  no cost, just click play!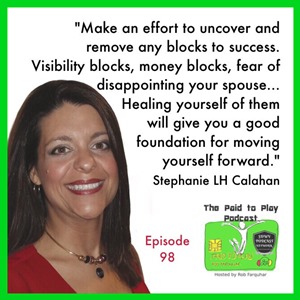 The Show: Paid to Play
Almost everyone that has started a business has, at one time or another, heard from well-meaning people suggesting that their endeavor would make a great hobby; but maybe they should give up the nonsense and get a stable, secure, "real" job. They also experience "fear voices" in their own mind that say things like "what was I thinking?" or "Who am I to create this? Am I good enough?" He created the Paid to Play show just for those of you sitting in that space right now!
His show episodes feature conversations with a diverse set of entrepreneurs who have taken what they love doing, no matter how silly, geeky or odd, and made an income out of it. He talks with people that have created hobby businesses that cover their own play-based expenses all the way through to passions that pay all the bills and then some!
In every episode he strives to inspire you to embrace the idea that others can find value in what brings you joy, how you might make it happen, and to give you some tips and suggestions that you can apply as you "monetise your madness!"
My Interviewer: Rob Farquhar
Rob hails from a tropical town in Australia and has been connecting with amazing people all over the world for a number of years through his podcast, Paid to Play. He is a creative type of person that also excels at designing systems that help businesses perform better. In addition to podcasting he splits his time freelance writing, voice acting, narration, event hosting, panel hosting and teaching others how to set up Patreon pages for their shows.
If you enjoyed the episode, I'd love your help spreading the word! Share it on your favorite social media site. Thanks!
Live Fully -- Love Openly -- Laugh Often -- Leverage Your Brilliance -- Connect Authentically -- Get Your Message Out -- Serve with Impact -- Prosper Everyday