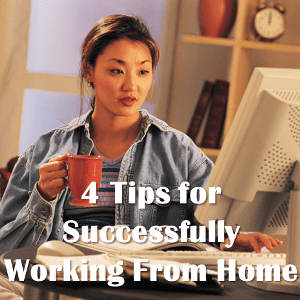 At one time working from home was rare.  However, today many business owners are working out of home offices, dining rooms and corners of their living room. Even brick and mortar businesses are cutting costs and having employees work a few days from home. 
Today I'll share 4 tips to help you ensure you work from home with success.
Have a dedicated work space
If you are going to work one or two days a week from home, make sure that you have a dedicated space to do your work. The kitchen table is not a good place to "make camp." Make sure the space you set up allows you to do everything that you do when you are in the office. Remember, telecommuting is still a new concept for a number of employers. Anything that will make you less productive will make it harder for your employer to continue to support the idea.
Keep the TV & Other Distractions Away
When people first start working from home, it is very for them to get distracted. Could be running to the kitchen to get a snack, or stopping to watch a "few minutes" of TV. When you set up your space, be honest with yourself and eliminate as many distractions as possible before they happen.
Pajamas are Good for Some & Not for Others
Some people can work from home in the comfort of their PJs, but for others it would be a recipe for disaster. Clothing can make a psychological difference in how seriously you take your work. Be honest with yourself and dress for your success.
For example, I learned that if I'm in sweats, I am WAY too comfortable and I get sloppy with how much I can get done in the day, however, if I have on jeans or slacks, I can get a lot done.
Have Systems to Handle Your Mobile Office
If you end up working a few days from home and a few days in your company office, having a good system to get things back and forth is very important. If you don't you will end up either leaving something at one location and needing it at another, or taking everything with you in your car and never having room for people to sit!
Think through what types of things you really need at home. Only take those things. Make sure that your action systems can go with you rather than duplicating them. In upcoming posts I'll show you how you can set up a system to work with you on the go.
Your Turn!
What things do you think need to be considered if someone is going to work from home and the office? I'd love to hear your thoughts or questions. Share them in the comment section at the end of this posting.
To your success!