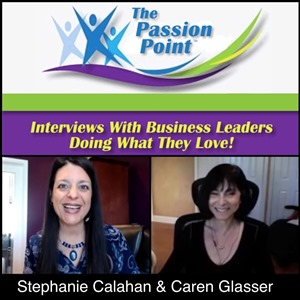 Overcoming your barriers to success can be scary to think about, but it does not have to take a long time or be painful. Today I'm sharing an interview I did with Caren Glasser on The Passion Point Show and we discuss:
How to feel safe and overcome your barriers
How to fully identify your expertise
How to gain massive visibility
Why some people are great coaches, but not the coach for you and how to recognize it
Media Type: Video
Length: 30 Minutes
Watch Now!

You can find the interview on The PassionPoint Show and Spark It Network
Cost:  no cost, just show up!
Go Here: https://www.stephaniecalahan.com/cg-pp
My Interviewer: Caren Glasser
Caren Glasser is the author of 4 books, and the host of The Passion Point, a WebTV show. She can also be seen on Bravo's Below Deck Mediterranean. Today, as the CEO of Spark It Network, she focuses on helping businesses create digital assets so that they can get found online.
If you enjoyed the episode, I'd love your help spreading the word! Share it on your favorite social media site. Thanks!
Live Fully -- Love Openly -- Laugh Often -- Leverage Your Brilliance -- Connect Authentically -- Get Your Message Out -- Serve with Impact -- Prosper Everyday