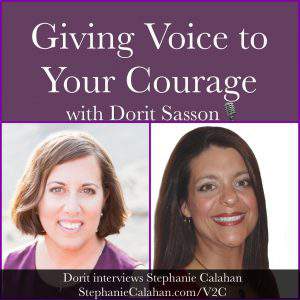 Courage is the quality of mind or spirit that enables a person to face difficulty, pain, etc. without fear. The host of this show features authors, entrepreneurs and anyone with a story of courage that would help someone else feel more courageous in taking risks and making important life and business decisions. She interviewed me about the leaps of faith I have taken in my life and how they have helped me to be a better person as well as a better business owner.
Where: Giving Voice to Your Courage with Dorit Sasson
Host: Dorit Sasson
Media: Blog Talk Radio Audio Interview
Length: 30 minutes
Listen Now!
If you enjoyed the episode, I'd love your help spreading the word! Share it on your favorite social media site. Thanks!



Live Fully -- Love Openly -- Laugh Often -- Leverage Your Brilliance -- Connect Authentically -- Get Your Message Out -- Serve with Impact -- Prosper Everyday