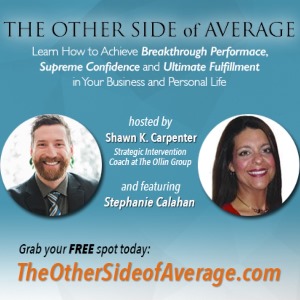 It's fascinating to notice, that no matter how successful people become, there is always more that they are capable of doing…deeper levels of total satisfaction that they can achieve or more that they can strive to impact. Even those that seem very confident on the outside often secretly wish for more. Others are wore down thin from the shear amount of work their success has created. Others still find that they are extremely happy in their life but find that something is missing. Any of that sound familiar?
If so, you might want to consider what it would be like to be on The Other Side of Average.
What if you could tap into the minds of some of the most successful and influential people on the planet to discover their key strategies to create a truly amazing life?
What if they laid it all out for you in simple, easy-to-follow steps that you could implement right away?
Even better, what if those people shared intimate details of their life, what made them truly successful and did so in a way that was gritty, down-to-earth and real?
That's why I'm sharing this with you. It's different. It's inspiring. And it's real.
Media Type: Online Video Summit
Watch Our Segment Now
The summit is now over, but you can watch the segment that Shawn and I did by clicking the play button below.

Cost: no cost, just click play!
About The Program and Host
It's not good enough to simply build a business, focus on goals, or even be self-motivated.
All of that is so much juicier when you do something beyond the norm.
When you achieve a level of fulfillment that leaves you in a state of constant gratitude and amazement at life. Maybe even awe-struck. My colleague, Shawn K. Carpenter, a successful coach in his own right, has put together a free video series for professionals and business owners who long for something more. It's called, The Other Side of Average… and I really do mean this when I say you need to check it out. It's that awesome. (It's starting soon)
Live Fully -- Love Openly -- Laugh Often -- Leverage Your Brilliance -- Connect Authentically -- Get Your Message Out -- Serve with Impact -- Prosper Everyday

PS: Shawn found over 21 of the top experts in the world regarding breakthrough performance, supreme confidence and ultimate fulfillment in life and I'm happy to say that I'm one of the interviews in the summit!