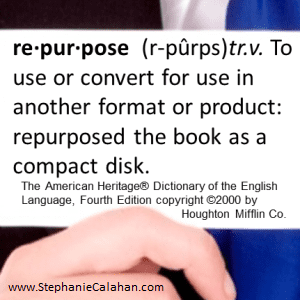 Earlier this week I was talking to a client about how she could make time in her schedule for content creation for the marketing of her business.  She mentioned wanting to start a podcast but she was not sure if she had enough ideas or time to make a go of it.  I suggested that she repurpose some of her other work and she gave me a blank stare.  She said that she supposed she could do that if she knew what it meant.
If you look over to the right, you will see the dictionary definition of repurpose.  If you ask me, re-purposing is the art of smart business.  It is productive content creation.  It is working smarter not harder.
Today 50 of my fabulous business expert community share how they repurpose their content to grow their business and save time.
There are a lot of great ideas in this post, but be careful to not let it overwhelm you.  I suggest that you:
Pick and choose the ideas that will be most useful to you. There are different concepts listed here — not every single one will be useful to every person. I hope you'll find 3 that are useful, or that are reminders of something you've been wanting to do.
Experiment! Try out different thoughts and see if they work for you.
None are guaranteed. But many are very likely to bring saved time and more visibility.
These thoughts are in the order they were received. Some of the best ideas for you may very well be at the bottom!
Share your ideas in the comments.  I'm sure that if you do, you will help someone else reading this post.
1. Recycle! Never Throw Anything Away!
I have always written articles, from my time in grade school, right on through College. Even though the articles were on specific topics, I could take one or up to three sentences from one article and morph it into another article on a different topic. I acquired many articles to have at my disposal doing this. It also helped me write my two books! So, recycle those papers you have written and turn them into your next blog or book!
Thanks to Sheila McCurdy of Clutter STOP
2. Write For Me, Myself And I–Think And Then Link
To begin, write a very detailed blog with several parts to it. Then take part of the parts and link to other parts in other places. So a story in an Active Rain Blog has parts linked to parts of a WordPress Blog and a another part included in the content of your website linking to parts of a facebook content. Just Think and Link.
Thanks to Michael Travis of Prudential Spencer Hughes
3. Think Big When Creating Content
Last year I was invited write articles for ACCO's "Organize Your Desk Day". To give some structure to the series of 30 blog posts, I decided to create a 10-week "How-to" course in setting up an organized and productive workspace.
I've recently launched my own blog and those articles will reappear there, and one day they may be repurposed again into a book.
Tip #1: Avoid phrasing or content that will become quickly out of date.
Tip #2: When writing for others, be sure to retain copyright.
Thanks to Clare Kumar of Streamlife
4. The List Is King; Re-purposing Is Queen
When I was a graduate student, I was mildly surprised to learn that a thesis statement could expand into an entire thesis. And so it is with lists–they can expand into numerous articles. The list itself could be one. Any other item could become another article. And then, of course, there are numerous combinations that can become even more articles. Here's a tip: you talk to, email several people a day. Given your topic, ask them what they'd put on their own top ten list. Let the articles begin.
Thanks to Marlene Caroselli of Center For Professional Development
5. Don't Write Your Book. Talk Your Book.
You can talk into an mp3 recorder for a few hours and have it transcribed into a book. If it's nonfiction, then you have an audio course, an e-book and a print book as an end result. You'll "write" your book much faster this way. I wrote The Deeper Meditation Training Course first, then the audio course came out later. These are similar courses with a whole different spin for different target audiences. I used the book's table of contents as an outline for the MP3 course, which is another option.
Thanks to Tom Von Deck of Monkey Wisdom Workplace Meditation Programs
6. Dusting Off Blog Content For Fun & Profit
I like to take it live! Not everyone is a blog reader. I take my best content and turn it into workshops and allow people to play with and I hope learn from the ideas. I turn my words into visuals and interactive exercises so that I can touch even those who aren't "word people". For workshop attendees and those who love follow-up e-books of related topics from previous blogs with some fresh bits make a great freebie.
Thanks to Karen Southall Watts
7. An Apple Is An Orange Is A Banana – Re-Use Your Good Stuff!
I teach classes to entrepreneurs and budding entrepreneurs, showing them how to take existing materials and turn them into entertaining videos & podcasts for sharing on social networks. Love to see the light bulbs go on when they "get" this concept! Marketing material is stripped of sales language, and the info becomes a blog post, which becomes a podcast, which becomes the soundtrack to a video made from PowerPoint slides which becomes a YouTube video which becomes content for the website.
Thanks to Sandy Weaver Carman of Voicework On Demand, Inc.
8. Record Everything For Repurposing
The key to re-purposing content is to think about what you're going to use it for ahead of time & consider how many ways you might want to use it so you product the content in the right media to begin with. For example, if you have a video, you can use the whole video or clips, you now also have access to just audio, you can transcribe what you have and that can be used for articles, blog posts, social media content and posts, and as a manual to go along with your course. Record everything.
Thanks to Diane Conklin of Complete Marketing Systems
9. Grow Your Business & Save Time – Recycle Your Content
When I write an article or blog post I use the article as content for my internet radio show which is broadcast internationally. By recording the radio show I have a recording for posting on my website or blog. I also can use the recording to make a cd and give to potential clients or current clients instead of a business card or brochure. The link to the recording either on the internet radio site or website/blog can also be posted on social media sites driving traffic to the desired location.
Thanks to Jaynine Howard of Dream Catcher
10. Re-purposing: Soc Media To Articles To Books
I spend a lot of time giving advice via social media (LinkedIn and Yahoo discussion groups, especially). Some of those become blog posts, newsletter articles, parts of books.
I'm a big believer in re-purposing content. Three of my four traditionally-published books–including my award-winning category bestselling most recent one, Guerrilla marketing Goes Green, were expanded, updated versions of books I'd previously self-published.
Thanks to Shel Horowitz of GreenAndProfitable.com
11. Save Every Nugget Of Wisdom, Polish Every Gem Of An Idea
Whenever I offer my professional opinion in writing (whether it's in a forum, an email reply to a client or a comment on someone else's blog), if the idea is new or I've managed a turn of phrase I particularly like, I copy what I've written into a blank email with appropriate keywords in the subject line and place it in a searchable "Inspiration" sub-folder. These kernels of wisdom are the perfect prompts to expand into blog posts, newsletter articles, e-books and presentations.
Thanks to Julie Bestry of Best Results Organizing
12. One Tree With Many Limbs
I write a daily quote and turn the content into a short video. On certain days I expand the same quote and turn it into an article that I send to the newspapers and also present the material on radio as a motivational minute.
Thanks to Derrick Hayes of WOE Enterprises
13. Reuse, Recycle Content
Recycling content is a smart approach and saves time and energy. Blog posts and articles can turn into: e-books, presentations, calendar/tip-of-the-day. Voice them and you have a podcast. You can get really creative and get a cartoonist (or a creative child) to illustrate tips for a comic strip or comic book. Turn your favorite tips into posters, greeting cards, stickers, activity books, T-shirts, jewelry, painted rocks, mugs and you've got product to sell!!
Thanks to Allison Carter of The Professional Organizer, LLC, Author Of Color Me Organized On Lulu.com
14. BLOGS, ARTICLES, NEWSLETTERS, PUBLIC SPEAKING – OH MY!!!
As my business continues to grow from it's inception in 2004, I've added a lot more to my agenda, including blogging on my website, guest blogging, writing articles for e-zines and in print for local magazines, creating a monthly newsletter and doing public speaking. WHEW! If I didn't learn the art of re-purposing content, I'd be in trouble! I start by writing my weekly blog. I utilize the blogs to create the articles, newsletter and speeches. That's my secret to success!
Thanks to Audrey Cupo of A BETTER SPACE – Professional Residential Organizing
15. 10 Minutes Of Scheduling = A Month Or More Of Content
Most people remember to click the "share on Facebook" (or Twitter, Digg, etc.) buttons when they create content. That's great, but it's a one time deal! What if your audience missed it?
Don't leave it up to your fans to track you down for fresh info: instead, after you've published the post/newsletter/photo, spend 10 minutes to set up a series of tweets and comments linking to it before you forget! (Of course, now you have to commit to engaging, but at least it will be worth it!)
Thanks to Rachel Minihan of Purple Phone PR & Marketing
16. Shoot Your Video Once – Repurpose Into 12 Months Of Content
When working with clients, I advise that content creation be done in HD video format. Why? Because you can 'lift' the audio track and use as a podcast; transcribe the audio into blog posts and/or articles; excerpt from the written text a whole series of 'status-updates' for Twitter, Facebook or LinkedIn. All from a simple 3-9 minute video.
Content creation is the heart of inbound marketing — this strategy makes it all easy!
Thanks to Scott Dennison of Florida Inbound Marketing.com
17. Repurpose To Reach A Wider Audience
I like to repurpose content across platforms. In addition to sharing and posting on Facebook, Twitter, and LinkedIn, I like to adapt for other media, as well as information products (eBooks and special reports). People like to receive their content in different ways, and perhaps favor one format over another. By offering content through a variety of presentations, it is possible to expand reach to a wider audience, in addition to creating more products, as a spin-off.
Here are 2 quick turn-around examples:
1) Beginning with a written blog post, I record a Cinchcast, and post the Cinchcast with the blog post. The blog post is later incorporated into an information product (ie eBook or special report), and the audio may be offered separately.
2) Beginning with a written audio script, I record a podcast. The script is then broken up into parts and as relevant, each is posted to the appropriate blog. The script is maintained for future updates, use in special reports, and information products or programs I might present on the topic.
Thanks to Becky Cortino of Express-It Media Fusion
18. Three-Way Re-purposing Content Without Realizing You're Doing It
You get a query from a client (or maybe even a prospect). It's a great question that calls for your expertise.
(1) Send an email response. No need for perfection: just write from the heart.
(2) Turn your email into a blog post – at least 250 words, spell-checked and edited.
(3) Promote your post via social media.
(4) Add 150-250 words and you've got an article to distribute.
(5) Read your article and record as an mp3 file.
(6) 1 podcast + 1 pdf of the article = 1 product.
Next!
Thanks to Cathy Goodwin of Copywriting With Cathy
19. Are You A Few Links Away From Your Next Blog Post?
Are you a member of a LinkedIn group? As a member you no doubt participate by posting topics for discussion and/or answering questions. Participating in LinkedIn groups takes time to create posts and/or answer questions. It can involve research on your part and your contributions may be very in depth.
Many of your topics may be pertinent to a larger populous beyond your LinkedIn group, which could make for a great blog post! The operative word here is 'your' content. Always be ethical.
Thanks to Donna Gilliland of MOSTraining, Incorporated
20. Hollywood's 100th Anniversary!
The 100th anniversary of the first Hollywood Studio filming in Hollywood is October 26, 2011. I wrote about H J Whitley being the "Father of Hollywood" and the 100th anniversary. Then the Oscars rolled into town. The article was repurposed to present the Oscars while still focusing on the 100th anniversary. Next I created a contest on my website www.theFatherofHollywood.com called 100Stars*100Years. The new article informed readers that they could vote for the top 100 stars of the century.
Thanks to Gaelyn Whitley Keith of The Father Of Hollywood
21. Convert Your Blog To A Podcast In Seconds
Want to get more mileage out of your blog? Try converting it into a free podcast for iTunes. The online tool Odiogo allows you to transform your blog post into what it calls high-fidelity, near human quality audio files ready to download and play anywhere, anytime, on any device. Odiogo also supports major podcast services such as Zune or Juice. You can easily integrate Odiogo's Listen Button feature on WordPress & Blogger platforms, to encourage your blog readers to become listeners.
Thanks to Gloria Rand of Gloria Rand – SEO Copywriter
22. Develop A Roadmap For Content Use And Distribution
In order to make re-purposing most effective, I begin by identifying the "master" piece of content (ex. white paper, article, guide) and then list all of its off-shoots (blog, social media, media pitch, emails, forums, etc). I have standardized the approach to where I use an Excel file so both the client and myself understand the content, purpose and intended channels of distribution. Creative use? Editing & reformatting case studies as individual PPT slides for on-the-fly presentations.
Thanks to Elizabeth Sklaroff of Round Social Marketing
23. Creating A "Free Bonus" Product To Accompany A Book
I'm a freelance writer, and I'm working with a client to ghostwrite a business book. We've written exercises for the reader to go through that we originally intended to place at the end of each chapter. However, we've decided instead to put all the exercises together into a workbook and market it alongside the book as a "free bonus" to make the purchase of the book that much more attractive.
Thanks to Beth Carter of Freelance Writing Solutions
24. Forward & Reverse Strategy
I keep this progressive list posted by my computer:
140 characters -> blog post -> article -> teleconference -> eBook -> seminar -> book
Sometimes one, simple 140 character social networking ping can lead to all this. Other times, I work it backwards: dissecting a book or article into numerous 140 character posts.
Thanks to Marnie Swedberg of Gifts Of Encouragement, Inc.
25. Creative Ways To Repurpose Content
As a publicist, I am constantly re-purposing client content especially as it relates to establishing the client as an expert in his/her field or on a particular industry trend.
I've used client news on emerging trends that debuted originally as a press release to create speaking abstracts for conference and panel pitches. I've also used those same "talking points" to create trend articles ghostwritten on behalf of the client.
Thanks to Tamara Walker of NY PR Diva
26. Reduce, Reuse And Recycle
Those who seek our services often need several pieces of collateral (press kits, one sheets, etc), as well as web content, media pitches, blog posts for various outlets, print articles and so on. It is our job to establish a database of these pieces, and recycle them as needed – adjusting for the audience it will address.
Bios from one-sheets are cut into manageable chunks and find a home in media pitches. Short blog posts for a clients personal web page are expanded into posts for their guest posts on other sites. Media pitches for radio are reworked with a different concept for television, print and online media. Press released become blogs and Facebook updates can become the basis for a seminar.
Establishing a format, style & voice for each client up front helps us in this respect. We always know what our brand is, who it addresses, and what our direction our efforts will take.
I have a firm policy that there is no need to "reinvent the wheel". Whenever possible, use what you have
Thanks to Rebecca Maguire of Maguire Media Group LLC
27. Re-purposing Not Like Serving Up Left Overs
Blog Talk Radio show provides (1) two companion blogs providing synopsis of show and content links, (2) abridged version of blog for opinion column carried by online news sites, and (3) YouTube companion video to opinion column. I like to look at it like fixing a couple of basic dishes on Sunday that I can use as the foundation of several meals during the week. And, please, let's not think of this as serving up another heaping helping of left-overs.
28. Creative Re-purposing
Sandhi Schimmel Gold is a fine artist who found a unique use for a variety of written content. She literally repurposes [cuts up] content – articles, advertising ephemera, photographs, promotional materials to create "mosaic" portraits! She creates one-of-a-kind pieces and is often commissioned to create custom portraits for collectors – from random or specific pieces of content. All materials are up-cycled using only non-toxic materials. Schimmel Gold's artwork is seen in galleries & museums.
Thanks to Sandhi Schimmel Gold of Schimmel Art
29. Target Associations With Customized Articles
I look for association publications and websites that take outside articles – there are tons of them, especially if you go to the state level. Then I develop an article framework such as "The Top 5 Ways to Tuneup your Web Presence" and offer them a customized version. It's really easy to slot in a few industry-specific examples for what is basically the same article – for example I did this for landscapers, ophthalmologists, CPA's and assisted living facilities – all from the same template.
Thanks to Philippa Gamse of Total \'Net Value, Inc.
30. Monetizing Your Content
1-Original research compiled into a book
2-Content turned into articles
3-Create social media mantras based on a monthly theme
4-monthly theme becomes free teleclasses
5-teleclasses becomes mp3's
6-mp3's becomes cd's as a product
7-teleclasses becomes live workshops
8-live workshops are video taped as a product (DVD)
9-all products become available for sell
10-introductions becomes podcasts
11-intro becomes monthly newsletter
12-created pre-design modules for deeper one-on-one work w/clients
Thanks to Karen Monteverdi of GreenMountain Enrichment And Empowerment Center
31. Recycle, Reuse, Reduce — And We Ain't Talking Plastics…..
1) Be the Devil's advocate on your content. – Write the article from the devil's advocate point of view. Write from a scenario or perspective that a devil's advocate might throw at you. Then explain how it would work in that scenario or why it doesn't — what you would have to do differently for that one situation.
2) Recycle. Get out and interview people on your article/content. Get their ideas. Go on the streets and ask people to read your article, and ask for their thoughts. Come up with interview questions on "Have you ever been in this situation?" "When would you use this advice" "How did you handle something like this." etc
Thanks to Laura Rose of Rose Coaching.info
32. 2X Your Video Content
I teach my clients the concept of 2X. Never do anything unless you have a plan for leveraging your efforts to produce a minimum of at least two pieces of content. For example, I conduct a one-hour Busyness LIVE webinar every Wednesday night. This one-hour video is "chunked" into 12-25 short video segments that we distribute to video sharing sites for link building and traffic generation. The videos are also transcribed and turned into articles that we also distribute for the same purposes.
Thanks to Dr. Brad Semp of Busyness.com
33. Use Your Dues!
I send different articles and content off my website to all the different organizations and associations (that I belong to) newsletters. They are always looking for content to include in their newsletters to their members. I have even had a few of them make my business, a monthly column. I always tailor my content to the business world.
Thanks to Diane Sullivan of The Organization Station
34. Website Content Turned Infographic
Volusion did great job turning its "How to Choose a Shopping Cart" content from the site into a visually appealing infographic that walks a person through each step of the process. The content was already created and the team repurposed the content into an image that conveyed the same message in a more colorful and exciting way. http://www.volusion.com/shopping-cart-software/
Thanks to Molly Sylestine of Volusion
35. Multimedia = Good SEO, Increases Time On Page.
We did a study which concluded that multimedia increases time on page. Therefore, we exercise a variety of platforms to repurpose our content into multimedia on YouTube, SlideShare, and Flickr. The cool thing about Flickr is that we can tell a story about our events or conferences just by using photos, and it entices people to attend future events. It is also fun for attendees to see the photos afterwards and tag themselves. I think its an effective, creative way to repurpose content.
Thanks to Stacey Acevero of Vocus/PRWeb
36. Repurpose Content Or Die
Fit it into your day: It doesn't have to be a written article. It can be photos, a drawing, etc. One client writes on wine bottles, takes pictures and posts. Voila.
Look in unusual places: There is content waiting to be rediscovered in file drawers, meeting notes, emails and from conference calls. Use everything you can.
Reformat into multiple mediums: From an existing article, recreate as a PowerPoint, make a video, hire an illustrator to sketch it out, create a top 10 list from key points.
Thanks to Carin Galletta of Ink Foundry
37. Re-purposing Content
I repurpose my travel stories and product reviews for both gay and straight audiences, getting double play and double exposure for my subjects.
Such as:
THE MOTHER'S DAY GIFT GUIDE FOR THE MODERN AND SOPHISTICATED MOM: Great Gifts and Giveaways for Mom — http://westsidetoday.com/s11-2507/the-mothers-day.html
TWO MOMS, ONE SPECIAL DAY: 30 GREAT MOTHER\'S DAY GIFTS AND GIVEAWAYS — http://www.shewired.com/article.cfm?id=24827
Thanks to Pearson Browbn of Freelance Travel Writer And Blogger
38. Create Different "Colors" For Your Content
Content and copy are the driving force of many internal and external client campaigns. A great way we have found to repurpose content is data parsing. I have included some examples below.
For instance, say you have a white paper that is highlighting a variety of survey and statistical findings.
RED: Place that white paper on your site for download.
BLUE: Include a summary in a newsletter or email drawing out the data that might help you with a sales campaign.
GREEN: Create a blog series that focuses in depth on each section outlined in the white paper, with data teasers that encourage people to download the full report.
ORANGE: Tweet out stats in daily series; it is shown that data and statistics are one of the most heavily re-posted pieces of content.
YELLOW: Create an infographic (this is a visual component holds the same data as your stats but places it in one graphic that shows comparatively your results).
PURPLE: Put together a speaking proposal for an industry conference highlighting your findings.
PINK: Create a webinar or webinar series highlighting your findings.
Thanks to Kelly Cutler of Marcel Media
39. 7 Ways To Repurpose A Teleseminar
I repurpose my content in many ways from recording blog posts into audio and delivering as a podcast, to creating short sound-bit tips from teleseminars and posting them on Cinchcast. Here's one way I repurposed a teleseminar interview:
1. The interview was recorded and transcribed.
2. The transcript was edited and I added a bonus article and a resource page with links to all the sites and tools discussed in the interview.
3. The document was posted on Kindle and is being sold as an e-book.
4. Next, the document and audio were formatted as physical products: a booklet and a CD, which get sold (or given as gifts to clients)
5. The document and audio were packaged as a digital product and sold as a digital download and mp3 with additional bonuses.
6. The bonus article in the e-book is a repurposed blog post that related to the subject of the interview.
7. Excerpts of the document are repurposed into tweets that will drive people to the sales page.
I've done this with multiple presentations. I'm delivering content in the format people want and leveraging my time and expertise as much as possible.
Thanks to Denise Wakeman of The Blog Squad
40. Turn Blogs Into Practice Kits, Turn Practice Kits Into Ebooks
For the past few years my firm OpenView Venture Partners has truly embraced content marketing and recently launched a content site called OpenView Labs. Every firm member is responsible for blogging, which is a great source of ideas. We like to turn some of these blog posts into specific step by step guides outlining a specific practice or research process. We release the kits in a series of posts on the OpenView Labs website and eventually repurpose them again as digestible e-books.
Thanks to Amanda Maksymiw of OpenView Labs
41. Brains Like Sound
Brains are fun and interesting organs. It is often forgotten when creating content to ask: What method of delivery will activate my message for my users in their brains the best way?
When re-purposing your content, one of the most forgotten ways to create it in a new form, is audio. Why would you want to use audio? Our brains absorb as well as retain knowledge when we activate more of our senses during learning. This is one great reason why you want to create audio versions of your materials.
Thanks to Michele Price of Michele Price Media
42. Research Once, Write Again And Again
As a freelance writer, I am constantly re-purposing content. Research once, write five different pieces, all with a slightly different angle or for a different audience. For example, I recently put together a mini-website package for a client who needed to market a single product. From that brainstorming session, I turned around and created several other specialized mini-website packages – one for realtors, one for authors, etc. I also developed a one-hour seminar on setting up a mini website.
Thanks to Tricia Ballad of The Crunchy Writer
43. Refresh And Revive To Keep It Alive
One creative way to create new content is to take a past speech or presentation and repurpose it by creating an e-book, writing several articles and/or blogs and breaking it down into a series of tips for Twitter, Facebook or audio tips. You could also take the entire presentation and convert it into an audio format for auditory learners.
Thanks to Jacquie Ross of CastAway The Clutter!
44. Think Beyond Text.
Think beyond text. Enhance text messages (e.g. press releases) with photos and video – you'll attract new audiences, create more touch points for search engines and will encourage your audience to share your message (and its multimedia elements) with the people in their networks – thus amplifying your message. Be sure the different multimedia elements are easy to share, and as you're producing them, be aware that they need to work with the other related content, and also by standing alone.
Thanks to Sarah Skerik of PR Newswire
45. Distribute Content In Multiple Ways
Finding strategies to extend the life of existing content can save you time & money, while increasing ROI. Here's a tip for breathing new life into content (such as a webinar) you already have:
*Distribute it in multiple ways. You can distribute repurposed content on social sites, in newsletters & among communities you belong to. Or consider incorporating it in Google Adwords campaigns, driving people to a landing page with your content. Your webinar also provides fodder for multiple blog posts
Thanks to Joan Babinski of Brainshark, Inc.
46. Voila Voice Mail
Transfer common customer questions left on your voice mail into multi-use marketing or educational content. Convert the voice mail into an audio clip to use on your blog, web site, Facebook or even to embed into a YouTube video. Answer the question in audio, in text or video. Then transcribe the two together, so that you have a text version to use in FAQ or a blog post on your web site. The uses for the common voicemail are endless!
Thanks to Marianna Chapman of Results Revolution Blog
47. Clone Yourself With Video
You can leverage your time and effort exponentially by re-purposing your content with video! Blog posts can become video blogs, sales copy can be turned into a sales page video, and e-zine tips can be "recycled" as a video tips series for posting on YouTube.
Your existing content can have a whole new life as video content… And what's more, once your video is uploaded and shared, it's out there working for you on the web, 24/7 – all across the globe!
So you really can "clone" yourself and leverage your content with the creative use of online video!
Good luck!
Thanks to Lou Bortone of OnlineVideopolis.com
48. Content Is QUEEN & Strategy Is KING
Without a content strategy plan your copy can fall flat.
In addition to newsletters, blogs, social media and article marketing, people can recycle news/press releases. Submit online and to news outlets PLUS print your releases to mail to clients and prospects with a quick note. This showcases accomplishments and demonstrates that you are progressive. Others involved in your news could repurpose for you, too (see Bill Glazer testimonial located on the press release page of my website).
Thanks to Lisa Manyon of Www.writeoncreative.com
49. Take Your PowerPoint And Give It Power!
I love Powerpoint presentations. I speak a lot and when I finish a presentation (that I worked really hard on) I love sharing my slides.  Now, a Powerpoint by itself can be boring or if a person is not there going over the presentation, the viewer may be confused. So, I repurpose my presentation by:
1. Uploading to Slideshare.net and adding the video from the event
2. Uploading to Mybrainshark.com and adding a podcast to the presentation
Then I take those presentations and post on Youtube!
Thanks to Pam Perry of Ministry Marketing Solutions.
50. Funnel Your Content
Start with an article that you've written. Edit that article and rework it a bit so that it's different enough to be submitted to an article directory or another blog. Next you can convert that original article into a video, audio or PDF and share it online. You can make a presentation out of it or turn it into an infographic. And finally be sure to share it through all the social tools available.
Thanks to Michael Zipursky of consulting-business.com
Responses compiled by Stephanie LH Calahan of Calahan Solutions, Inc.
Want to see an example of re-purposing?
Make SMART Goals:
Post – This is where I started.  I wrote this post and published quite a while ago (before I was even thinking of re-purposing).  This is great for people that like to read.
VoiceBo – Some people rather listen to gain knowledge.  I recorded the post above with some ad-libbing.
Podcast & iTunes (see recording from 05/16/2011) – I already had the MP3 from the VoiceBo above so why not get it out where others might find it! 
Video – I already had the text from the post and the audio from the podcast, so a little PowerPoint magic and I had a video.
Every time each one of these formats was published, I announced and syndicated on my various social media accounts too.
Did you see a technique that was new to you?  Are there ideas that you have successfully done before?  What is your experience? What ideas are missing?  Share your comments below in the comments section.