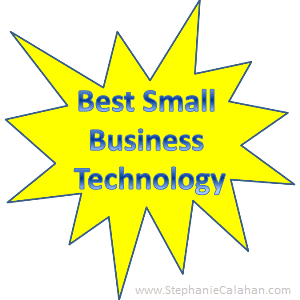 "Stephanie you are such a geek." That is what I heard from her as we were talking on the phone. OK! I'll own that. I like to share various tools that help to make you more productive. I laughed, and that statement led us to an interesting conversation about technology and how much or how little different people use of it in their business life.
Even if you are not the most technical person on your block, you probably have some form of technology in your life that you love. This week we are featuring 28 small business owners from our community and the technology they'd prefer to not live without.
We started by asking this question:
What tech tools (office machine, gadget, hardware, software or online tools) could you not live without, why and where can we find it? In other words, what one piece of technology empowers you to conduct your business better?
You will find hardware, software and cloud (internet based) solutions mentioned in this post. I suggest that you quickly skim through the list and then go back and really check out suggestions that sound great to you. Check to see if your favorite is mentioned, or maybe you will find a new favorite.
1. A Self-Hosted WordPress Blog
WordPress is not just a software, but a platform for managing, creating and publishing information on the Internet without having any technical and programming skills. It is FREE to use!
A well developed website can become an asset, and WordPress is the tool to make it happen pretty fast. All you need here is to use its functionality, experimenting and testing different things.
I recommend you check out the most popular plugins (extensions).
Find Here: steph.bz/WPPlugs
From Chris Diamond doubletimetoday.com
2. Quicken Home & Business Is The Best!
Quicken Home & Business is the best software for small business owners. The software is SO simple to use (this from someone who is not very tech savy!) You can easily track personal and business finances, quickly see the profit/loss of the business, create invoices, review financial reports, import data AND easily transfer information to Turbo Tax (another program I'd recommend!) Of course, there are many other features, but these are the highlights, in my opinion.
Find here: steph.bz/jI9HDF
From Dawn McCloskey Ultra Organized, LLC
3. Do You Have A Pain In Your Back-up?
I have always used one program or another, usually with a piece of hardware, to backup my computer. No more. I use Carbonite. I subscribe to it annually, and the program does everything for me. Everything is backed up on the web automatically. I don't have to schedule anything. It's great!
Find here: steph.bz/EZBackup
From Peter Coombs FRONTLINE Training & Consulting
4. OneNote: My Filing Cabinet In The Clouds
Microsoft's OneNote is my go-to organizing tool for anything that I do online.I create notebooks and files just like I would with paper, but now it is all organized on my computer. I can use settings to access it from any computer as well as let others who I allow to have access to it. Some of my favorite notebooks that I created are "things I want to read", "marketing ideas", "funny things my boys say" and "recipes I have made". As you can see I use it for both personal and work related topics.
Find here: steph.bz/1Note
From Melissa Schmalenberger I Did It
5. My Smartphone Is Smart(ph)one!
My smartphone empowers me to conduct my business better because:
> I can communicate whilst on the move, e.g. voice, text & social media updates.
> It reads QR codes, making it easier for me to connect with people & read stuff on-line.
> I take pictures & videos, enabling me to 'capture the moment'.
> The reminder facility is fab & I also use it as my back-up alarm for those early morning meetings. It has saved me more than once on that front! 😉
> It plays music too!
From John Coupland @networkerplus
6. Online Invoicing
Zoho Invoice
Zoho Invoice is one of the best tools we've found for our business. It allows us to easily email branded invoices to our clients, which they can then pay by mail or online. By recording payments as we receive them, we can just as easily monitor overdue payments and send email reminders. We can also generate reports to track our income. I am just thrilled at the ways this tool has streamlined our operations!
Unfortunately, the product I recommended was discontinued in 2012, so I've switched to Zoho Invoice. There is a small monthly fee, but it's well worth it, as it does everything that Billing Boss did and then some! – See more at: http://www.productiveandorganized.net/2011/05/best-business-technology-for-small-businesses-their-owners.html#sthash.EGwyVIrU.dpuf
Find here: https://www.zoho.com/invoice/
From Janet Barclay Organized Assistant
7. Triples My Efficiency On Social Media
I use both TweetDeck (on desktop, laptop, and iPad) and
MarketMeSuite, as well as Twitter's own interface. TD is particularly
helpful, since I'm following more than 3000 people and can segment my level of following very easily. And call me old-fashioned, but I
still manage my e-mail in Eudora, which behaves in some ways
similarly to TweetDeck.
Find here: steph.bz/jJTu7y
Shel Horowitz GreenAndProfitable.com
8. The Best Multi-Purpose Machine Out There
My best tech tool is my scanner. Since I work at home (and because we're full-time RVers, always on the road), I need to be able to fax/copy/convert from anywhere. But I live and work in less than 200 square feet — so I don't have the room for a lot of equipment. My scanner serves all these purposes — scan a document in and you can then e-fax it over the internet, print out a copy, edit it directly through OCR software, save it as a PDF and toss the paper. It's my biggest space and time saver!
From Ramona Creel RamonaCreel.com
9. Seal The Deal With Tungle
Create a custom page. Connect it with LinkedIn to get a better view of who you are meeting with! There is nothing better that getting a meeting scheduled in one or two clicks. Don't you hate shipping emails back and forth, only to discover that you don't know where the meeting is supposed to be or there is no suitable time? Me too! That's why I've been "tungling" ever since the BETA version.
Try it. You won't regret it.
Oh, did I mention that your meeting confirmation hits your google, outlook or web calendar as well as generates a confirmation email.
Find here: steph.bz/iB5cj3
Tiffany Odutoye Talk Social Networking Llc
10. My Laptop Gives Me Wings!
The majority of my computer-using life I've been tethered to a desktop. Two years ago, I invested in a Mac laptop & it was the best decision ever! Working from a laptop makes my business completely mobile — a necessity for any moving & shaking entrepreneur. With a myriad of hot spots wherever I go, there's little need for a wireless card, so my computing is no to low-cost, easily transportable, & right at my finger tips wherever I happen to be conducting business. My desktop is now my backup.
From Dr. Shannon Reece Reece International LLC
11. Evernote Enables Paperless Organization
The tech tool that I could not live without is an online tool called Evernote. Evernote allows me to upload, add, bookmark, etc anything that I would like to store as a "note" for future reference. The unique combination of electronic notebooks, stacks and tags allows anything that is stored to be easily recalled and reviewed. Evernote information is stored in the cloud (so that I do not have to worry about my computer crashing) but allows me to add a note from my computer, iPad, or phone.
Find here: http://steph.bz/DigitalMemory
From Dr. Brad Semp Busyness.com
12. Can't Live Without Google
I do all my blog posts on Google Docs, I use Gmail as my primary account, and I appreciate how you can download whatever you type up in Google Docs into multiple formats to accommodate what other programs my clients may be using.
It's f*r*e*e and extremely helpful in running my business. Can't get much better than that.
Find here: steph.bz/jEB9d4
From Danielle Buffardi PenPoint Editorial Services
13. LNM LOVES Dropbox!
We were trying to figure out a way for my Associates and I to share files within my home office but also with my business partner that lives about 20 minutes away. The initial thought was that we might need to design a server, network our computers together, etc. We considered a cloud as well. Then we found out about Dropbox.
It spoke to me literally because their website is a stick figure explanation of how it works, stick figures! I am relatively comfortable with computers but the way that they explained it was perfect for me and the perfect solution for our problem.
We now have Dropbox on 4 of our LNM computers and we are able to share files and they update automatically which would have been a problem with a server-type solution. We have also oftentimes found that one of us is working on a project before we have had a chance to talk about it because we can see the updates when we look at the folders. It is easy to use and an awesome solution if you use multiple computers or work with multiple people.
Find here: steph.bz/lwPVq4
From Laurie Meek LNM Organizing Solutions
14. I Never Leave My Pad Without My Ipad!
My business has grown because of my Ipad. I never leave home without it. I travel by car to see many of my clients, in their homes. I always arrive early to make sure I am at the right address. This allows me to have a few minutes, in my car, before it is time to work. I sit in my car and check my email. What a great time saver, by the time I get back to my office, I only have a few emails to respond to. Checking my emails on the run, several small periods of time a day is much easier.
Find here: steph.bz/l2SyCB
From Diane Sullivan The Organization Station
15. Record Your Phone Calls Like A Pro
QuickTap Telephone Handset Tap by Jk Audio gives me clear and professional sounding recordings that can be edited and made into a product to sell or give away. This unit goes between your handset and the phone base with an input for your computer or recorder. I plug directly into my MacBookPro and use Audacity or Garage Band to edit the file. As a coach I make available to my clients a mp3 of our coaching conversation so that they can listen to it later. Be sure to follow all laws of your state.
Find here: steph.bz/lUMAyl
From Bill Graybill Bill Graybill Coaching, LLC
16. Collaborative Tasks Lists – With Organisemee
I create tasks / todo lists for the duties I need to accomplish. With task lists I can focus on what is important – especially when I was interrupted.
Generally, I have several task lists for my next or mid-term tasks. Every morning I create a task list with the tasks I need / like to get done during the day.
I use my own web based task management tool Organisemee for managing my tasks effectively. There I can even delegate tasks to others – I guess you do not execute all tasks on your own.
Find here: steph.bz/lx7SpO
From Ulrich Riedel Organisemee
17. Quickbooks And AboutOne Are The Perfect Combination
I cant live without Quickbooks Pro with the cloud document management app. Using this for my financial documentation coupled with AboutOne.com for my employee and legal documents has proved invaluable.
Find Quickbooks here: steph.bz/lalnW8
Find AboutOne here: steph.bz/leiLvF
From Joanne Lang AboutOne
18. Use Springpad To Keep Organized!
Springpad is a free app available on the web, iPhone, Android & iPad. Use Springpad to save anything you need to remember, from bookmarks to notes, tasks, contacts, appointments and much more! Save your stuff in one place and it automatically syncs up so you can access it anywhere. Organize by project, and even use custom tags.
Find here: steph.bz/k9HHv2
From Katin Miller Springpad
19. Microsoft Excel Spreadsheets & Having Processes In Place
Having processes in place is huge and my favorite thing to keep everything together has been MS Excel. I had some basic understandings of what I needed to track (because I was a consultant with a home-sales company) & just tweaked my tracking spreadsheet for my new business. When I'm done with different things (income & expenses), I make sure to update my spreadsheet right away. In April, it doesn't take long to do taxes because everything's already in the spreadsheet.
Find here: steph.bz/mhIa5P
From Gretchen Fatouros From Clutter To WOW!
20. Managing Snail Mail And Paper Checks Online
Small businesses come in many sizes, and nearly all have to deal with postal mail in some way. Earth Class Mail lets you set up a street address where you can direct some or all of your mail and view it online from anywhere. You can even redirect packages, and deposit checks – all online.
Find here: steph.bz/m2jDQB
From Jeremy Smith Earth Class Mail
21. E-mail Still Works!
I know this isn't the sexiest answer you'll probably get on this, but e-mail has made the biggest change in the way I do business, and I certainly could not live without it. I started working as a rock roadie in the 1990's. Coordinating equipment requests and advancing concerts with vendors overseas was a nightmare. Using phone or fax, with time changes and all the challenges involved was awful. The ability to communicate instantly with business partners worldwide was literally life-changing.
From Jeff Mann JeffreyJohnMann
22. Low-Tech Labeling Yields High Productivity
I've no doubt that my ultimate productivity tool is a label maker. Sure, in a world of fancy mobile devices and apps, it may seem mundane, but I use my (discontinued) Brother PT-65, one of four label makers I own, on a daily basis. The bold, authoritative type clarifies the content of files and folders, defines ownership and functionality for gadgets and chargers, and reminds everyone what it means to send something "home". If you can name, categorize and label something, you can create order.
From Julie Bestry Best Results Organizing
23. My Phone Is Phenomenal!
I couldn't live my Android smart phone! It:
•Lets clients find me wherever I am
•Holds the contact information for everyone I know
•Keeps my planning calendar at my fingertips
•Beeps at me when it's time to do something
•Keeps me in touch via email
•Connects me to the Internet
•Sends text messages to remind clients of appointments
•Guides me by GPS to unfamiliar locations
•Takes before and after photos
•Processes credit cards
•Records teleclasses I want to replay
How did I ever do without it?!
From Elaine Quinn Author Of "There's No Place Like Working From Home" (July, 2011)
24. Teleconference Tools Allows Groups To Share Regardless Of Location
I am a efficiency and life coach. I conduct free seminars on twice a month using SKYPE.COM Without free webconferencing tools like skype, I would not be able to afford to provide and share free information to people around the world.
Whether you use skype or another form of web video conferencing, these teleconference tools allows groups to share and exchange information regardless of location.
Find here: steph.bz/lkOHaY
From Laura Rose Rose Coaching.info
25. Accept Credit Cards Anywhere, Any Time
Square is my new best friend. It's a credit card service with no monthly fee, no minimum. You pay a reasonable fee for swiping cards and a little more for entering numbers. Remember when card readers were large, complicated, and expensive? Square's reader is none of those things. It works with my iPhone or iPad. Square offers a big improvement over all the credit card processors that came before it. I like being able to offer my clients the convenience of credit cards with minimal fees.
Find here: steph.bz/lykBrJ
From Margaret Lukens New Leaf + Company LLC
26. Paper Tiger Filing System Keeps Me Organized!
I use Paper Tiger filing system software because I can index any physical items into the database and be able to find anything in seconds. I can add as many keywords as I want for all items, whether it be paper files, books, CDs, or anything else in office and home. With a quick google-like search in the database, I know exactly where the item is without having to waste time searching here and there, and then where it goes back to. I am so much more organized and less stressed.
Find here: steph.bz/moR6Nl
From Janet Baker Paper Tiger
27. Shred All Your Papers At Once, Credit Cards And Even Staples, Instead Of Spending Hours Feeding In Each Item.
Swingline's new Stack-and-Shred can not only shred 100 sheets of paper at one time it can even do staples and credit cards.
This product helps keep our home office/small business neat and organized while saving precious time to do the other 25 hours of work you have to cram into a 24 hour day. Reasonably priced and incredibly durable it is a must have for any home office or small business.
Find here: steph.bz/lQ9g91
From Julie Fallo FlashPoint Social Media/ Swingline
28. Keeping It All Organized
I'd be completely lost without Lastpass. This is a secure website where you can save all your login and password information all with one very complex password. It makes remembering logins and passwords a breeze. Plus you can use the autofill to populate forms, you can have keep credit card info on file and you can share login info (without sharing the specifics). And I love that it has an iPhone/Android app. In our mobile world I'd be lost without this great online tool.
Find here: steph.bz/kZc4EO
From Katy Tafoya Success For Solopreneurs
Do you use any of these technologies? What is your experience? What ideas are missing? Share your comments below in the comments section.
Live Fully -- Love Openly -- Laugh Often -- Leverage Your Brilliance -- Connect Authentically -- Get Your Message Out -- Serve with Impact -- Prosper Everyday

Disclosure: Some of the links on this page are affiliate links. That means that I may get a small thank you commission (at no additional cost to you) if you choose to purchase a product from the company mentioned. I only refer you to programs that are ran by people I personally know or I have participated in, but please use your judgement to decide if this is right for you. If you would prefer that I not get that, feel free to Google the company and purchase directly.