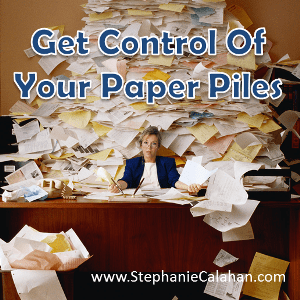 I've had a lot of clients over the years that have waged war on their paper, but a while ago I received a letter in the mail that made me smile and say, "You GO Girl!"
Mary and I had completed a strategy session that included ideas for how she could manage the ever mounting piles of paper in her home office. She had good ideas about what she needed to keep and what to let go of, but over time, the piles had just accumulated and had grown to an overwhelming amount. We came up with an idea that was fun and managed the situation really well. I'll tell you about it today. See if any of her statements resonate with you too.
The letter began:
I'VE HAD ENOUGH!

For the past eight years, I've felt that my personal environment has been out of control. I've gone from marital separation to a major realignment and changes at work to bringing my mother to [our town] to live with me to her passing and all that goes with that. Not to mention the business of day to day living filled with schedules, appointments and obligations. You know what I mean, don't you? All of this stress has manifested itself in my personal space, affectionately known as clutter!
Mary's life experiences were hectic, emotional and stressful. Any ONE of these experiences could stress a person out, yet she had many. Situational clutter can easily take over your life or that of those you love. The first step is recognizing what is happening.
She goes on:
I'VE HAD ENOUGH AND I'M DOING SOMETHING ABOUT IT!

On [date], I finally enlisted the help of professional organizer, Stephanie Calahan of Calahan Solutions, Inc. to help me de-clutter and regain control of my home. I want my former title of "neat freak" back! I want to invite friends and family over without feeling embarrassed. I want to be in a relaxed, stress-free environment. I want to be able to find something in five minutes and not five days!
She took control! She has declared war on her clutter and paper mess!! She sees her vision. What is your vision? What do you know is happening to you today that does not match your vision?
She goes on:
I'VE HAD ENOUGH AND I'M DOING SOMETHING ABOUT IT AND I NEED YOUR HELP!

During the initial consultation, Stephanie outlined my plan of action–which includes asking for help when I need it. This is something that is not always easy for me to do, but my desire to be clutter-free is greater than my hesitation to ask for help. Are you available [date] for a Paper Shredding Party? All you need to do is show up. If you have a portable, cross-cut shredder, please feel free to bring it with you. Lunch will be provided.

My goal is to be clutter-free by [date]. Ring a bell? Stephanie says that the date is do-able. With your help, my dream can become a reality.
Mary chose her birthday as her vision goal date for her first step in taking ACTION! Well, actually, the party was the second action she took. Sending the letter was the first action. She mentions some very important points in her short letter. She was always the "fixer" for her friends. It really was hard for her to send the letter, but it was a really important step to her success. None of us can really get through life successfully without a little help from our friends.
Final Word
Mary had her party — finger food, drinks, music, shredders and friends — and she said they had a really fun time destroying that paper and eliminating the clutter. Does her story resonate with you? What have you experienced? Have you taken control? What have you done? Share your story in the comment section below. I know my readers would like to know more and so would I!
Like what you have read? Do you think it could help others in your network? Then please share it by clicking one of the links below.
PPS — Mary is not my client's real name, but privacy is very important to her, so I respect that and modified her letter a bit to ensure that her privacy will remain intact.
Live Fully -- Love Openly -- Laugh Often -- Leverage Your Brilliance -- Connect Authentically -- Get Your Message Out -- Serve with Impact -- Prosper Everyday