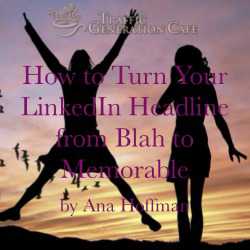 LinkedIn is a platform that causes confusion for many business owners. Is it a resume site? Is it a networking site? How should I use it? Well, Ana Hoffman has written a post to get you started on the first element of your profile — your headline. In this article she shares strategies to make your headline attention grabbing. I was thrilled to see that she grabbed a screenshot of mine and used it as an example. There are plenty of different examples that you can look at and model after to make your headline memorable.
Media Type: LinkedIn Article
Benefits of Reading and Applying Tips: More people paying attention to you on LinkedIn.
Read Now!
How to Turn Your LinkedIn Headline from Blah to Memorable
Article Author
Anna Hoffman is the brains behind the Traffic Generation Cafe. TGC brings you the most profit-pulling free traffic generation tips, tricks, and resources, so that your website and business will go where no website has gone before.
Live Fully -- Love Openly -- Laugh Often -- Leverage Your Brilliance -- Connect Authentically -- Get Your Message Out -- Serve with Impact -- Prosper Everyday