When I first started my corporate consulting career I did not think I would ever leave. Then, the environment changed and everything, it seemed, got toxic. I shared my story about escaping my "golden handcuffs" with Marc Mawhinney. I shared my decision to leave as well as some of the mindset things that stood in my way early in my business.
Media Type: Audio podcast
Length: 29 minutes
Listen Now!
From Marc: "Note: we had some audio issues during this call that couldn't be completely fixed with editing, especially noticeable when I'm talking! After consideration, and knowing how valuable Stephanie's time is/how good the advice that she gives is, I decided to air it as planned!"
Cost:  no cost, just click play!
My Interviewer: Marc Mawhinney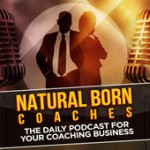 Marc Mawhinney launched "Natural Born Coaches" because he wanted to help coaches with their businesses. The podcast is a daily show filled with lessons learned, tips and strategies to grow your business.
If you enjoyed the episode, I'd love your help spreading the word! Share it on your favorite social media site. Thanks!
Live Fully -- Love Openly -- Laugh Often -- Leverage Your Brilliance -- Connect Authentically -- Get Your Message Out -- Serve with Impact -- Prosper Everyday