If you have an interview based podcast, radio show or live stream, I know that you are already putting gobs of time into creating each episode. You are likely investing time to:
find the right guests,
coordinate with people that often don't reply to your first email (or second or third),
record a fabulous show,
edit and produce the episode,
write/publish show notes on your website.
You are creating content that entertains and or educates. You are creating content that will change people's lives!
You give the interview of a life time and your guest sounds fantastic. So, why aren't they sharing the episode?
Over the past 14 years I have been on 100s of radio shows, t.v. shows, internet radio shows, webcast shows and podcasts. I have seen amazingly brilliant promotion and hosts that promote the episode less than I do.
In that time, I have collected a list of things to do and not do that will encourage your guest expert to want to share the episode that you create together. I'm going to share 20 of those ideas today.
Some of these things are common sense.
Others take a bit more effort, but are quite effective.
You are creating content that entertains and or educates. Make sure you are helping it spread!
Click To Tweet
The Basics – Don't Accidentally Insult Your Guest Expert
1. Spell your guest's first and last name correctly
Use the correct spelling on the show URL, show notes on your site, and anywhere else their name is listed. This is a non-negotiable. People like to see their name spelled correctly. If they use a prefix or suffix, use it. Don't assume that altering their name is okay.
2. If they have a title or moniker that they use, don't change it
Many experts have a title that they use as a part of their branding. They have specific reasons for using it. You may or may not like it, but changing it is the same as if you had changed their name. Either use what they give you or eliminate it completely, but don't change it.
3. When quoting your guest, make sure it is really their words
No one likes to be misquoted. No matter if you do show notes or if you hire them done, make sure that everything that is quoted actually contains the words that your guest said verbatim. I have had a few frustrating experiences where my words were inaccurately paraphrased, changing the meaning completely, and then attributed to me.
Make Your Show Easy to Promote
4. Have share buttons on all web pages and posts
Don't make your community waste time trying to figure out how to share your stuff. My favorite tool for this for WordPress sites is Social Warfare, but there are many great tools that can be used.  Make it one click simple. In addition, make sure that your twitter button @mentions your Twitter ID. That way, when someone clicks it, you will get notified and can start a conversation.
5. Make your posts easy to pin on Pinterest
If you create show notes for your show, make sure that you include an image that is easily pinnable on Pinterest. Yes, I know that you are promoting a content medium that is audio based, but Pinterest drives traffic! Later in this post I'll share some ideas on how to create engaging pinable graphics.
6. Tag your guest when you share
Social media moves fast. Even if you are connected, your guest may or may not see that you have written a post about them. Make sure they see it by tagging them on each post. They will be more likely to share, retweet, regram, etc.
7. Tell your guest when and how you plan to publish
Many experts have a set content marketing strategy and timeline. When you let them know in advance when and in what formats you plan to publish the episode, they can build it into their own marketing timeline.
8. Don't make them hunt for their episode
There are a number of hosts that push publish to iTunes, Stitcher, Soundcloud and Google Play and then walk away from their episode. I have found out about a few episodes I was on by receiving a Google alert rather than hearing from the host! Don't let that happen. You are missing a huge opportunity to build a relationship.
How-to Tip: A Google Alert is a service offered by Google. You receive an email every time the tool finds content that is related to the search terms you request. I have alerts set up for my name, my company name, my product names, my clients, etc. It is a great way to know what is being said across the web about topics you are interested in.
9. Give them prewritten social media blurbs that they can cut and paste
Social media starters are fabulous for making it easy for someone to help you spread your message. One of the best notification emails I have ever received was from Neil Ball. I'm sharing it below to give you ideas of what you might do. You'll notice that when you click on his social links, it auto populates content:
Hi Stephanie,

Your interview is now live on 'The Entrepreneur Way' and is now being listened to by people around the world.
PLEASE READ ALL OF THIS EMAIL – It contains information to maximize the number of PEOPLE WHO LISTEN TO YOUR PODCAST
You can find your show page here: http://wp.me/p6Tf4b-1SH
Stephanie, there are 14 QUICK STEPS (below) to increase the listeners of your podcast interview NOW.
To increase the number of people who hear the story about your business and your business mind-set I recommend that you share it with your audience on social media.
>>>For your convenience and to save you time just CLICK THE LINKS BELOW to use the done for you messages (you need to have an account with each social network and be logged in for the links to work)
NOTE: THE MORE OF THESE STEPS YOU DO, THE MORE LISTENERS YOU WILL GET
1. Click this link to Rate and Review 'The Entrepreneur Way' on iTunes  You can also subscribe to the podcast HERE
2. Click this link to Share Your Podcast on Twitter. (If you have more than one account then tweet it on each of them) And I will retweet to 56,000 people
3. When you have tweeted your episode 'Pin' the Tweet on Twitter so it is at the top of your timeline. To learn how to pin a Tweet Click Here
4. Click this link to Share Your Podcast on Facebook 
5. Click this link to Share Your Podcast Google+ 
6. Click this link to Share Your Podcast on LinkedIn 
7. Click this link to Pin on Pinterest 
8. Click this link to Send an Email to Friends & Subscribers
9. Click this link to Write a comment in the comments section on your episode, you will find the comments box near the bottom of the page. (You could also encourage your firends to add comments)
10. Stephanie, you can also INCREASE THE LISTENERS by adding the attached images at the bottom to your website and making them clickable so people can hear you on the podcast. This also increases your 'celebrity' value compared to your competitors.
11. Click this link to Share on Tumblr 
12. Click this link to Share on Stumbleupon 
13. Click this link to Share on Reddit 
14. Click this link to  Submit a testimonial as a LISTENER of 'The Entrepreneur Way' Show
15. Click to Like The Entrepreneur Way Facebook Page 
Here is a shortened link to your show page for you to Share Your Podcast on social media if you don't want to use the links above: http://wp.me/p6Tf4b-1SH
I really appreciate you being a guest on the show, Stephanie. 
Thank you,
Neil
The Entrepreneur Way
http://theentrepreneurway.com
PS – Stephanie, if you think of any other entrepreneurs who would value being on the show then I would be delighted to hear from them (as long as they have started a proper business). For your convenience here is the link again to Help Other Entrepreneurs 
<The_Entrepreneur_Way_logo_300x300.jpg>
<The_Entrepreneur_Way_logo_300x300_BW.jpg>
How-to Tip: An easy way to make many of the fancy links Neil shared in his email is to use the Share Link Generator. Try it out! It's pretty easy to use.
Create customized shareable links for the major social platforms using the Share Link Generator
Click To Tweet
Marketing and Promotion Strategies for Podcasts, Radio Shows and More
10. Create an episode specific image
When you bother to create a blog post and show notes for your episode or share the episode on social media, don't let it blend into everything else! Yes, this does take extra work, but it is worth it. You can create a template using PowerPoint or Canva and create your episode graphic fast or delegate it to your designer or someone on Fiverr.
Even better, send in a few different formats so that they are easily shared on different social media platforms. Here are a few examples to get your inspiration going:
Why this helps with sharing: Notice that many of the hosts chose the same head shot of me when they created their episode graphics. If they had only put that head shot in their show notes rather than an episode specific one, when I shared on social media it would be a sea of my picture over and over. Not appealing to me or my community!
By creating specific episode graphics, the hosts have branded themselves and my community can see that there is a difference. Plus, it adds visual interest that my head shot alone would not do.
11. If you do show notes, provide real value
Some show notes are simply a graphic, the expert's bio and an image. That is ok, but it does not really inspire someone to share it. Consider adding:
a personal note of why you enjoyed the episode
the top 5 things learned
powerful quotes from the guest
time-stamped list of what they will discover if they listen in
12. Create quote graphics
If your guest says something that you like, consider making a quote graphic that you can share across social media.
Would you like a printer friendly version of this list? Awesome! Click the button to get it.
Advanced Marketing and Promotion Strategies for Podcasts, Radio Shows and More
13. Create a video of a favorite quote or segment from your show
The video could be just seconds long, minutes long or your entire episode; but consider using the power of video! There are very few hosts that are using this media type, yet those that do find that it is shared often. Here are a few examples to inspire you:
14. Create an infographic
Infographics are widely shared in many forms. As the owner of a content creation machine, you have a huge opportunity! Here are different ways that you could use infographics as a part of your show promotion:
Time stamped listing of points of discussion
Top 5 tips for X as stated by the expert
Top 5 quotes from the episode
How-to do X
Highlights of the episode
Here are two different examples to get your juices flowing:
15. Give a testimony for your guest
LinkedIn is a great place to find listeners for many show types and it is also a great place to edify your guest. Connect with them on LinkedIn and write a powerful testimony. If LinkedIn is not your thing, post a testimony on your favorite social media platform. Make sure to discusses the things you care about as a host in addition to the great content that they shared.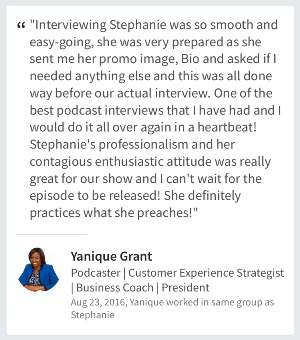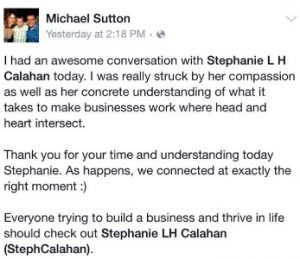 16. Introduce them to other show hosts
If you know of other shows that your guest would be a fit for, make an introduction! This is not only good relationship building, but good business too. It fosters a spirit of reciprocity where the guest will want to help you more.
Off-Line Show Promotion Strategies
17. Send thank you cards to your guests
Getting anything other than bills and junk mail in your mail box is unusual. Hosts that send thank you messages to their guests stand out and build relationships.
18. Create and hand out business cards focused on your show
Haley Radke, host of Adoptees On, created business cards with her show logo and subscription information. She originally ordered them to hand out at a conference filled with her ideal listener, but she has other ways that she uses them. "I also am sending 5 with every guest thank you card. I'm sending them out to the therapists I've interviewed previously so they can hand them out to their clients."
19. Create a card game
Andrea Parrish, host of A Thousand Things to Talk About, created conversation cards. Each card has a conversation starter on the front that aligns to an episode on her podcast. For example, the card below is from episode 38.  The back of each card contains branding on the show and how to find it and subscribe. You could model after this idea with
your favorite tip from each episode,
a quote from each episode,
a resource from each episode,
etc.

20. Send them show branded swag
Coffee cups, t-shirts, rubber bracelets, pens, etc. are all promotional items that you can have created and send to your guest as a thank you for being on your show.
There you go! Twenty ideas you could start doing today that would encourage your guests and others to promote the episodes you produce.
Your Turn!
What do you do or what have you experienced? I would love to hear about your experiences.
Live Fully -- Love Openly -- Laugh Often -- Leverage Your Brilliance -- Connect Authentically -- Get Your Message Out -- Serve with Impact -- Prosper Everyday

Disclosure: Some of the links on this page are affiliate links. That means that I may get a small thank you commission (at no additional cost to you) if you choose to purchase a product from the company mentioned. I only refer you to programs that are ran by people I personally know or I have participated in, but please use your judgement to decide if this is right for you. If you would prefer that I not get that, feel free to Google the company and purchase directly.