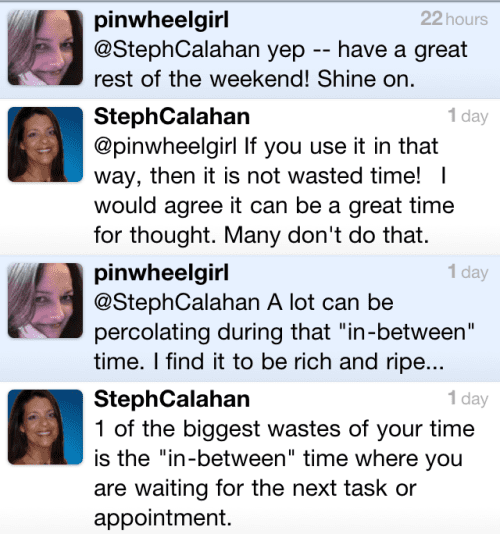 The other day I mentioned on Twitter that the "in-between" time where you are in a waiting pattern can be the most non-productive.  @pinwheelgirl shared her perspective and it inspired this post.  To see our conversation, take a look at the picture to the right.  The most recent comment is on top and historical follows. 
Do you experience quiet time?  Do you experience thinking or "percolating" time? Non activity time?

Business owners need quiet time to reflect and think.  To be a visionary, you can't be going all of the time.  Sometimes professionals think they need to be go-go-going in order to be productive.  In fact, if you are going all of the time and not thinking, you are not as productive as you could be.
I'm sure that you have heard that in order for your business to be successful that you need to spend time working "ON" your business, not "IN" your business.  Do you make sure you do that? 
Schedule some "percolating" time today.  🙂
What do you do?  Are ideas "percolating" during your in-between times, or do you have thinking time in another way?