Many people think that someone with "intuition" is special or somehow mystical, but that is not true. Everyone has the ability to learn how to tap into their inner knowing, their "gut," their intuition. Navigating the interior life and understanding what drives you and your decisions is the focus of the Turning Inward Podcast with Vivian Carrasco podcast. Vivian and I sat down for a few minutes and talked about how my life and business changed drastically for the better when I stopped overworking and started listening to my intuition, my inner knowing.
Media Type: audio podcast
Length: 34 minutes
Listen Now!

Cost:  no cost, just click play!
You'll Hear
01:04  Listening to inner knowing and choosing to WALK AWAY from the "perfect" corporate job.
03:25  LEARNING THE COSTS of not taking care of myself – A new business, the same workaholic tendencies, extreme sickness, and a turning point.
05:40 When I was FORCED to be quiet and the BENEFITS of LISTENING to what I already knew.
07:20 What happened when I stepped back and decided to RELEARN and REDEFINE "everything" – eating, sleeping, listening to my body.
08:34  The process of DIVORCING hard work and my biggest lessons on serving others with power and aligning to my biggest and best values – how analyzing belief systems: what to keep, what to modify, and what to let
12:34  "Everyone" thinking I was CRAZY and overcoming the FEAR of disappointing my family
13:48  Recovering WORKAHOLIC and the even balance of PRODUCTIVITY and how "Slow down or Stop" can INCREASE your business
15:20  Benefits of Steven Covey's "SHARPENING THE SAW" and practicing extreme self care.
17:00  Why I get frustrated when I hear "I'll sleep when I die" and how you may be hurting how your brain functions if you live by that mantra and eliminate SLEEP from your life.
18:00 Water: are you drinking ENOUGH?
20:01 Proving your WORTH and how that can backfire on you.
21:10  How LEVELING UP your business begins within – working at the intersection of heart and head
23:09 Mindset, Happiness, and Gratitude: It's NEUROSCIENCE!
23:38  How you can have what I call, "guilt-free FREEDOM!"
24:40  Learning the LESSONS when you are within your experience. You don't have to sacrifice self.
Be intentional about the energy you want to bring to whatever you are doing.
Click To Tweet
25:51  Intentionally Choosing WHO YOU ARE each day.
The extroverted introvert and the networking challenge
Who are you BEING today?
What it means to "should" yourself
31:25  What it means to not WORK HARD, but do the HARD WORK
I don't WORK HARD, but I do the HARD WORK.
Click To Tweet
32:49  Final thoughts
"Listen to yourself, because you know more than you think you do."
Click To Tweet
Resource I Mentioned
My Interviewer: Vivian Carrasco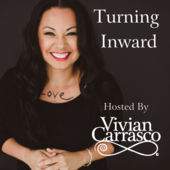 Vivian Carrasco, Ed.D is passionate about helping others explore the path of living fully – what she calls Love.Being.Human™.  She works with people to let go of fears and live from their core. She is the host of the Turning Inward Podcast. Fear often holds us back and we silence our inner voice. When that happens, we often get off course. Through the show, she and her guests explore what it means to turn inward and find the answers within us instead of seeking external approval or validation. You will hear stories of perseverance and triumph and get inspired to listen to your own inner knowing.
Back to you!
So what did you think? Did anything stick out to you from our conversation? I'd love to hear about it. Share in the comments or shoot me an email.



Live Fully -- Love Openly -- Laugh Often -- Leverage Your Brilliance -- Connect Authentically -- Get Your Message Out -- Serve with Impact -- Prosper Everyday