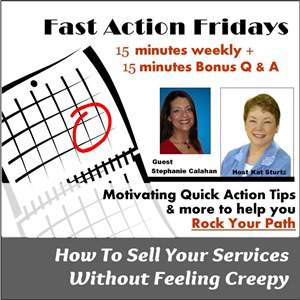 When you hear the word "sales" do you cringe? Does it make you feel uncomfortable? It does for many. Today, I had the opportunity to talk with Kat Sturtz about how to sell your services without feeling creepy. In this show we cover:
The mindset shift that will allow you to walk into any sales conversation in your power position.
How your wording choices impact your prospect's view of what you do. What to say rather than "price."
Why to consider how you think about the money your prospect does or does not have.
What it means to stop spending your prospects' money.
How to partner with your client to help them say "yes" to themselves.
What active listening is and why it is a powerful technique in your sales conversations.
How to be ready to to confidently talk about the money.
Identifying your ideal client.
Why alignment to your coach, consultant or mentor is critical to your success.
How to decide when to offer services "gratis" and when to charge for your services.
Media Type: Video (Blab)
Length: 42 minutes
Watch Now!

Cost:  no cost, just click play!
Resource(s) I Mentioned
Media Outlet
The Fast Action Fridays Show is meant to spark you into bigger bolder action by helping you take immediate quick short steps on some project or idea or procrastination hangup that makes feel you less powerful and productive than you really can be! The core portion of each Fast Action Fridays event is approximately 15 minutes long. Just long enough to share a few fast action tips and techniques plus respond to a question or two. When schedules allow, we stay after the call to handle more questions or offer some on the spot laser coaching.
My Interviewer: Kat Sturtz
An innovative business life coach, she's also an award-winning author, practical intuition expert, energy worker, fun-loving and, yep, a bit quirky. Her passion is helping folks who have BIG andBOLD dreams start rocking their paths, too. The sooner, the better.
If you enjoyed the episode, I'd love your help spreading the word! Share it on your favorite social media site. Thanks!
Live Fully -- Love Openly -- Laugh Often -- Leverage Your Brilliance -- Connect Authentically -- Get Your Message Out -- Serve with Impact -- Prosper Everyday