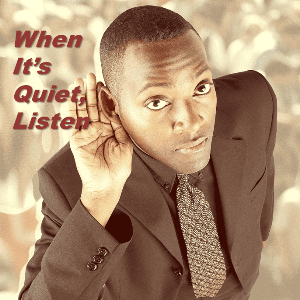 It is about midnight here and I am inspired!
How well do you listen?
I mean, REALLY listen?
To yourself, your surroundings, others…  Maybe you could try the test my son and I did tonight.  It has given me some new insights I'll share now.
Went for a walk
Ever since my little guy was old enough to walk on his own, we have had a spring/summer tradition. We wait until it is quite dark and then he and I will take a walk, just the two of us, around what ever neighborhood we are in. Once we got Danny (our Havanese puppy) he came along too.
There is something about walking at night (especially if only lit by the stars and moon) that makes me more receptive to new ideas, so it is a fabulous time to talk with my son (who is also a night owl.) He is 7 and is already getting into that phase of adolescence where he does not talk about much when he comes home other than "fine" or "OK" or "what's for dinner I'm hungry." When we go for our walks though…. things are different. He really opens up and we talk about all kinds of things. I learn and so does he.
Sat and Listened
Tonight, we came upon a park bench and decided to sit down for a rest before heading back. It is a BEAUTIFUL night. The air was a perfect 73 degrees with a slight breeze and NO humidity.
When we first sat down, we chatted for a moment and then it got quiet — or did it? I asked my son to name all of the things he heard. At first he said "Nothing." I encouraged him to pause and really listen.
We heard
The wind blowing past our ears
The rustling of the leaves in the branches above us
A train whistle in the distance listen
Cars in the distance on both sides of us (east and west, but at different distances) listen
Crickets chirping listen
The puppy sniffing
The rope from the American Flag across the street banging up against it's metal pole
A dog barking in the distance to the east listen
A car driving by listen
Mom kissing son on cheek listen
"Wow! for a quiet night, it sure is noisy!" he said.
Uh… Steph? How Does This Relate to My Business?
Great question!  The noise of our lives will frequently drown out other "sounds" that our environment is trying to tell us.
Your surroundings have an impact on you even if you think they don't.
The sounds we heard on tonight's "quiet" night were relaxing and calming to us.  So much so that when they combined, our mind ruled them out and all of the sudden we did not hear. They were there. They were impacting us, but until we made a conscious effort to focus, we did not even know they existed.
Your physical space has the same impact on you.
Your mental space has the same impact on you. 
It can be good, or it can be devastating.
What does your surrounding space do to you?
When you really listen, do you come to the same conclusion? 
What do you hear when you "listen"
Share your stories and thoughts! Comment in the comment section at the bottom of this posting on my blog.
To your success!
 
P.S. For my parent readers…. during the school year we have a strict 8:30 pm bed time.  During non-school weeks, Mom lets it slide as long as his attitude stays in check the following day. Besides, as he went off to bed he said "Mom, thanks. I am glad that I spent time with you. That was fun." In a few more years, he won't want to take that time!  (reference recent articles I have written about focusing on your priorities…)