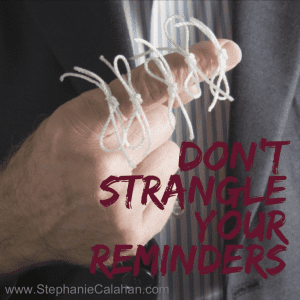 The other day, I sent out a tip update on Twitter:
StephCalahan (Stephanie LH Calahan) Lists, notes, alarm clocks, software w/ reminder functionality all are valuable tools to help you stay on task. Use them as much as possible
Then, my Twitter buddy Nicole replied:
BizFinanceForum (Nicole Fende) @StephCalahan I do try. My question – how do I keep from wanting to strangle my reminders? 
 What a great question!  Let's talk about that a bit today.
Strangle My Reminders!
Bells and alarms going off all over the place driving you nuts?  Nicole is not alone in her struggle with wanting to strangle her reminders!  I have heard many variations on that theme.  I have also had clients tell me that their reminders don't work because they just ignore them.  Usually we get frustrated with our reminders for 2 reasons:
1) We are reminder setting fools: we have set too many or
2) Our inner defiant child self is fighting our adult self: the reminders are telling us to do something that really is more important than what we are doing, but we still don't want to do it.
Be Realistic About What You Can Accomplish
There are a slew of different strategies around how to identify the priorities for your day.  (If you are not sure about the right one for you, let me know and I'll help you figure it out.)  One of the biggest mistakes you can make in your day is to have one master to-do list with thousands of items on it that you use that tracks huge critical items along with mundane tiny items.  A master list is great, but I suggest also working off of a more pared down version for your specific day — especially if you get overwhelmed with the growing mountain of to-dos.
Brian Buffini, noted that people significantly underestimate what they can do in a year and drastically overestimate what they can do in a week. Be realistic about what you can accomplish.
Understanding Reminders
Let's start by getting a good understanding of how to effectively use reminders.  If you set an alarm for every tiny detail in your life, you will easily either 1) go nuts or 2) just ignore the alarms rendering them useless. 
Reminders are only as good as you allow them to be.  Your response is crucial to the success of the system, so set up a system that you will actually use!  There are a few different strategies for setting reminders. 
1 – Only set reminders for the really important stuff
Client meetings, assignments due, appointments you cannot forget are all examples of what you might decide to designate as important.
2 – Only set reminders for activities that you want to turn into habits
For example, last November I started my podcast.  I decided that I wanted to record a tip every business day and syndicate that audio cast to my various social networks.  The whole concept of recording a tip almost daily was new to me, but I knew that consistency would be important to getting new subscribers.  So, I set a checklist reminder on my iPhone.  The alarm goes off at the same time every morning with the checklist of what I need to do to make my goal a reality.  I am committed to my goal, so I complete the task and check it off the list.  As this process becomes a habit, I will remove the alarm and just have it on my daily ongoing task list.
3 – Only set reminders for activities that are time-specific
If you have 30 activities on your to do list for a day, but only 5 of them are tied to a specific time, only set the alarm reminder on those activities.  Fit the other 25 tasks into the open spaces.
Remember the Reminders Really are Your Friend
If you are strategic about setting reminders to only those things that are truly priority in your life and work, then you can look at those reminder systems as a good friend keeping you on track.  When your best friend reminds you of an accountability that is important, say "thank you!", turn off the social networking,  angry birds game or what ever you were doing instead of the important item and take action. 
What do you think?  I'd love to hear your strategies.  Share them below in the comments section!
Live Fully -- Love Openly -- Laugh Often -- Leverage Your Brilliance -- Connect Authentically -- Get Your Message Out -- Serve with Impact -- Prosper Everyday

Live Fully -- Love Openly -- Laugh Often -- Leverage Your Brilliance -- Connect Authentically -- Get Your Message Out -- Serve with Impact -- Prosper Everyday