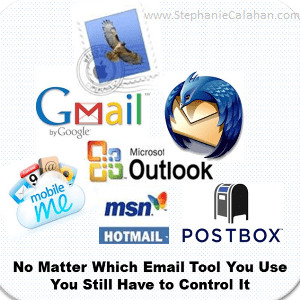 E-mail, it is the form of communication that we love to hate and love to love. For many it is an addiction. Still others get completely overwhelmed with the information drowning their in-boxes on a daily basis. It is a communication tool that has been around for decades and it does not look like it is going away any time soon.
It is also one of the biggest TIME HOGS in business today. Multiple studies on business productivity will tell you that huge amounts of time are wasted on email.
Some will try to tell you that if you have the "right" tool/ e-mail client, you will have all of your worries taken care of. I'm not of that school of thought. I don't care what tool you receive your e-mail in, you still have to manage it or it will run you. (Although, maybe in a future post we will debate over which tool is better!)
Today, 19 of my friends and colleagues have shared their favorite tip for keeping control of the electronic monster. If you have tips or tricks that work for you, please share them in the comments!
1. The Golden Rule
Do unto others as you wish them to do unto you. Send emails to others that you would like to receive back. Be careful not to send long rambling emails, make sure your action items are clear and concise, include deadlines and all necessary information. If you send great emails to others, they will start to follow in your footsteps and you will start to receive great emails back. That will help reduce the clutter in your in-box.
Thanks to Stacey Anderson of Organized Innovations, LLC
2. Lovin' Those Labels!
Our organization uses Google Apps for our e-mail, calendar and cloud solution. Unlike traditional e-mail, Google Apps utilizes labels instead of a folder system for e-mail sorting and storage. Multiple labels may be placed on each e-mail making the content more relevant and easier to retrieve. By using labels in combination with filters, I am able to automatically sort and label (file) most of my e-mail before it arrives in my in-box. When I log-on, I automatically know by looking at the labels which e-mails require immediate attention and which can wait until later in the day. We implemented Google Apps six months ago, and it has brought about a new level of e-mail and time management that was not possible with our previous more traditional e-mail solution.
Thanks to Josh Barnett of Calvary United Methodist Church
3. My Best Friend- The Delete Button
I've made my delete button my best friend.Everyday after work I take 10 minutes to skim through my in-box. I use the Subject line to help me determine what is open and what is not. I delete those of no interest and leave the rest for viewing at a later time, or in the moment. I'll read and delete and save those of interest in a file. At the end of most days I'll have about 10 e-mails left in my in-box.
Thanks to Deborah Erickson, CPO of No Where But Up,Organizing
4. Keep Current
To keep the amount of emails sitting in my In-box to a minimum I only keep the most current email that's been going back & forth between myself & the same person & subject. I delete the previous emails because usually the latest one will have a running history of the previous emails. I may only keep the original email if it has attachments.
Thanks to Lita Daniel of Regain Your Space
5. Email Filters Are Your New Best Friend!
If you are anything like me you get a ton of email. Most email services have built in filters. You can set them up to send all emails from a particular sender to a folder to make it easy for you to find. OR you can choose to delete emails from sanders that send you a lot of junk!
Thanks to Jeff Mann of cmee-jeff.blogspot.com
6. Getting To Zero In-box
Get to zero in-box (or nearly) by being consistently brutal about what remains in your in-box. Set 3 times a day to process what is in your in-box, moving processed email into a separate sub-folder. What remains in your in-box is actionable items, not filing. Set one hour every day to "work" the actionable items.
Thanks to Ellen Delap of Professional-Organizer.com
7. What Is Your Favorite Tip For Managing E-mail?
I create folders for @action, @waiting for, and then reference folders by subject. By putting the @ symbol first, the "action" and "waiting for" folders are the top folders. I can always get my in-box down to "0" and then I have a great "to do list" all set for me to start working on!
Thanks to Dannie Jaeger of Primo Solutions, LLC
8. Do The Dump!
At least every couple weeks, take a look at those overwhelming bulk emails you are receiving! Ask yourself if you REALLY want to receive that information. Is it pertinent to your life or business right now? Sometimes we end up on a lot of lists that we had not intended to be on. Just taking a few minutes to dump those that aren't currently helpful is like dropping the junk mail in the trash on the way in from the mailbox! Do the dump!
Thanks to Laura Lawrence of Harmony Within Professional Organizing
9. "At" Is Where It's At
Email. Oy. We all have it, and for most of us, it's driving us crazy. Putting it in folders is one way to stay on top of it, but how does one prioritize them? Here's a tip to keep your most important folders (or labels) on top of the pile:
Use the "@" symbol at the beginning of the folder or label name. This will ensure your most active & important email is on top of your list. Now, just be sure to open them with some regularity!
Ahhh… a little more control over email. Feel a little better?
Thanks to Brandie Kajino of SOHO Solutionist
10. Process, Don't "Check"
Commit to processing, not just "checking" your email several times a day. Make a decision on each email – delete it, forward it to the appropriate person (and then delete it or file it), quickly reply (if you can do so in a minute or less), file it for follow up (using "tasks" or some sort of electronic tickler or action category folder system), or file it for reference.
People who have hundreds or thousands of emails in their in-boxes (and who have things falling through the cracks or high stress as result) typically use their in-boxes for 2 things for which it doesn't function well: 1. For storage 2. As a "To Do" list. Process email out of your in-box and into an action/follow-up system or reference folder and you'll manage your email instead of it managing you.
Thanks to Debbie Rosemont of Simply Placed – Organizing And Productivity Consulting
11. These Keys Are Your Best Friends.
On a daily basis, I make liberal use of the following two keyboard keys:
1. the DELETE key – When it is someone (or a list) that I want to keep in touch with but don't need to read – either the topic not currently relative or I don't have time to read and probably never will, I press the delete key. I will most likely hear from that source again.
2. the BLOCK SENDER key is for those people or lists you don't know and probably don't want to know. Use liberally to maintain sanity.
Thanks to Rie Brosco of RieOrganize!
12. Weekly Widdle Down
In busy world e-mail is another one of those distractions that totally bog us down.
It is a task that has taken over our days as people whip off an e-mail every time they have a thought. The best way to manage e-mail is daily…but what if that does not happen.
Starting the week with a clean slate energizes you. On the weekend take 30 minutes and deal with the dreaded e-mail. Using the FAT principle that is often used for paper works well.
– File the e-mail, either in a folder or saved as a document.
– Act on the e-mail. Does it require that you DO something…if so then do it.
– Toss the e-mail out. The 80/20 rule works for e-mails too. So take that 80% and put it where it needs to go…in the trash.
What remains is manageable amount of priority items that are ready when you are.
Thanks to Elaine Shannon of Elaine Shannon Inc
13. The 'unsubscribe' Link Is Your Friend.
Controlling email is hard but if you take a look at the emails that come to your in-box every day – how many of those are from email marketing, rss feeds, newsletters, coupons, etc. that you either never read or no longer have interest in? All of this information is available either by searching for it online or bookmarking sites to look at when you have time. Cluttering up your in-box with stressful, unwanted information is not the best way to start your day. It's easy. Scroll down to the bottom of the email. Click the button. You can do it! Unsubscribe now! Just not from me.
Thanks to Liz Jenkins of A Fresh Space
14. A Full Inbox Is Too Stressful
If your in-box is packed full of emails, then you'll immediately feel overwhelmed and have trouble processing what's there. Do not allow messages to hang out in your in-box. Find a designated time and deal with each email – then GET IT OUT OF YOUR IN-BOX. If there is a task involved, then schedule it in your calendar or put it in your task list. If a short answer is involved, then ANSWER IT and get rid of it. Look at the message and either
Answer
Schedule
File or
Delete
If your in-box is full right now, then make it a priority to schedule time and clean it out. You'll feel more relaxed the next time you sit down to process your email.
Thanks to Kristin Lindstrom of Savvy Spaces By Kristin
15. CTRL-A, SHIFT-DEL
My favorite method is CTRL-A, SHIFT-DEL because if I haven't dealt with it after a few days it's not going to happen.
Thanks to Leon Jackson of LJ Technical Services
16. Clever Use Of Filters And Folders
I use filters and folders to manage my email. I set up folders by name using categories that make sense for my email usage. Then I set up filters, which are essentially rules that point certain emails into designated folders.
For example, I have all of my ezine and newsletter subscriptions go into a folder by that name. Facebook updates go directly into a Facebook folder, etc. This way, my actual inbox only receives the most important emails from clients and colleagues that I need to address. The extraneous emails that I want to read, but are not urgent, don't clutter up my inbox, and can be looked at when I have more time.
Thanks to Lisa Montanaro of LM Organizing Solutions, LLC
17. Outlook Rules And Reminders Will Help You To Remain Focused And On Task
For Outlook users, use "Rules" religiously. I use Rules to automatically move newsletters, social media group messages, etc. to specific folders that I've created. Then I make time to check those folders later.
I also use "Follow-up" and "Reminders" for important emails that require action, but can wait (I also write a reminder on my to-do list).
All of these features allow me to move all non-urgent emails out of my inbox, so that I am able focus on what's important now.
Thanks to Jacquie Ross of CastAway The Clutter!
18. Create Folders & Message Rules To Keep Your Emails Organized
Creating folders & subfolders for your incoming emails is a first step to get organized on daily cluttered email chains. You can easily create rules by subject, by sender, by domain to send them to the appropriate folders as soon as the emails arrive to your mailbox. Outlook, Windows Mail and many other has these futures by default.
Thanks to Burcin Kaya of www.bkaya.com
19. Read Me
Don't let informative newsletters and "leisure" emails clog up you inbox. Keep a "Read Me" file folder for those newsletters & ads that you don't have time for right this moment, but definitely want to peruse later on.
Thanks to Beth DeLozier-Hayes of Tres Chic Designs
What is Your Favorite Email Management Tip?
What do you think of the tips shared? I bet you could share a few too! Leave them in the comments below.
Live Fully -- Love Openly -- Laugh Often -- Leverage Your Brilliance -- Connect Authentically -- Get Your Message Out -- Serve with Impact -- Prosper Everyday