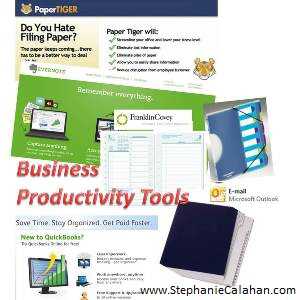 The most successful business owners and professionals effectively use tools to manage their time, space and information.  I asked some of my colleagues and readers to share their favorites.  Today you will learn about 12 business productivity tools that they can't live without.
You will find that some mentioned physical tools, while other mentioned software and "cloud" tools.  Check out the list to see if your favorites are mentioned.
1. A Good Financial Management Tool Is Critical
My favorite is: Quickbooks
Because: Every business needs a reliable financial management tool. There are a number of great choices, but we use Quickbooks. The tool allows us to know where the business stands at-a-glance, view client data, track sales and expenses, create and manage invoices/purchase orders as well as see industry trends. By using this tool, we can easily determine the areas of our business that we want to grow or products/services that we may want to let go.
There are a number of different choices, so talk to a Quickbooks Pro Adviser to decide which one is right for your business.
You can find it here: http://quickbooks.intuit.com/
Thanks to Stephanie LH Calahan of Calahan Solutions, Inc.
2. Power Periods Make For Great Productivity
My favorite is: Power Periods
Because: Set aside one hour in the morning and one hour in the afternoon for un-distracted, uninterrupted time to knock out a big project. Having a power period twice a day helps you complete one of the big tasks on your list. Being away from the fray makes your creativity soar and your work more effective and efficient.
Thanks to Ellen Delap of Professional-Organizer.com
3. Best Tool
My favorite is: The Paper Tiger software
Because: I always have all my information at my fingertips and can find things right away. It houses so much more than a file index. We use it to track the paperwork for my special needs daughter, articles, books, websites, etc.
You can find it here: http://www.thepapertiger.com/
Thanks to Natalie Conrad of Organized Habits
4. Pile Tamer
My favorite is: the Pendaflex Pile Smart Project Sorter.
Because: This is for the person that is troubled by "out of site, out of mind" issues. This allows them to keep it within site, but all projects are kept in an organized file. It allows you to have six projects at once all piled together, but separated by colors and banded together. Once the project is completed, the whole pile of that particular project can be filed away; out of site.
You can find it here: Available at some office supply stores.
Thanks to Ellen Limes of Organized By L
5. Tickle Your Memory, Master Your Tasks
My favorite is: A tickler file, by Smead or Pendaflex, or labeled with store brand names and "Letter Size/Indexed EveryDay (R); File and Fast Sorter (1-31 & Jan-Dec)".
Because: With 42 heavyweight pages, reinforced tabs (labeled with days of the month and the individual months), and an accordion-style left side binding, a tickler file allows you to keep track of every piece of action-oriented paper, every task, and every idea you wish to remember and act upon. Rather than a To Do pile, this is a special kind of parking system for action-oriented papers, serving as a reminder system to tickle your brain while giving you confidence that you won't forget about worrisome, detailed or important issues requiring action.
You can find it here: Amazon, Staples and other office supply stores
Thanks to Julie Bestry of Best Results Organizing
6. All In One Place
My favorite is: 5×7,left-sided spiral,notebook
Because: It gives you a place to put your thoughts, telephone messages, and an occasional update. Easy to carry. Easy to use. Provides a "dumping" ground for:
~Those post-it notes decorating your computer monitor
~Those notes scribbled on envelopes (or anything else close by for that matter)
~Those piles of paper found on tablets with one sentence written on each page
~One place to find what you are trying to remember
AND conserves paper. You are beginning to go "green".
Date the corner of each page. Highlight tasks that have been completed. At the end of each week go back and find those tasks not completed. Make them priorities for the following week. Celebrate success!
You can find it here: Office Max/Office Depot. Make sure it has a sturdy cover.
Thanks to Sally Allen of A Place For Everything, LLC
7. Schedule = Success
My favorite is: There is no tool more useful to me than an electronic calendar (Outlook, ACT, Thunderbird, Google, it doesn't matter what brand.)
Because: Every time I think of ANYTHING that I need to do, I pick a day and a time and schedule it into my calendar — there is literally no excuse for anything to fall between the cracks! I set up recurring appointments for things like bookkeeping or marketing. And I organize my calendar by color — orange for client appointments, blue for web work, yellow for writing, green for personal chores, pink for "out-of-the-office" activities, etc. That way, I can see with one glance which areas of my life are eating up the majority of my schedule, and which really deserve more attention. It's not just a way of tracking to-do's, it's a method for self-awareness.
Thanks to Ramona Creel of RamonaCreel.com
8. Best Productivity Tool For Me …. Smart Phone!!
My favorite is: The iPhone although any smart phone will do.
Because: I can put everything in it.. reminders with alarms that go off, my schedule for every day, even dates a year or two from now, pick up and respond to email. And it's a PHONE!
You can find it here: The Apple Store, iPhone.com. Even on eBay or Amazon.
Thanks to Sandy Stelter, JD, CPO, CPES of SOS – Strategic Organzing Solutions
9. When You Just Need An Extra Brain
My favorite is: Evernote
Because: It literally is like having a second brain. It is the easiest way for me to capture data, url's, emails, images, etc. when I conduct research, or just come across something I want to reference at a later date. It is a fantastic online tool to organize your thoughts!
You can find it here: http://www.evernote.com/
Thanks to Dr. Shannon Reece of drshannonreece.com
10. My Franklin Planner
My favorite is: Franklin Planner
Because: I love my Franklin Planner because it allows me to scribble things down when I hear them – and it's a totally TANGIBLE system. Everyone is different in their likes and dislikes but I've found that I am best with managing time and pieces when I actually have a place to write things down. I've tried so many management tools in the virtual era, but for me, nothing beats writing it down on paper and carrying it with me. I can add a file or a note at any time, and easily find anything because I use additional tabs and assign them different categories. I keep it with me on the go, and while waiting for my kids or on line I can always pull it out and write my next blog post or newsletter piece. For managing tons of projects, communication pieces and client information – my Franklin Planner rocks!
Thanks to Cena Block of Sane Spaces
11. I Couldn't Live Without My Outlook!
My favorite is: Microsoft Outlook
Because: it allows me to integrate my schedule, with my contacts, with my tasks, with my email, with notes. I don't know of another tool that does all of this seamlessly, saving me time, money and stress. I'm a huge fan of maximizing Outlook for maximizing productivity!
You can find it here: www.microsoft.com and in office supply stores or sites that carry the Microsoft Office suite of software.
Thanks to Debbie Rosemont of Simply Placed – Organizing And Productivity Consulting
12. My Favorite Organizing Tool Is My Planner
My favorite is: My Planner
Because: I'm a huge advocate of time management. I believe if we had our time in order.Our homes,lives and jobs would be in working order, and the things in our life would not be overwhelming. When we prioritize things in our lives it helps us achieve the big goal. It weeds out the stuff that clogs our lives.
Thanks to Deborah Erickson, CPO(R) of No Where But Up,Organizing
What is Your Favorite Business Tool?
We've only touched the surface for great business tools.  What tools could you not live without?  Share them in the comments below!
Live Fully -- Love Openly -- Laugh Often -- Leverage Your Brilliance -- Connect Authentically -- Get Your Message Out -- Serve with Impact -- Prosper Everyday