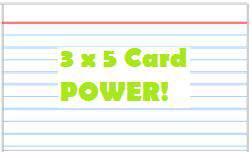 "Stephanie, I make list after list after list, but never get anything done. Half of the piles on my desk are lists that I've made at different points!"
Dawn was exasperated and frustrated. To do lists are great, but only if they work.
We make lists so that we don't forget the things we want to do. Sometimes they are well thought out and other times they are brain dumps of random thoughts. In Dawn's case, she would write the same things over and over every time she thought of them. Often, the papers were on sticky notes, random scraps of paper, formal to-do pads and everything in between.
When we explored her process we found what I see a number of people experience. She did not have faith in her tools and did not have a consistent way to reference or write out her objectives. Many lists were tattered or half-done. Some had items crossed off and others had never been touched after being written.
IDEA #1— Different people are going to be successful with different strategies. Just because a task management system works for your co-worker or spouse does not mean it will work for you.
She continues, "I rewrite my lists because after a few are done, I have a hard time reading through all of the cross-offs. I've tried my phone and outlook, but I find that I don't even look at those lists. At least these papers are in front of me."
She estimated that she spent at least 2 hours a week re-writing lists! If you are the type of person that likes things to look aesthetically pleasing, you may find that you frequently re-write your lists too.
IDEA #2 — Identify a system that lets you think through your tasks in your way. One that you can count on and know that it works for you.
"The secret of getting ahead is getting started. The secret of getting started is breaking your complex, overwhelming tasks into small manageable tasks, and then starting on the first one." ~Mark Twain
IDEA #3 — Stop and regroup when your initial plan is not working! It is easy, when you are overwhelmed, to keep doing what you have been doing and just do it more and harder. This rarely works. Stop. Take time to think about what to do and get a plan in action.
SOLUTION TO TRY — THE 3×5 CARD METHOD
Go to the store and purchase some 3×5 cards. They come in a variety of colors and are very inexpensive. I suggest that you start trying this system by using only one color.
Sit down and start putting pen to paper by writing down all of the items that you need to do. WAIT! Don't make a list!! The trick to this method is that you put ONE IDEA per card. (The one idea per card is a very important difference with this system. It will not be different than any other to-do list if you don't follow this step.)
Then, look at all of the cards and ask yourself "What is the most important thing for me to work on right now?" and put that card face down. Then ask what the next most important thing is and do the same. When you get through all of the cards you will have a prioritized list of your to dos!
As new items come up, you write them on their own card and fit them into the pile in the right priority order. The cards are flexible and small, so you can always reorder your priorities as new ones come up. Re-ordering is generally faster than re-writing an entire list. You keep your system consistent and WORK YOUR SYSTEM.
If you have a big project due, break down the steps necessary and write those on each card.
As your tasks are done, you can have fun tearing up or just recycling the card.
ENHANCING THE CARD SYSTEM
Use Color.Above, I mentioned to try this system with only one color of card. If you are a color conscious person, you may find it helpful to use different colors for different activities. Green for work and blue for personal for example. This strategy works very well for many people, but does add a level of complexity. You must decide if the benefits outweigh the extra work. As Barbara Hemphill states "Its not about what you should do, it is about what you WILL do." Make sure that what you set up you will really maintain.
Get Your Children to Help! Continue with the one card per task and write out one chore per card. Flip the card over and write the reward they will get for completing the task. Then, put all of the chore cards in a pile and and have your kids pick 1 or 2 cards from the deck (without looking at them.) Enjoy as you watch things get done.
Carry Cards With You for Easy Notation. Put about 12 cards in your purse or carry on bag or briefcase. Make them easy to access. You can binder clip them together or you can check out the great tools Levenger has just for this type of task management. I carry a Note Jotter by Staples in my purse and love it. As you are traveling and you think of things you need or want to do, you take out a card and jot it down. Then, when you are back in the office, you put those cards in your in-box and process accordingly. You won't forget those great gems that you thought of while you were out.
The Final Word
Discover the power of the 3×5 card! It is one of the most inexpensive and effectively simple ways to get control back to your day and your life! Dawn implemented a very simple one color system that sits in her office in a nice carry case. She always knows what is next on her things to do and no longer has piles of paper on her desk.
Like what you have read? Do you think it could help others in your network? Then please share it by clicking one of the links below.
Live Fully -- Love Openly -- Laugh Often -- Leverage Your Brilliance -- Connect Authentically -- Get Your Message Out -- Serve with Impact -- Prosper Everyday