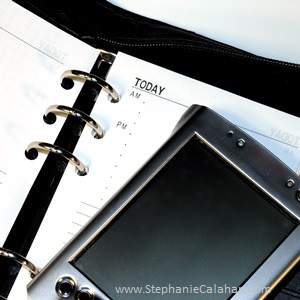 We are in the home stretch of 2009 — bring on 2010!!  One item frequently purchased at this time of year is a calendar or planner for the upcoming year. 
But, what is the right kind of planner to use?  Some say the traditional paper planner is the best, while others swear by their smart-phone or on line tool.  How do you decide what is best for you? 
Keep reading to learn what my colleagues and friends had to say about the "Great Calendar Debate."   They provide tips to help you decide as well as some recommended tools.
1.  Paper Is Not Dead
Sometimes people seem embarrassed to say that they still use a paper planner…I say, to heck with that. Be proud! If paper works for you (as it does for me and so many others), we can be happy that we have a tool that works! I personally use a Franklin Covey planner because I love the look of the pages, but many other companies make planner pages with the same set-up. You want a tool that works for you – and paper might be it!
Thanks to: Meggin McIntosh from Reno of Emphasis on Excellence, Inc. http://www.meggin.com or on Twitter: http://twitter.com/MegginMcIntosh
2.  Thinking Through A Pen

As a writer, I enjoy being able to open up my planner to jot things down. I "think" better at times through my pen (or pencil). 
Recommended Tool: Franklin Covey Planner www.franklincovey.com is a Physical Paper-Based great for Business Professional. 
Pros of Planning Tool: Very organized product. Gives you plenty of space for today's to-do's, appointments, notes. Very well laid out. User friendly and easy to utilize all it has to offer. 
Cons of Planning Tool:Its size. It can be as small as a little paperback book, or as big as a cookbook. It is not as small as a blackberry or iphone. 
Thanks to: Michelle Poteet from San Antonio of Reclaim Order 
3.  The Great Paper v PDA Debate!
It's the great planning tool debate – should I use paper or an electronic organizer (PDA) to organize my time and keep me on track? Certainly, both methods have their benefits and limitations, so it's a good idea to test a few products and see which works best for you. Here are some top tips to help you decide:
1. Are you a creative and highly visual thinker? If so, you probably find the old pen-and-paper method helps you to keep organized as you can scribble and color to your heart's content. You might find a PDA a tad too 'stale' in the way information is presented.
2. Are you methodical and a logical thinker? If so, you might find a PDA suits your needs. With a smart, simple layout and stacks of features to help schedule appointments, a PDA allows you to plan your day easily and efficiently.
3. Are you a big picture thinker? Some of us are most productive when we can see the next month, six months or a year all laid out in front of us. If you like to focus on the 'big scheme of things', you might find a monthly or yearly calendar set up on your desk or on the wall above your work station will help you stay on track.
4. How's your memory? If your To Do list is as long as your arm and you juggle many commitments, a PDA is a fantastic tool as it will alert you when an appointment or task is due to commence. Your PDA is like a back-up brain, so you don't have to worry about forgetting or missing appointments! It's also much easier to change the time and date of an appointment using a PDA, rather than crossing out in your paper diary or planner.
5. Are you a technophobe? Make sure you choose an organizer that you feel confident and comfortable using. If you aren't particularly tech-savvy, you might feel more comfortable using a paper planner, rather than having to learn the ins and outs of an electronic diary system. Choose what you will use!
6. Running a busy household as well as a business? You might prefer to use both PDA and paper to keep organized. This could include having a PDA for all your business commitments, as well as a master calendar kept in a common area, such as the kitchen, for your family's activities. This also helps create a distinction between work and family, so your time is more balanced.
Recommended Tool: Smart phone (I use the Nokia E71 & also recommend a Blackberry) is a Hand-held Device great for Business Professional
Pros of Planning Tool:Easy to use. Keeps all your appointments, contacts and email in one spot so it's all synched up. Alerts ring when an appointment or task is due to start, so you will never forget what you have to do! 
Cons of Planning Tool:PDAs run out of battery (sometimes at the most critical time!) whereas paper planners don't!   
Thanks to: Kat Tate from Sydney, Australia of Kat & Kaboodle 
4.  Consider Your Quick Capture "M.O."
Think of the last time you said out loud "If I don't write this down, I won't remember it!" When that happened, did you whip out your iPhone to type in a note? If so, you probably haven't had a paper planner in years. If you asked to borrow a pen/piece of paper, then you may want to consider a pocket size version of one of the popular planning tools. If you turned on the voice recorder feature of your Smart-Phone, you may find a Planning Tool that integrates paper & electronic info will suit your style since you may want to jot down items from your voice recording.
Recommended Tools: I straddle the paper/digital divide when it comes to planning tools. I relied on the Franklin Covey Planner for YEARS in the corporate environment long before Web 2.0; I think every business professional these days must find the right combination of tools for managing their Calendar, Contacts, Info Capture and Info Recall. For me, that combination involves Outlook, customized Circa pages based on the PlannerPad format/GTD approach and my wiki platform iPEP knowledge base.
Thanks to: Cheryl Lowitzer from Pittsburgh, PA of Your Organizing Guru, LLC www.YourOrganizingGuru.com  or on Twitter: http://www.Twitter.com/CALowitzer
5.  Fabulous Follow-up Prompter
A few questions to ask yourself:
–Do you want a paper or electronic system?
–If you prefer electronic, do you want something that resides on your hard drive or on the Web? If it is on the Web, you or your assistant can access it from anywhere at the same time. It is also backed up in case of a hard drive failure. If your calendar is on your hard drive, it is more difficult to remotely access, and only one person can be in the system at a time, unless you have a network version.
–What do you need the system to do for you? For example, if all you need is a place to store contact information and keep your calendar, that is much different than a system that can prompt you for different types of follow up, keep templates, etc.
Recommended Tool: Oprius http://www.oprius.com  is a PC Software great for Business Professional – especially designed for network marketers, but others could use it too. 
Pros of Planning Tool: This is the best follow-up reminder system I have ever seen. It is perfect for people who are in sales of any kind, especially if the customer or client does not generally make a buying decision immediately, or if follow up is needed after the initial purchase. What I like most about it is that I can build a "plan" for different kinds of contacts and the system prompts me to follow that plan in the sequence and timing that I have built into it. I can also store email templates and phone "scripts" (bullet point items of what to cover on certain types of calls). I can also keep notes and all of their contact information, my calendar, email and appointment history, and more. Although there is some time required to set up your initial plans, you will save a lot of time later. You will also remember the right follow up at the right time, instead of things slipping through the cracks. It is easy to keep track of follow up when you don't have many people, but once you have dozens or hundreds of people you need to follow up with, it becomes unmanageable without a great reminder system in place. 
Cons of Planning Tool: There is a learning curve. It can take quite a bit of time to load your plans and templates into the system.   
If you want to view a demo of the system I am using, go to http://vimeo.com/3958208. You can try it free for 30 days. 
Thanks to: Kathy Paauw from All over the web! of Paauwerfully Organized www.Orgcoach.net  
6.  Know Thyself (I mean REALLY know thyself!)
It's tempting to buy a planner or electronic calendar because someone else says it's fabulous, but what works for others may not work for you. Understanding your time management style, level of technological comfort, and personal scheduling challenges will allow you to choose a tool that makes the most of your strengths, and helps you work around your weaknesses. For example, techno-phobes shouldn't force themselves to use a computerized calendar if they are more comfortable with a paper planner. Those who lose track of time might want a system with a programmable alarm, left-brain types generally need lots of space for lists, while creative folks might prefer a less linear "mind-map" way of organizing projects and to-do's. Your choice of time management system is a very personal one — take the time to make the right decision for you.
Recommended Tool: FreeMind MindMapping Software for anyone (business professionals, individuals, students) who has a project, series of goals, business plan, or just a wish-list of dreams that they want to make a reality
Pros of Planning Tool — this is an amazingly easy-to-use FREE mind-mapping software that helps you visualize your goals, the steps required to reach them, the interconnections between goals, etc. it allows you to dump all the thoughts you have in your head out into a coherent plan, indicate which are just "ideas", which are in process, which require additional info, and much more — you can attach notes, links, and pictures to any node, color-code your map, save to PDF/print/share — I am just loving this tool so far! 
Cons of Planning Tool — it's not an actual time management tool, just a visualization system (you still have to set up your schedule to make room for the steps)
Thanks to: Ramona Creel from United States of RamonaCreel.com http://www.ramonacreel.com or on Twitter: http://www.twitter.com/ramonacreel 
7.  Who Are You?
Before you can pick the right tool for yourself, look within the question. What is your personality? You need to know who you are first. You could take personality tests and profiles but to make it more fun ask the people who know you best – your friends, family and co-workers. Ask them questions like, "Do you think I work best with paper or technology?" "Do you think I am really detailed or more of a big-picture person?" "Describe my personality in 3 words." "What animal best describes my lifestyle/personality and why?" When you have all your data compiled it is time to decide what tool fits best.
When it comes to our Planning Tool choice so often we feel like we need to "keep" up with technology or with what our co-workers or friends are using. I say, "Be Proud!" of what you choose. Based on what has worked in the past and what you enjoy using be proud of it. Whether it is your new iphone or your homemade paper planner that you love pull it out with a sense of pride. This tool is what will help you list and complete your goals, schedule all of your appointments, and move closer to your dreams this year. Cherish it and use it to its fullest ability just as the woodcarver uses his favorite carving knife to make his projects one of a kind.
Thanks to: Tracy Hoth from Kansas City, Missouri of Simply Squared Away www.simplysquaredaway.com or on Twitter: http://www.twitter.com/tracyhoth
8.  Fun Meets Function!
I like a paper planner/to-do list. Random thoughts go out as quickly as they come in so I need to write things down quickly. What helps is a cute planner with lots of color and various areas that allow me to track my to-do's and activities, my families, shopping lists and projects. Color and fun = Function
Thanks to: Megan Spears from Hood River Oregon of Disorder2Order www.disorder2order.com or on Twitter: http://www.twitter.com/disorder2order
9.  Electronic Planner
TRY IT first. The simpler it is to use the first time, the better. Also, how easily it can be backed up onto a laptop or desktop.
Recommended Tool: Palm Pilot Planner www.palm.com is a PC Software great for Business Professional
Pros of Planning Tool: 1)PASSWORD PROTECTED so if you misplace it or it gets stolen, your business and personal info is safe. Pocket or purse sized so easy to take along ALWAYS. Quickly check for available blocks of time on the calendar, the alarm will notify you of upcoming events in the calendar and Task list sections, search for resources for real-time right-now delivery of info for clients, make notes in the memo section and get a signature on the Note Pad, set an alarm for call-back and project-management functions in the TO DO section, instantly update the contacts section or beam business cards to other users.   
Cons of Planning Tool: Like any other productivity tool, you've got start somewhere so you may have to carry your old business card file or Franklin planner with you for a few weeks before you just to the electronic assistant. Keep it charged!   
If I lose my portable "brain", I buy another and download all of the info off my laptop onto the new one and I am back in business – MINUTES later. 
Thanks to: LeeAnn Land from Scottsdale, AZ of 1 Step Closer 2 Heaven
10.  Combine Your Life in One Easy & Organized System!
Using a planner is an important part of effective time management and getting things done. However, you may own the most sophisticated planning system on the market, but if you're not truly using it or you find yourself late for appointments or forgetful, it's probably not really working for you.
I highly recommend Microsoft Outlook 2007, a powerful productivity tool that houses your email (it combines all of your email accounts in one place), calendar, task lists and contacts list. The task list, typically known as a to-do list, has a built-in reminder system, which can be a life saver on those especially busy days, or if you're easily sidetracked. Outlook also has an address book (Contacts) and many other wonderful features for busy professionals. I particularly like the calendar because it has the ability to synchronize the data with my mobile phone.
If you've only used a paper planner in the past and like the visual and tactile aspect of paper, or are simply reluctant to use an electronic calendar, but dislike lugging it around everywhere, I would highly recommend trying an electronic calendar on a trial basis and printing the calendar pages you need for the day, week or month. You can still continue to use your paper planner for a while and use both calendar systems until you have a complete handle of your new electronic system. As with any new gadget or habit, it will take a little bit of time to get used to it, but the benefits far outweigh the inconvenience of having to learn something new.
Recommended Tool: Microsoft Outlook 2007 is a Online/Web-based great for Business Professional
Pros of Planning Tool: Easy to learn and lots of resources on the Microsoft website. Never forget an appointment or task. The reminder and follow-up system can be used for calendar entries, emails and tasks.
Cons of Planning Tool: In order to carry your calendar with you, you must either print the calendar daily or periodically or have a mobile phone that is compatible with Outlook. However, I think it would be difficult to find a phone that is not compatible with Outlook.   
Thanks to: Jacquie Ross from Baltimore metro, Maryland of CastAway the Clutter! Organizing Services www.CastAwaytheClutter.com  
11. For Those Who Prefer Paper
Unless you have to share your calendars with others, don't assume electronic is best! 
Recommended Tool: Planner Pad is a Physical Paper-Based great for Busy Mom/Dad
Pros of Planning Tool: Contains yearly calendar for 3 years; has 7 days from 7-9; great design for balancing life/work priorities.
Cons of Planning Tool: Can't share easily with others.
Thanks to: Barbara Hemphill from North Carolina of Productive Environment Institute 
12.  Success = Flexible & Convenient
Make sure your planner meets your needs for flexibility and convenience. If you are a person who primarily works from home or has many users – your system needs to adequately communicate with and support the users. 
Recommended Tool: Franklin Covey franklincovey.com is a Physical Paper-Based great for Business Professional 
Pros of Planning Tool: Lots of space to write, daily planning pads for appointments and to do lists, monthly pages to plan your tasks and record completion, tabs for other areas, very flexible, tangible system, can keep it with you, no electronic problems.   
Cons of Planning Tool: Can be large – a bit costly – must keep up with it.
Thanks to: Cena Block from NE Pennsylvania of Sane Spaces Professional Organizing and Productivity Consulting www.sanespaces.com or on Twitter: http://www.twitter.com/sanespaces
13.  The Double-Month-Minder
I have used this method for many years as we keep track of all appts and events for our family of four. I purchased two dry-erase magnetic calendars and place them side by side on the refrigerator. One is for the current month, the second is for the coming month. Each person gets a different color marker for their appts. If we have appts that are booked further out, I stick pin those to a magnetic cork strip, placed under the two calendars. This system is simple and has served us well for years!
Pros of Planning Tool: Everyone knows what's coming up for their appts by looking for their color.   
Cons of Planning Tool: Need to keep on top of updating new appts. Sometimes there isn't enough room on a particular day (multiple appts), in which case we use post-it notes.   
Thanks to: Anne Howland from Middlesex, VT
14.  How Many Will Use It?
Know how many people you are planning for (e.g. kids) and/or how many people use your planning tool (e.g. husband). Don't buy too sophisticated – you are not going to change your habits just because it's the New Year and the planner was expensive and looks good!
Recommended Tool: My personal favorite is a 70 x 70 cm clear plastic sheet (imagine see through shower curtain) with 31 + square 8cm x 8cm pockets. The reason I like it, because I don't have to copy notes into a diary, I just slip them in the pockets.  I have found over the years that most females seeing it find it great and men don't understand it!!
Thanks to: Susanne Thiebe from Sydney/Australia of LessMEss www.lessmess.com.au or on Twitter: http://www.twitter.com/lessmess

15.  Write it down!
Although electronic calendar keeping is great, tactile, visual learners need to touch pen to paper and see the overall week/month. Don't be afraid to WRITE IT DOWN.
Recommended Tool: Quo Vadis – Minister http://quovadisplanners.com/catalog/minister is a Physical Paper-Based great for Business Professional
Pros of Planning Tool: Paper record – Good to keep for tax purposes – if you get audited, you need to back up when you had the meeting and with whom (for those tax write-offs)–8 AM to 9 PM schedule (full evening schedule)–Extra white, super smooth paper (super clean look)–Annual planning calendars for 2010 and 2011–Tear-off corner (easy to get to the week that you are in)–Extra-area for notes, to-do, to phone etc.–Receipts & Payments pages–Maps–Detachable address book–Can be either vinyl or fashionable leather cover–Refillable.
Cons of Planning Tool: If you lose it, you cannot retrieve your 'back up copy'–Does not have full month in review (although you can download calendars from website to insert into your planner) does not have 'electronic reminder' built in – it's always nice to get pop-up telling you to wrap it up because you have a meeting.   
Thanks to: Margarita Ibbott from London, Ontario, Canada of Downshifting – Professional Organizing Solutions www.downshifting.ca 
16.  Unique Paper Planner
Visual and kinesthetic people need a paper planner. They can see it all the time. Writing in it helps them remember too!
Recommended Tool: Planner pad www.plannerpads.com is a Physical Paper-Based great for Business Professional
Pros of Planning Tool: The planner pad available on-line at www.plannerpads.com is a great fit for visual and kinesthetic people. With lists at the top of a week at a glance format and also a month at a glance format included, you have the opportunity to view the month globally, list tasks by category and then have a weekly planning time to create accountability and productivity by writing in the tasks on a certain date. The 2 page spread has 3 sections to the week at a glance format. The top has columns for lists, by category, for tasks and details. The middle section is your daily activity plan. The bottom section has times of the day to list appointments.   
Cons of Planning Tool:The biggest drawbacks are that this tool is available only on-line and only as a paper product.
Thanks to: Ellen Delap from Kingwood, TX of Professional-Organizer.com www.professional-organizer.com or on Twitter: http://www.twitter.com/organizedaily
 18.  Use Mindmap to Get Organized
I'd highly recommend a mind mapping tool for planning and organizing.  I like making lists, but they don't always work (especially if I'm just brainstorming ideas). Mindmapping, on the other hand, is more flexible, at least in the early planning stages. 
Here's how I use mindmapping (I've been using a free product – FreeMind – http://freemind.sourceforge.net/wiki/index.php/Main_Page): 
1. Brainstorm 
2. "Brain dump" – record and organize all sorts of ideas and mental notes 
3. Paper cleanup – once in a while I go through all the little pieces of paper with scribbled notes on them that I seem to accumulate on my desk and transfer the info (phone numbers, notes, URLs, etc) into a new mindmap.
4. When I do on-line research (instead of printing things out or taking hand-notes) and to organize some of my bookmarks.
Pros of Planning Tool: free, easy to use, very visual, flexible, can be exported into variety of formats 
Cons of Planning Tool: Need PC to access, can get overwhelming if too many levels or details are added, can't be integrated with social networks and Google tools.
Thanks to: Yelena McManaman from Raleigh, NC of http://oneclickva.com or on Twitter: http://www.twitter.com/oneclickva
18.  Sharing Your Plan with Your Partner Real Time
I travel often but still need to actively share my plan and schedule with my partner. We found a planning tool that we really love on Gmail. Gmail has come up with lots of new features. And we utilize many features which are so convenient and practical.
Google Docs Function:
You can share documents and co-edit them with your selected gmail friend. My friend and I heavily use this function for keeping key information i.e. the websites we become member, minutes of meeting, some expenses. We both can access/ edit these documents anytime anywhere.
Google Calendar Function:
We use this function for our itinerary. More importantly we use this function as a reminder for our due date of Tax Payments, Seller's Permit renewal, and other important appointments. Again We both can access/ edit these documents anytime anywhere.
Photos Function:
We do a jewelry business so there are many sketches and pictures of jewelry design. We share those pictures via this function. Gmail is working with Picasa and allows its users to store pictures on the web. Again We both can access/ edit these documents anytime anywhere.
Label Function:
Because I communicate with various groups of people for both of my work and my personal interest i.e. social network, suppliers, HARO, cooking recipe, jewelry design inspirations, etc. That's why I found the label function very practical. Label function on Gmail allows you to archive your emails in different categories. This allows me to keep track of my info very well. I'm 99% paperless person so I love this function. 
Tasks Function:
This serves me as a virtual To Do List. I wish Gmail will add the feature of alarm/reminder of the deadline.
Pros of Planning Tool: Edit, Access, Share your schedules, pictures, documents, planning, etc from anywhere at anytime. You and your business partner(s) will be on the same page all the time. 
Cons of Planning Tool: I'm not sure about security level.   
Thanks to: Belle Chen from Orange County, California of 360Jewels.com www.360jewels.etsy.com or on Twitter: http://www.twitter.com/360Jewels
19.  Cuteness Matters!
If the way something looks makes you smile, aren't you more likely to use it? Find joy even in the little things.
Recommended Tool: Remember the Milk www.RememberTheMilk.com is a Online/Web-based great for Business Professional
Pros of Planning Tool: Adorable (I'm very visual) – web based – iPhone app syncs w web acct (pro account) – Affordable $25 a year for pro account – Can email tasks – Simple – Great tech support and friendly – You can send tasks to other people.
Cons of Planning Tool: Can be a little clunky. It's easy to lose track of which task you're making notes on. Dashboard widget is nice but you can't put a priority flag on a task.  Tech support is only by email, but they're fast and friendly   
Thanks to: Annie Banannie from Southern California of Annie Banannie, Balloon Storyteller www.BalloonStoryteller.com or on Twitter: http://www.twitter.com/BalloonStory
20. Use Your Personality to Decide
The key to finding a tool you will use is to look at your personality and motivation type. If you are very goal oriented and/or love technology and/or travel extensively, a combo Outlook/PDA/SmartPhone system might be best. If you hate technology, then a paper-based planner system or even a simple paper-based daily task list/calendar combo might be best. If you really just don't like this much structure, even a sticky note with your key 2-3 things to get done that day will help. Whatever system helps you get your 3-5 value-added tasks/projects moving each day is the right system for most people. But if you feel that the system you are using isn't robust enough, consider upgrading to the next level of technology. And, if you are spending TOO MUCH time planning and not enough time DOING, consider going down a level to something simpler and more action oriented.
Recommended Tool: BlackBerry synched with Outlook http://www.randalldean.com is a PC Software great for Business Professional
Pros of Planning Tool: – Amazing amount of data/info you can keep/share
– Great for road warriors
– Outlook has awesome functionality for converting e-mails to tasks/calendar items/contacts
– Can store literally thousands of contacts/tasks/lists in Outlook/BlackBerry
– Have your data when and where you need it
– Continuous access to Internet
– BlackBerry can even act as wireless "tether" for your laptop when on the road    
Cons of Planning Tool: – Easy to get caught in too much planning/not enough DOING
– Make sure you keep your data synchronized & backed up!
– Key pad on BlackBerry leaves something to be desired (but you can buy an external full-size keyboard) 
Thanks to: Randall Dean from Michigan of The E-mail Sanity Expert http://www.emailsanityexpert.com or on Twitter: http://www.twitter.com/timelyman
Comment and Share!
So what do you think?  Please leave your comment below. Like what you've read?  I'd love it if you would click one of the buttons below and share this post with your friends.
Live Fully -- Love Openly -- Laugh Often -- Leverage Your Brilliance -- Connect Authentically -- Get Your Message Out -- Serve with Impact -- Prosper Everyday

Disclosure: Some of the links on this page are affiliate links. That means that I may get a small thank you commission (at no additional cost to you) if you choose to purchase a product from the company mentioned. I only refer you to programs that are ran by people I personally know or I have participated in, but please use your judgement to decide if this is right for you. If you would prefer that I not get that, feel free to Google the company and purchase directly.