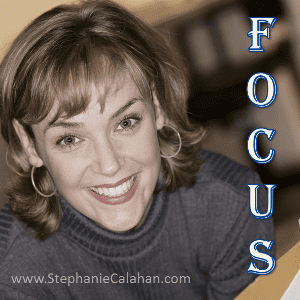 "I just can't focus Stephanie.  I've tried different systems and they don't work.  I don't think I have ADD, but I'm beginning to wonder…" 
That was one of the first things she said to me on the phone.  Sara was taking part in our telephone strategy session to see if our services were a fit for her. 
Sometimes your focus and attention challenges can be directly related to the systems you have (or don't have) in your life.  Sometimes your focus obstacles could be caused by a medical condition.  Sometimes the attention issues you experience could be solved with some simple techniques.  Today I'll cover some non-caffeine ways you can increase attention and focus!
Let go of the caffeine and bring on the focus and productivity!
I know that this sounds harsh, but as a former 2-pot-a-day coffee person, I can share that there is another way.  The other day I was reading a great article on 7 Caffeine-Free Ways to Increase Alertness written by Stepcase Lifehack.  In it they say:
Do you need caffeine to get through your day? I've experienced every over-the-counter wakefulness supplement produced before 2007 (when I smartened up) and can promise you that it all has the same effect: A brief period of increased alertness is followed by a dramatic increase in lethargy (a crash) or anxiety and fidgeting. Consume enough caffeine combined with whatever jungle juice is in vogue and you'll eventually turn into an over-clocked grouch."
I could not agree more!  Many of us are actually hurting our attention and personal productivity by consuming stuff that initially gives us a boost, but ultimately drags us WAY down.  In fact, increasing your coffee or other caffeine intake causes issues with dehydration and that leads to significantly lower concentration.
Here are some ideas on how you can increase your focus, concentration and attention during the day that does not involve "happy juice."
1.  Make sure you are getting enough sleep
I realize that this could sound silly, but there are many people that struggle with focus issues during the day because they are "burning the candle at both ends."   Are you getting the proper amount of sleep every night?  Our bodies respond to consistent patterns too.  If you put yourself to bed/sleep and wake up at the same times consistently, you will find that your daytime focus and concentration are better.  
2. Sit up straight and breath from your belly!
Concentrated deep-belly breathing can really make a difference in how you are able to concentrate throughout the day.  Sometimes, when we have clients that are really having concentration issues, we'll do a short study on their posture and breathing.  Do you do your work on a laptop where you are bent over and crumpled in the middle?  Do you have a workstation that does not allow you to sit up straight?  Do you breath from your chest (aka shallow breathing)? Then you need to listen up.
There are physical connections between improving your posture and breathing and its correlation to concentration.  When your brain has healthy levels of oxygen it functions better!  When you sit up straight your body has an easier time taking in lots of good air.  
In his article Benefits of Deep Breathing Can Include Improved Concentration , Keith Tennent (medical researcher and a fitness enthusiast) states:
"Breathing relaxation techniques also help to slow down the death of brain cells. As many people know, most brain cells cannot be regenerated in the manner of other body cells, so a lot of wear and tear on the brain is essentially permanent."
3. Drink lots of water!
Nutrition experts agree that you ought to drink half your body weight in ounces every day.  This means that if you weigh 200 pounds, for example, then you need to drink 100 ounces of water a day.  Increase this amount by 20-40% if you want therapeutic benefits.  I realize that this sounds like a lot (when my coach first told me I thought he was trying to drown me) but it works.  You see, your brain is primarily made of water, so it needs to stay hydrated to maximize your focus and productivity.  
4. Get physical!  Stretching will wake you up
Get up and get moving for a few minutes.  You don't need to do a full Pilate's workout to wake up your brain.  Some simple stretches will do. Think about the movements you do when you wake up in the morning. 
5. Use your 5-10 minute file
Do you keep a 5-10 minute file?  This is a file that you have that contains activities that would only take 5 to 10 minutes to complete.  By grabbing a small project (for example, an article that you want to read) and working on it for a short period of time, you take a few minutes away from the work that was putting you into an afternoon coma-like state.  You also release serotonin/happiness/excitement as you finish a project.  This will allow you to get back into the game with the project that is a bit less interesting to you.
6.  Step outside and grab a bit of nature
Are you sitting at your desk with your eyes drooping?  Get up and take a walk around your parking lot or neighborhood.  A bit of fresh air and sunlight can do wonders and often only takes 5-10 minutes to really revive your energy.
7.  Change your environment
If you find that you are consistently getting sleepy at 1pm in your office, consider going to a different location in the building or a different building all together.
8.  Recognize what you eat impacts you
Different people have different food intolerance issues that cause brain fog. Keep a food log for a couple of weeks to see if you can identify patterns.  Recognize the foods that give you an energy boost about an hour after you eat and those that do not.
9. Let music guide your way!
Music can be a big motivator for people. Understand how music impacts your ability to focus and then play the genre that works for you.  I have found that different kinds of music inspire me to do different kinds of work.  I was interested to read about the Mozart Effect.  There are a few studies that say that various combinations of Mozart will improve concentration.  There are also a few studies that debunk the theory.  Nevertheless, I have clients that swear by the theory.  There is even a series that was made with the Mozart Effect as the focus for various types of work.
10. Try drop napping or power napping
If you have ever heard of a power nap, this is a bit faster version.  The idea is that you do not fall into a deep sleep, but rather a shallow sleep that will give you enough energy to get through the rest of the day.  Sound interesting?  
11. Consider Checking for a Medical Condition
In some instances, your sleepiness, or lack of focus during the day can be tied to a medical condition, such as sleep apnea.  In many instances, people do not realize that they have a sleep disorder.  If you find that you are consistently tired every day, talk to your doctor about the possibility of having a sleep study done.
Comment and Share!
What other ideas do you have?  I'd love to hear about them.  Please join the conversation by posting in the comments section below.  Maybe you have stamped out the caffeine habit.  If so, what tips do you have to share? 
Live Fully -- Love Openly -- Laugh Often -- Leverage Your Brilliance -- Connect Authentically -- Get Your Message Out -- Serve with Impact -- Prosper Everyday

PS – I LOVE hearing from my readers!  Do you have a tip or trick that works well for you?  Let me know!  Do you have something that you are struggling with that you would like me to write about?  Let me know that too!