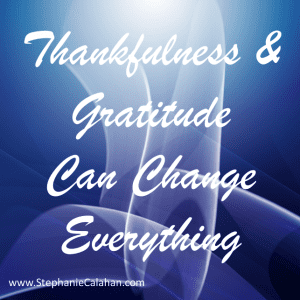 In her weekly question, Women's Entrepreneur coach @DrShannonReece asked her readers to talk about the biggest thing they were grateful for this year.  That question got me thinking.  Why is it that it is really easy for some people to express thanks and so difficult for others?
So often, it is easy to focus on the things in life that are not going the way you would like them to go.  If you are a perfectionist it is even harder!  Fear can even block our awareness of the positive things in our life.  Today let's talk some about how you can start adding more thanksgiving into your days and why you need to care.
Gratitude unlocks the fullness of life. It turns what we have into enough, and more. It turns denial into acceptance, chaos to order, confusion to clarity. It can turn a meal into a feast, a house into a home, a stranger into a friend. Gratitude makes sense of our past, brings peace for today, and creates a vision for tomorrow."
— Melody Beattie
Why Be Grateful
Abundance coach Carol Look tells us that it is impossible to be stressed out while you're giving thanks.  Here is what she says:
Remember, the energy of abundance is appreciation and gratitude, so whenever you are giving thanks you are coming from a place and an energy of gratitude.  Whenever your energy is appreciative, you attract more things to be grateful for."
As a productivity consultant/coach and I have found that clients that practice gratitude are consistently getting more done!  When you focus on the positive things in your life, you are able to concentrate better which ultimately leads to better productivity.
Being Thankful — Start Small and Work Your Way Up
Pick One Thing – If expressing gratitude is new for you, start by picking one thing in your day that went well or made you smile.  It does not have to be big.  
What I encourage you to do is to make a conscious effort to notice the little, positive things. Notice and be thankful for every single smile that you receive, and notice and be grateful for every single smile that you give. Notice if the sun breaks out, literally or figuratively, in the midst of the dark day for you. Even if it is bright for just a second."
— Rick Wilkes – Abundance Coach
Light a Candle – For some, lighting a candle is a great symbolic way to note the giving of thanks.  Patricia Campbell Carlson is the executive director of the Web site gratefulness.org and she says that their "Light-a-Candle" feature draws lots of visitors.  I tried it out today and it is quite simple and yet powerful.   
Understand There Are Various Levels of Gratitude
My friend, Meggin McIntosh wrote an excellent article on the 5 Levels of Gratitude.  In it, she explains how you can incorporate those levels into your daily conversations.
Create a "Golden List" of Gratitude
One thing I have been doing every day for about 3 years now, is counting my blessings.  Every morning and every night before I go to bed, I create (sometimes I write and sometimes I speak) a list of at least 10 things I'm thankful for.  Sometimes the list is filled with "big" or "complex" things and other times it has "simple" things like:
a bed to sleep in and a home I feel safe in,
the beautiful blue of the sky;
the delicious meal my husband made; or
the sound of my son's laughter.
I call it my "golden list" and over the years I have taught many friends and clients to do the same.  No matter how bad things seem in your life, there are always numerous things to be thankful for.  As you practice, you will find that naming 10 things becomes quite easy and you may want to list more!
Start a "Gratitude Journal"
Oprah has talked about this activity for a number of years.  The concept is very simple and similar to my "golden list."  Buy a journal.  It could be a simple spiral notebook all the way to a leather bound book that you choose to write in.  The container for your thoughts needs to be something you like.  Then, every day, set aside time for quiet reflection and writing.  Only allow yourself to write positive things.  Focus on the things you are happy to have in your life.
The single greatest thing you can do to change your life today would be to start being grateful for what you have right now. And the more grateful you are, the more you get."
– Oprah
One last quote:
Develop an attitude of gratitude, and give thanks for everything that happens to you, knowing that every step forward is a step toward achieving something bigger and better than your current situation."
— Brian Tracy – Self-Improvement Author and Speaker
What Do You Think?
What tips do you have for showing thanks?  What things are you thankful for?  Share them in the comments below. 
Live Fully -- Love Openly -- Laugh Often -- Leverage Your Brilliance -- Connect Authentically -- Get Your Message Out -- Serve with Impact -- Prosper Everyday