What does business/life balance mean for you? In today's episode of Bolder Business Podcast, Aprille Janes and I talk about the balancing trick that is necessary for a successful business and a happy life and my personal story of struggle and then success in this area.
Media Type: Audio
Length: 35 minutes
Listen Now!
Cost:  no cost, just click play!
The Show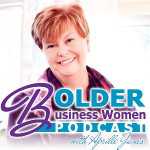 Hosted by Aprille Janes, the Bolder Business Podcast catapults you out of that 'comfort zone trap' so your business can be energized, enthusiastic and memorable.
Now more than ever, your business and you as a leader have opportunities to stand out, share your message and create change through the power of your story. You'll learn how to do just that as I share weekly tips and ideas to help you shine brilliantly and stand out from the crowd. The show also features successful entrepreneurs sharing their own stories of success as well as their 'learning opportunities'.
If you enjoyed the episode, I'd love your help spreading the word! Share it on your favorite social media site. Thanks!
Live Fully -- Love Openly -- Laugh Often -- Leverage Your Brilliance -- Connect Authentically -- Get Your Message Out -- Serve with Impact -- Prosper Everyday