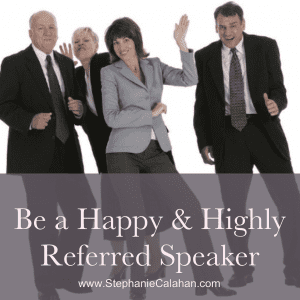 As a speaker you have a number of things to juggle — proposals, marketing collateral, networking conversations, presentation material, contracts, travel, etc. 
Unless you have business processes in place, you may find your business growing "out of control."
How well you balance everything that needs to get done determines how fast your business can grow. But there is one consideration that could really make you stand out as a top speaker.
Do you ever consider what event coordinators are juggling?  What can you put in place in your business to make sure that the event coordinator has a fantastic time working with you?
This past Monday, Michele Price interviewed me on #SpeakChat.
We talked about 3 different areas for your speaking business:
Be Powerful – Productivity tips to keep you and your business in control.
Be Unforgettable – Organization techniques that make you easy to work with and easy for them to market you.
Be Empowered — Tools to help you get there.
Today I'll share a few of the "Be Unforgettable" tips that I shared this past Monday.
Be an Unforgettable Speaker
To ensure success – Implement one new process/procedure at a time.  Start with the most critical.
Make it easy for the meeting/conference coordinator to work with you! 
Any time you work with an event coordinator understand that they are likely VERY busy & maybe unorganized.  Speakers at the top of their game understand that it is a good move to make the meeting coordinator look great and make their job easy.
Give All of Your Information On-line on an One Page
Have one page on your website you can reference that has everything an event coordinator might need from you.  Consider having these items on your Coordinator Toolkit:
ALL your contact info,
One sheet,
Speaking resume
Audio/visual checklist,
Press release samples,
Intros and outtros
Sample tweets and Facebook updates promoting you
Your high resolution pictures and your low resolution pictures
Any product images.
Think About Easy Retrieval When Naming Files & Creating Pages
When you save your marketing images make sure the file name includes your name rather than D9823rlidf.jpg.  The more you put into the file name, the easier it will be for the event coordinator to find it later.  For example, one of my images is called:  "Stephanie LH Calahan – StephCalahan – Calahan Solutions Inc – Business Vision Catalyst"  Yes, that is a really long name, however; you can be sure that a quick search would find my information easily.
When you send files, make sure all of them are named consistently so that when they are saved, they group together and are easy for the coordinator to find later.
If you do virtual events, have a web page that is targeted to the audience for giveaways.  Shorten the url for the giveaway page with a site like http://www.bit.ly so you can track traffic.
Before the Event
Have a process for getting information from attendees so you can tailor the presentation to their specific needs.
Spend time with the event organizer to ensure you have a clear understanding of the desired outcomes.
Communicate the different formats you can deliver: keynotes, breakouts, Q&A sessions, panels, etc.
Before Event – Understand where you are in the overall flow of events for the day.
Make it about more than your presentation.  As you talk with the event planner be prepared to discuss strategies he/she can use to continue the impact of your message after the event.
After Event
Make sure to have a process in place to itemize expenses & bill promptly after the presentation & provide receipts as needed.
Promptly fill any orders for your products.
Keep all the business cards you collect and affiliated conversations organized with the Contact Keeper.
Easily stay in contact with event participants and extend your conversation beyond your presentation.
So, what do you think?  Are you going to try any of these ideas?  Do you have an idea that is not mentioned here?  Are you an event coordinator or do you conduct interviews with speakers?  What things have I missed?  Please share it in the comments below.
Live Fully -- Love Openly -- Laugh Often -- Leverage Your Brilliance -- Connect Authentically -- Get Your Message Out -- Serve with Impact -- Prosper Everyday