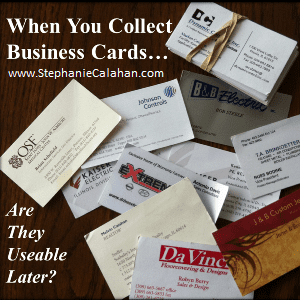 When you attend trade shows or networking meetings, do you later experience the business card pile up? 
Do you have great conversations and then get back to your office and either forget action steps or details from the conversation?
Do you prefer to keep your contacts in a more traditional / less electronic format?
Do you need an easy way to delegate the input of contact and conversation information into a customer relationship management (CRM) tool?
Today, Matt Streem, President of Contact Keeper answers my questions and he has been nice enough to send me some of their product to giveaway to my readers!  Keep reading to learn more about the great product and how you can win.
"We meet new people all the time and have lots of detailed business conversations. We know that during the time that business cards are exchanged and initial business is discussed, there is a lot of key information to keep track of. We designed Contact Keeper to help people stay perfectly organized. Our products make it simple to keep track of contact and business information and easy to follow-up with people," said Matt Streem, President of Contact Keeper.
I have found that the Contact Keeper is a much more organized and streamlined way keep cards and conversation notes. 
The time is now!  No more writing on the back of a business card and no more miscellaneous stacks of cards in your briefcase or on your desk!  No more missed follow-ups because you forgot the conversation!  Let's hear more about this product line from Matt.
Hello Matt, and welcome.  It's nice to have you with us.   What is your role with Contact Keeper?
I am the President of Contact Keeper and have a senior executive role in the direction of all financial, product design, production, sales, and marketing decisions for Contact Keeper.    I manage a team of professionals who have extensive experience in these areas so I rely on their advice.
Tell us, what was the inspiration behind Contact Keeper?  What are the problems that the majority of your clients hope to solve when they contact you?
The inspiration was years and years of meeting people and doing the business card exchange with people.  I personally tried many different ways of keeping a contact's business card and the notes from the conversation together and organized.  From scribbling on the back of cards, to stapling the card to literature or a blank notebook, to electronic solutions.  I also watched many others struggle with this.    
So in 2005, I started doing the research of what tools are out there to help people manage the common act of exchanging business cards and taking notes.  I put together a team and started making many different prototypes and then we actually paid people $20 at trade shows to give us feedback on the prototypes and what they would add or change.
In 2011 we launched the most recent version of Contact Keeper in Small, Medium, and Large sizes and refills for each size in Office Depot and FedEx Office stores.  The Contact Keeper family of products has a focused message of providing simple ways to keep business cards and handwritten meeting notes together and organized. 
The products are designed to support the complex dynamics involved in the experience of meeting a new business contact.   Contact Keeper helps organize important contacts and critical notes for future reference.  
These unique tools help the user prioritize follow-up in an effective way and filter new contacts before entering them into a digital contact database.  
They are designed for trade shows, conferences, seminars and networking with plenty of extra features.  They are perfect for sales people, managers, buyers, trade show attendees, exhibitors, event planners, networkers and more and we are very proud of the quality and functionality of the line.     
I love that the user of any of the Contact Keeper can choose a more traditional method of storing the physical cards, or use the tool to hand off / delegate to an assistant. 
I've been using the small version.  I like the size and the built in sticky notes.  It used to frustrate me when I'd get handed a card that was so slick I could not write notes on it.  Now it doesn't matter! 
I keep the Small Contact Keeper in my purse and as I meet people, I put my notes on the cards using the stickies.  The card with the sticky goes back into the holder until I get to my office.  I then use my iPhone and convert the card and my notes into my CRM tool.
So how can people get started and what is the cost?
Contact Keeper is available at Office Depot stores, FedEx Office stores, shoplet.com, contactkeeper.com and other retailers as well.  Prices range from $4.99 to $29.99 for all of the different products.
As a business owner, what is one of the biggest challenges you have faced and what did you do about it?  Any big lessons learned?
The biggest challenge that I have faced is staying firm through various pressures to dilute our product solution focus and lower our price points.  I believe strongly that you cannot make a product that will be everything to everyone, so we have had to choose a focus and stay true to it. 
We are a simple solution for keeping business cards and notes together.  We help people organize their notes from these first meetings for follow-up.  We are not an everyday planner.  We are not a calendar.  We are not a business card storage product.  We are not a solution that compromises our beliefs so that it can "fit" another brand.  
My belief in both the value of our product solutions and the corresponding price points have validity through the feedback of our customers and partners.  We have invested a lot of capital and research/development time because we believe in the value of our products and how they work.  We believe in the size of the potential market.  We believe in our thorough research that has shown our price points are correctly positioned. 
The reason why we were able to stay firm on these issues is the constant feedback from our customers and the unrelenting fact-finding efforts of our research department.  We keep in close touch with our customers so that we are providing solutions that they need.  Any decisions on materials, product functions, price points, etc. then is reviewed methodically in detail and in comparison to what is already in the market so that our products are correctly positioned for maximum success.
How do you and your team stay on track and make sure you are working on the right things?
We discuss and convince each other where the largest opportunities are, and then go after those first.  This is always done keeping our brand in mind and not doing anything that hurts our brand value.  We then constantly adjust based on success rate or momentum rate of potential customers and markets.  We will periodically throw in speculative initiatives to see where they go as a way of planting seeds.  We also have an underlying long term plan of developing our brand awareness which takes time.      
Have you always been organized or did you have to learn it?
Absolutely not.  I have had to learn it and I keep learning and asking others how to do things better.  
Do have any future projects you'd like to tell us about?
We have just launched our Thank You and Outreach Cards 10 packs.  In these products it is the user who mails his/her own card in the patented slot to professional contacts. 
There are just so many emails sent nowadays, a traditional card sent through US Mail is a great way to stand out, especially one with an organized slot for your own business card! 
We are also developing an archive system of products that work well with Contact Keeper Medium, Large, and Small products.
I am intrigued with the outreach cards.  I think I'll use them in my referral process.  After I put a card in my CRM tool I try to think of someone that should know about the person I just met.  I don't need the physical card anymore, so I'm going to try using your outreach cards to mail referrals.  Should be fun!
Anything else you would like to add?
You can strengthen your brand or promote your event by adding your logo to the cover of any Contact Keeper product.  Our staff will make your logo into a top quality domed label.   We will affix the labels to all products.  Buying Contact Keeper products this way can complete your professional image while effectively keeping business cards and notes together.  It's a perfect corporate gift that people will really appreciate and use to help manage their new business contacts.  
How can our readers get in touch with you?
Please feel free to email me at [email protected] or call our office at
440.498.7200
440.498.7200 or send us mail to 5265 Naiman Pkwy, Ste K, Solon, Ohio 44139.
Let's not forget about Twitter either.  That is where you and I connected.  You can find them at @ContactKeeper
Matt – Thanks so much for answering my questions candidly today!