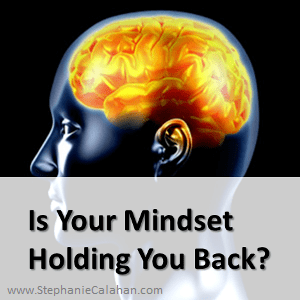 "Focus on where you want to go, not on what you fear." ~Anthony Robbins

Robbins helps us to remember that a positive focus aimed in your desired direction is way more productive than focusing on the things that make us afraid or nervous.  
Success and productivity is sometimes about effective systems and sometimes about the mindset that you have about your situation.  Often it is both.
Everyone has fear — it is a natural feeling.  Sometimes our fears help us — if you are afraid of getting burned, you won't put your hand in a fire. 
But, sometimes our fears are not real and they actually hold us back — if you are afraid that no one will like you; you may not attend an event that will help grow your business.
Fear holds us up. Fear keeps us away from our goal attainment.  Fear paralyzes. 
I have a number of clients that will choose to not take action because they are afraid of making a mistake. Do you do that too? 
The unfortunate thing about this is that the fear of being wrong holds them up from actually pushing their business forward.
Knowing how to overcome fear is a skill that will help you grow faster.  In order to have successes you have to try.  Trying sometimes means failure.  However, if you continue to believe in yourself and learn from those failures, your successes will outweigh the failures over the long run.
How do you battle your fears? What strategies do you use?
What do you want to accomplish today?  Go out and do it and don't be afraid to fail.  I believe in you.
Live Fully -- Love Openly -- Laugh Often -- Leverage Your Brilliance -- Connect Authentically -- Get Your Message Out -- Serve with Impact -- Prosper Everyday