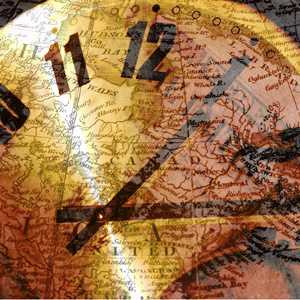 We are really close to wrapping up time management month!  February will be over in just a few days.  Time is a very precious commodity!  Have you found a few new ways to preserve the precious time in your life? 
Today, 6 of my expert panel have shared their favorite "life hack" on time.  Keep reading for tricks and tools that they use to save time.
1. Drop The Flash Drive For Dropbox
Dropbox is awesome! It's a great way to save files and photos on the "cloud." Download Dropbox on your work and home computers, your smartphone and iPad. You have access to your documents and photos no matter where you are. Boss needs a copy of annual report? No problem! Email the report to the boss while you're sitting by the pool. No need to load and check USB flash drives or email documents back and forth from work to home.
Thanks to Janice Simon of The Clutter Princess
2. Errand List And A Map!
When I have a lot of errands, I enter the addresses into an online map site (like Google Maps or MapQuest) and then rearrange them to figure out what the best route is so that I'm not retracing my steps. It gives an estimate of how long it will take so I can decide if my errand list is realistic in the time allotted. Saves time and gas plus also gives me a visual list so that I can check them off and not forget anything. (Probably could do it electronic in a GPS but I'm still a "paper and pencil" girl at heart!)
Thanks to Robin Bridson
3. Change Your Relationship To Time
The phrase "time management" is an oxymoron. We can't manage time, only what we do with it. If you change your relationship to time and the way you think about it overall, it becomes easier to align your activities and tasks with your so-called time management goals. Ask yourself everyday, "What is the most important task I can accomplish today that aligns with my goals?" The answer to that question is the activity you need to be sure to get done. If that gets done, then everything else is a bonus!
Thanks to Lisa Montanaro of LM Organizing Solutions, LLC
4. Look Ahead
I have found that in order to save time, the last thing I do at night is to "look ahead". By look ahead, I mean that I check my calendar and tickler file for what I have scheduled tomorrow.
This helps me in a couple of ways:
– I know how to dress for the day
– I know what part of town I'll be in and can plan other errands
– I set out the paperwork associated with tomorrow's tasks/appointments
– When I get to my office, I already have a game plan in my head
Looking ahead definitely saves me time in my personal and professional life. It helps to know what you are going into instead of feeling like you have to react as every little thing happens. And that saves my brain cells!
Thanks to Natalie Conrad of Organized Habits
5. Roboform To The Rescue!
If you don't know about Roboform (http://roboform.com) you're spending unnecessary time looking up passwords for regularly used websites. This free program creates a "favorites" list for you of the password-protected sites you visit. From then on, one click takes you to the site and automatically fills in login name and password. If there are forms to fill in, one click does that, too — with no typos! Especially time-saving if you shop online or register for events.
Thanks to Elaine Quinn of Space Craft Organizing
6. Canned Spam Helps Chronic Procrastination
How will spam in a can help you not to procrastinate? As a Life Coach, I recognize there are times when we need a little supportive nudge in the right direction. If procrastination is your nemesis and it's blocking you from attaining your desired goals, I know that a can of spam will support you in powering through your hurdles and cheer you on to success.
Here's how it works. Make a prioritized list of things that you need to do. Purchase several cans of spam…brand optional. Place them within arm's reach around your home. Every time you relegate a high priority task to the low or no priority abyss, touch the can of spam and repeat aloud to yourself
Stop
Procrastinating
And
Move-forward
SPAM!
Results may vary, and if nothing else, you can always have spam with stewed tomatoes and onion
Thanks to Wendy Dearborne of It\'s My Life My Choice
What Do You Do?
I know there are a lot of other great time-saving tools and tricks out there.  What ones work for you?  Comment below!
Live Fully -- Love Openly -- Laugh Often -- Leverage Your Brilliance -- Connect Authentically -- Get Your Message Out -- Serve with Impact -- Prosper Everyday