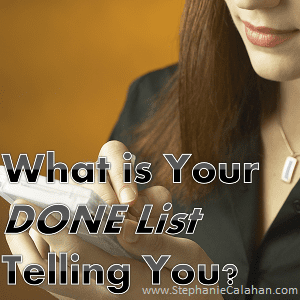 Have you ever considered looking at your "Done List"?  Did you even know you had one?  You do!
We frequently talk about to-do lists and planning, but you often don't hear us talk about those things that you complete.  Today I'll share some thoughts on why that is so very important to your ability to meet your goals and get things done.
Lately, I have been watching on Facebook, Twitter and LinkedIn as various coaches share quotes and tips on TAKING ACTION.  Now, you know that I'm a fan of stepping in and taking a chance.  You have heard me quote Kevin Nations and his "take imperfect action" philosophy too. 
You see, it is not JUST about taking ANY Action
One of my quotes that gets shared frequently is "You can be busy all day and still have gotten nothing done."
Do you feel that?  Can you relate?  So often, we are just busy being busy.  That does not necessarily equal productivity.  Being productive means that you are taking action on things that are LEADING you to something. 
 
I have to admit, watching these little guys on YouTube made me giggle a little, but it would make me cry to see a person running and running in their business and never getting the results they were looking for.
Look at Your Done List
1 – At the end of today, make a list of everything you have done. The bigger and the smaller things. You could even do it now.
2 – Next, look through the list.  Check off everything that is leading you towards your goals.
3 – What is your ratio of checked to unchecked? Being busy is not being productive. If your checked is not greater than your unchecked, fix it tomorrow and see stress diminish.
What is your ratio?
Live Fully -- Love Openly -- Laugh Often -- Leverage Your Brilliance -- Connect Authentically -- Get Your Message Out -- Serve with Impact -- Prosper Everyday